Neighbors used social media for good, and changed one woman's life for the better.
Maria is an 80-year-old woman who needs a wheelchair to get around. She lives in Raval, a neighborhood in the heart of Barcelona, Spain. In order to leave her house and have her wheelchair at street level, she used to keep it in the car that she and her husband park in a nearby parking lot.
Unfortunately, in mid-January, the couple faced a catastrophe: A thief broke into the car and stole the wheelchair.
Maria and Juan, her husband, live a simple life. They did not have the financial resources to afford a new wheelchair. The theft meant that the elderly woman wouldn't be able to leave her home.
Neighbors in action
Through social media networks, the couple's neighbors began to raise their voices to ask for help to replace the stolen wheelchair. One of the Twitter accounts that echoed the appeal is called Ravaldream, a profile managed by people in the neighborhood who try to improve the conditions of the people who live there.
Amazingly, it worked! The message reached the ears of the Raval police station of the Mossos d'Esquadra—the regional police. One of its officers, Txema (pronounced "CHE-mah," short for José María) answered with great news. He could give Maria the wheelchair that had belonged to his grandmother, who had just passed away.
Txema is a sergeant who happens to work in the Community Relations Office at the police station. He's well acquainted with the neighbors' situation, and he knew that this donation was very important for Maria and her husband.
"This one for sure isn't stolen …"
Last Friday, Txema himself took the wheelchair to María and Juan's house. Their joy couldn't have been greater.
In a video, the couple expressed their gratitude. Juan jokingly added, "This one for sure isn't stolen!"
For the neighbors who run the Ravaldream Twitter account, Txema's gesture shows his greatness: "Thank you, Txema; your heart is so big it doesn't fit inside you," they wrote in a tweet, which also said, "Public servants at the service of their neighbors."
Gràcies al sargent i els agents que han vingut a fer l'entrega personalment, de la cadira de rodes. Ells, ja poden sortir junts al carrer. pic.twitter.com/igHsncb4Ja

— Ravaldream (@ravaldream) February 5, 2021
The remedy to throwaway culture
This simple event embodies part of the answer to the "throwaway culture" Pope Francis has frequently denounced. In his encyclical Fratelli tutti, the pontiff spoke about "throwaway culture," pointing out how sometimes "persons are no longer seen as a paramount value to be cared for and respected, especially when they are poor and disabled."
Also, in Laudato Si' he pointed out the importance of reusing and recycling material goods, instead of wasting resources wantonly, as happens all too often.
Here, Officer Txema, with a spirit of solidarity, has given something he no longer needed to help a person whom society might consider of lesser importance due to her age, health, and socioeconomic situation.
We might simply say he was a "decent person," but such decency shouldn't be taken for granted. It reflects love and compassion, and should inspire us to see if we're doing all we can to follow his example.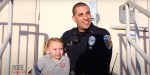 Read more:
Police officer adopts little girl he cared for while on duty




Read more:
5-year-old boy calls the police and saves his mother from a diabetic coma