In 1802, archaeologists came across the remains of a virgin martyr who died in the 4th century. What happened next?
What can God do in your life with one Bible verse a day?
Subscribe to Aleteia's new service and bring Scripture into your morning:
Just one verse each day.
Click to bring God's word to your inbox
Whatever you ask from [St. Philomena], she will obtain for you. Pope Gregory XVI
Not far from Naples is a popular sanctuary in the town of Mugnano del Cardinale. Within it are the relics of St. Philomena, an early virgin martyr whose intercession is frequently sought for miracles.
Archaeologists unearth her remains
Little is known about Philomena's life, as she is the only saint whose story was revealed through a combination of archaeology and private revelation.
In 1802, workers discovered a tomb in the catacombs of St. Priscilla in Rome. Inside the tomb were the remains of a young girl and a vial of dried blood.
Affixed to the tomb were three terracotta slabs with Latin graffiti. Rearranged, they read: PAX TECUM FILUMENA, meaning "Peace Be With You, Philomena." There were also symbols of a lily, arrows, an anchor, and a palm, identifying her as an early Roman virgin martyr in the tradition of Sts. Agatha, Lucy, Agnes, and Cecilia.
The bones were studied and documented by the archaeologists to little fanfare. Nothing was known about her except her name and that she was a virgin martyr who died in the 4th century.
Miracles and extraordinary phenomena are reported
Three years later, a priest from the village of Mugnano (Canon Francesco De Lucia) happened to be in Rome when he heard about the discovery. He was struck by Philomena, and his request to have her relics transferred to his church of Our Lady of Grace in Mugnano was approved.
Soon miracles were reported at her tomb in Mugnano. The healing of Venerable Pauline Jaricot, who was cured a severe heart ailment, received widespread publicity.
At the same time, three separate mystics in different parts of the world began receiving details of the life of St. Philomena through private revelation. The most significant was a vision received by Sr. Luisa di Gesù in 1833. It was revealed to her that Emperor Diocletian had wished to marry Philomena when she was 13. When she refused, she was subjected to torture, though she never relented.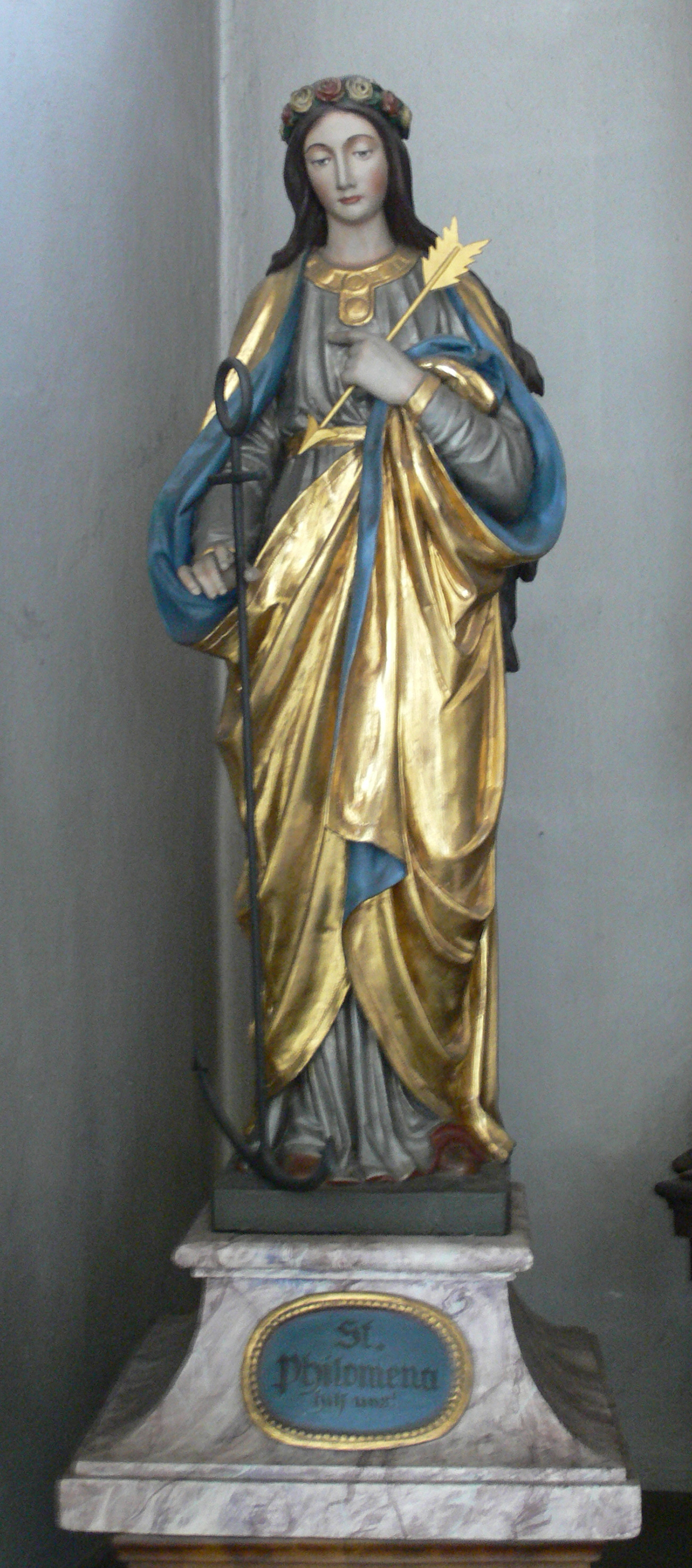 Launch the slideshow
A popular devotion to the saint
In 1827, Pope Leo XII gave the three inscribed terracotta slabs from the original tomb in the Roman catacomb to the church in Mugnano del Cardinale, by now a sanctuary.
Due to the numerous miracles taking place at her tomb, in 1837, Pope Gregory XVI declared Philomena a saint. Canonization in such a way – based primarily on miraculous intercession – was extraordinary.
Over the decades, kings and queens, saints and blesseds, princes and paupers alike have journeyed to Mugnano seeking intercessions through St. Philomena. Even Blessed Pope Pius IX celebrated Mass at her altar on November 7, 1849.
Among the many saints with a devotion to her was St. John Vianney (the Curé of Ars). He encouraged his parishioners to seek her intercession, and he had a chapel dedicated to her in his church. John Vianney attributed many of the extraordinary healings with which he was credited to the intercession of St. Philomena.
The story of St. Philomena – who at the gentle age of 13 chose torture and martyrdom for Christ instead of earthly gain and honors – began to circulate. God used her story to counter the 19th-century enlightenment and rationalism that had become rooted in the culture and Church. Her life and story reflected Scripture: "Yet we do speak a wisdom to those who are mature, but not a wisdom of this age, nor of the rulers of this age who are passing away" (1 Cor 2:6).
Pilgrimages to her shrine continue
Today, devotion to St. Philomena is more widespread than ever. Though her feast day was removed from the universal liturgical calendar in 1961, this does not mean that she was not a saint. Devotion to her is still strong and she remains a powerful intercessor.
At the Sanctuary of St. Philomena in Mugnano Del Cardinale, pilgrims can visit the young virgin martyr's relics, the three tiles, the Miraculous Altar and Miraculous Statue that exuded oil, and the chair that Ven. Pauline Jaricot was sitting on when she received her miracle.
St. Philomena is Patroness of hopeless cases, expectant mothers, infants, babies, and young people.
Her Feast is celebrated on August 11.