A new book, 'Beauty in the Browns,' offers a Christian man's perspective on living with depression.
It sounds like a stereotype, but the research supports it: Men with mental illnesses are far lesslikely than women to receive mental health treatment.
The reasons for this difference are tricky to unravel. They may include stigma around mental health issues, lack of social support, or unawareness of mental health resources, among other things.
Whatever the cause, something needs to change. Depression and suicide are leading causes of death for men. Getting professional help for mental health can make the difference between life and death.
A new book, Beauty in the Browns, is a helpful and understanding resource for anyone facing depression — especially Christian men. The author, Paul Asay, is a writer and entertainment critic who reviews movies for Plugged In, blogs on Patheos.com, has written several books, and writes here at Aleteia too.
Asay hadn't shared publicly about his mental health until writing Beauty in the Browns, although he writes for a living and has lived with depression for decades. But he was inspired to share his story when his son was also diagnosed with depression.
In the book, he shares that it took him a long time to seek out professional help. Like many people, especially many men, he was reluctant to accept that he might need help.
"I think all of us, particularly if we're men, like to think of ourselves as self-reliant. We don't need help. We can pull ourselves up and push through whatever life throws at us," he said in an interview with Aleteia. "There's merit in thinking that way, sometimes. But honestly, it's often not true and, I think, it's a little unbiblical."
It takes courage to admit we need help. But allowing others to help us is part of being human. We all need God's grace, after all, and there's a profound humility in allowing ourselves to accept help.
"We're supposed to help each other with our burdens. We're supposed to lean on each other when we need to," Asay said. "All of us, whether we suffer from depression or not, are broken creatures, in need of help from our friends, our family, and most especially our God."
Over time, Asay says his perspective has changed. His initial reluctance to get professional help with his depression has been replaced by an understanding that mental health is another facet of overall health. He explained,
I look at it like this: You break an arm, and it's obvious you need to go in for a little professional help getting the thing fixed. When something goes wrong with your mind, it's not as obvious, but the same dynamics are still in play. Sure, you may be able to hide it more effectively than a broken arm. You might be able to even ignore it yourself for a time. But if you want it to get better—if you want it to feel better—you should go to an expert who can help with that.
For Christians, it may help to consider that seeking help with mental health can be an important part of fulfilling our vocations. God created each of us for a specific mission and purpose. Improving mental health can help a person to fulfill that mission as well as possible.
"It's not a weak thing to seek out help for depression," Asay said. "That help can be the catalyst to put us back on track and to do whatever God put us on this earth to do. If we are truly tools in God's hand, we owe it to our Creator to be as functional as we can be—and that means getting help when we need it."
Beauty in the Browns offers a moving, insightful, and occasionally humurous perspective on what it's like to live with depression as a Christian man. If this describes you, or someone you love, you won't want to miss it.
"I hope that those who read it and are suffering from depression—or are trying to help someone who does—will feel less alone," Asay said.


Read more:
2 Practical strategies for Christians coping with depression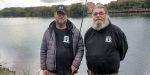 Read more:
The Bearded Fishermen seek to rescue those who are depressed and suicidal