It's not easy to pray amidst constant interruptions, but staying the course brings great graces.
Have you ever gone to Mass and your baby started to cry? Have you tried to pray during the time set aside for it, but the little ones' fights made you identify with only one character in the Gospel? (Yes, Herod …) Have you prayed 20 Hail Marys in the same mystery of the Rosary, repeating yourself so often that you've lost count? If so, I'm writing for you.
Going to Mass, trying to pray, going to group formation activities or prayer groups with children can lead you to take for granted the feelings of stress, and to believe that the following fallacies are true:
I shouldn't go to Mass because I'm not going to be aware of anything but my kids.
I'm a nuisance to others (I'm sorry to tell you the sad news that they haven't invented anti-nasty-look vests yet).
A priest's response
But, to cheer you up and give you a different perspective, I want to tell you what a priest said to a mother of a large family on this matter.
St. Josemaría Escrivá received the following question from a supernumerary member of Opus Dei: How can you pray when children are crying and screaming?
St. Josemaría replied that, for Heaven, the crying of children sounds like organ music played in a cathedral. So, voilà, try to transform the screams, fights and tantrums into organ chords in your head, because that's how the noise in your living room reaches Heaven during the times when you try to exercise your soul. (I take this opportunity, Lord, to ask you to make that noise sound like organ music … to my neighbor downstairs!).
And, with this new peace of knowing that the cry, "Mommy, Andy is bugging me!" sounds like a C major chord in Heaven, go ahead with the resolution you made to pray for 10 or 20 minutes.
Praying between diapers and LEGO bricks
Pray even if, in those minutes, the organ rings out in all its splendor: Pray even if you have to change diapers, even if you have to deflect Nerf balls, even if you have to pick up more than 300 LEGO bricks, or even if you are trying to get your infant used to baby food.
Better times will come, when you'll be able to pray calmly, with no distractions other than the ones in your own head. But I firmly believe, and probably you do too, that these times of prayer among bottles, diapers and balls are the ones that bring the most smiles in Heaven.
In my case, we spent many years going to Mass with one, two or three babies. During the last phase, before my little one went to school all morning, I was very happy thinking that I could finally go to Mass without having to be moving the stroller back and forth, without picking up the toys that my little ones threw on the floor 500 times …
A sacrifice that joins the Mass
But, in an instant, I realized that in none of the future Masses could I add in the Consecration the flavor of that effort, of that sacrifice; a flavor that, united to the music of the organ, is very valued in Heaven. I also realized that, no matter how much it annoyed the rest of us mortals, the Lord would miss the kiss that my little one blew through the air from her chubby little hand.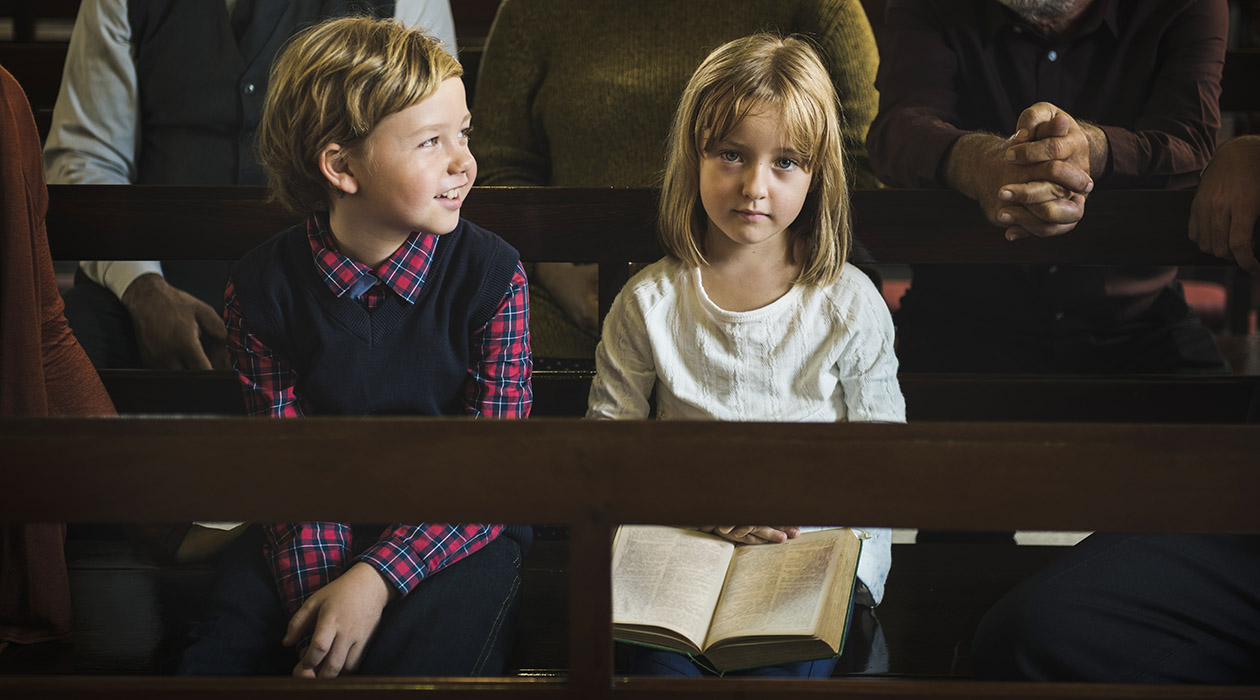 So, from this perspective, I want to encourage you to maintain the goals you have set for yourself in this area: Mass, prayer times, spiritual readings, Rosary, etc. Be aware that there will be days when, just by not yelling at your kids during that time, you'll already be giving glory to God.
At Mass, you'll be able to overcome any tantrum or awkward situation and, with all the peace in the world—or rather, with all the peace of Heaven—you'll take the child out of the church, calm them down and go back in with them.
And, regarding the much-needed anti-nasty-look vest, I haven't found anything on the internet yet, but smiling at those "holy people" with humility and an amiable face will undoubtedly bring many souls out of purgatory under the chords of the organ.
Have you ever gone to Mass and your baby started crying? I'm right there with you. But these little sacrifices can be the most valuable prayer of all.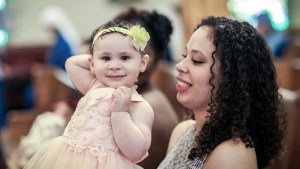 Read more:
The hardest part of taking little kids to Mass
Read more:
A letter to the parents who keep bringing their disruptive kids to Mass, week after week