People encouraged to donate to program for "most vulnerable brothers and sisters."
Just before 10 am on April 2, Good Friday, Pope Francis stopped in at the atrium of Paul VI Hall where Covid vaccinations were underway for the homeless or those needing special assistance.
Those being vaccinated were accompanied by volunteers from charitable associations of Rome. The vaccine doses were donated by the Lazzaro Spallanzani hospital in Rome.
Pope Francis spoke with people as they awaited their vaccination. He also greeted the doctors and nurses, and observed the process for preparing the vaccine doses.
To date, about 800 of the approximately 1,200 persons to be vaccinated this week have been given their first dose.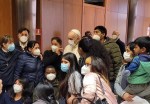 Donate to help
The cardinal charged with overseeing some of the pope's outreach to the homeless and other needy individuals in Rome — known as the papal almoner — said that donations could be made to help with the vaccination project.
Cardinal Konrad Krajewski's office said the donations can be made online at www.elemosineria.va to fund more vaccinations of "our poorest and most vulnerable brothers and sisters."
Before any vaccines had been developed, Pope Francis advocated vaccinating the poorest members of society first.
In a video address to the United Nations in September he urged rich countries not to hoard the vaccine, and to find ways to get it to the poor across the world.
"If anyone should be given preference, let it be the poorest, the most vulnerable, those who so often experience discrimination because they have neither power nor economic resources," he said.
At his traditional Christmas "Urbi et Orbi" blessing, the pope again called for the neediest to be prioritized: "I ask everyone — government leaders, businesses, international organizations — to foster cooperation and not competition, and to seek a solution for everyone: vaccines for all, especially for the most vulnerable and needy of all regions of the planet. Before all others: the most vulnerable and needy!"
Earlier this year, both Pope Francis and Pope Emeritus Benedict XVI received both doses of the Pfizer vaccine, along with Vatican City residents, employees and their families. On January 20, the Vatican's charitable agency vaccinated a group of 25 homeless people.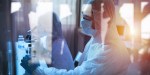 Read more:
Vatican's doctrinal congregation on ethics of Covid vaccines: Looks at duty to pursue common good