The week following Easter Sunday continues the glorious celebration of Jesus' resurrection.
Like Christmas, Easter is often celebrated by the secular world in the days leading up to the feast, but not after. This is in contrast to the liturgical celebration of these feasts, which only begins on the day itself and extends for many days and even weeks after.
In particular, "Easter Week" — known as the Easter Octave — is a special way the Church continues the celebration of Jesus' resurrection, acting as if each day is Easter itself!
Here are a few fun facts about Easter Week and how we can participate in the joy of the Risen Christ.
The week following Easter Sunday is called "Bright Week," by Eastern Christians and refers to the light that Jesus has brought into the world.
In biblical terms, Jesus rose on the "eighth day," which symbolically represents the new creation and the promise of Heaven. Eastern Christians reflect on this promise of future joy by referring to "Bright Week" as "one continuous day."
The St. Andrew Daily Missal further explains the connection the Easter Octave had to the newly baptized members of the Catholic Church.
The Octave of Easter, during which formerly no servile work was done, was one continual feast. Each day the neophytes attended Mass at a [different church in Rome], at which they received Holy Communion. In the evening they went to Saint John Lateran for the Office of Vespers.
Furthermore, the newly baptized would wear their baptismal gowns during the entire octave. According to the Catholic Encyclopedia, the Second Sunday of Easter "was consequently known as dominica in albis (deponendis), the Sunday of the (laying aside of the) white garments."
Canon Law stipulates that this penitential rule does not apply to days in the Church's calendar that are meant to be days of feasting.
Abstinence from meat, or from some other food as determined by the Episcopal Conference, is to be observed on all Fridays, unless a solemnity should fall on a Friday (Can.  1251).
A solemnity in the Catholic Church is a day in the liturgical calendar that is marked with the highest importance and celebration. It is a day to rejoice! Easter Friday is a solemnity!
The Easter season is meant to be a great time of joy. This joy is naturally shared with others and over the centuries Christians have expressed it in different ways.
For example, Christians in many parts of the world will greet each other with a "Paschal greeting." It is much more than a "Happy Easter," and relates the joy one has on account of the resurrection of Jesus.
The custom was originally developed within the context of the liturgy and is still maintained by Eastern Christians today.
It occurs during the Resurrection Matins, a night-time vigil that begins the celebration of Easter on Holy Saturday. According to the Metropolitan Cantor Institute, during the signing of the psalms "the faithful come forward to kiss the hand cross held by the priest, who greets each one: 'Christ is risen!'; and each of the faithful replies, 'Indeed he is risen!'"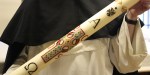 Read more:
Everything you need to know about the Easter candle