Loren Schauer decided to seize life and has inspired many along the way.
Not even a movie screenwriter would've dared to write such a shocking fictional story. The accident that changed Loren Schauers' life in September 2019 was sudden and terrible. Loren, who was just 19 years old at the time, was doing his job as a road worker when the accident happened.
A near-fatal fall
The facts of the story are impressive. On the morning of the tragiedy, Loren was aboard a forklift, working on a bridge under renovation. The roadway was narrowed due to the road work, but this did not dissuade a car from approaching at high speed. Loren thought to bring his vehicle closer to the edge of the bridge to avoid being hit by the speeding car. However, the road surface—which was undergoing maintenance—gave way. He told the New York Post:
I tried staying on top of the forklift as much as I could as it rolled, and then I was thrown from the forklift at the end of the hill once it finally landed […] My eyes were wide open and I saw the forklift come down and land on my hips and my right forearm.
Against the odds, the 50-foot fall didn't kill him, nor did the 2,200-pound forklift, which crushed half of his body. His then-girlfriend (now wife) Sabia told The Sun, "We later found out that because the ground was so soft as Loren's team had just been moving it, that's how he ended up surviving."
Clinging to life
It's hard to find anything else "soft" in this story. It's not difficult to imagine that some people might say that perhaps it would have been better that the fall had turned out to be fatal. Many news outlets spoke of a "miracle" in the aftermath of the event, but the blessing of survival, as an abstract noun, is miles away from what it really means to survive after such a hard blow from fate.
Loren was given up for dead by the first medical team that saw him, and it was decided to transfer him to a hospice to provide appropriate palliative care in the final moments of his life. After he was transported by helicopter to Seattle, a new team of doctors proposed a desperate attempt to save him: a hemicorporectomy. That is to say, they amputated everything from his waist down, as well as his right forearm.
Loren remembers the moment of that choice with these words to The Sun: "It wasn't a hard choice to have half of my body amputated—it was basically a choice of living or dying."
Amputee
Loren says it wasn't a difficult decision. How so? For most of us—in a situation of relative normalcy, or of tolerable suffering—talking about making a decision always involves a series of evaluations, comparisons, and even retractions. We take our time to decide, because instinct can be a bad counselor.
Loren didn't decide in a hurry and without hesitation just because he was running out of time, but because he found himself face to face with that urgency that makes crystal clear the fact that life is an immeasurable gift.
There was a moment of absolute lucidity in which Loren heard in the word "amputation" and all the echoes of the life he still wanted to live.
Back to normalcy?
Loren disproved gloomy predictions three times, including surviving the extreme surgery after the fall.
The period of his rehabilitation overlapped with the outbreak of the pandemic, and being in a hospital with such a fragile body could've been dangerous. A year and a half of inpatient treatment had been planned for him, but after three and a half months Loren was able to return home. His then-girlfriend-now-wife Sabia has always been by his side and her presence is an important source of the strength shown by Loren throughout this terrible story.
To finish building that bridge
A year and a half after the accident, Loren faces the challenge of each day without lying about the fact that it's hard. He decided to tell the story on social media, showing the accomplishments and struggles of his condition. Thanks to prosthetics and other tools and forms of support created especially for his condition, he'll be able to recover the ability to perform certain actions. In a video he's clearly satisfied as he manages to shovel snow in the yard, aboard a special wheelchair.
But it is a life also with panic attacks, uncontrolled muscle spasms, frequent infections and hospitalizations. That choice between life and death that he made at the crucial moment, has been very difficult to sustain from rehabilitation onward.
The decision to show the public through social media the bright and dark side of his days can be a means of perseverance, of not yielding to the clutches of despair. The dramatic incident happened while he was repairing a bridge. Now Loren wants to finish building another bridge. Speaking to an audience and showing the positive side of his severely disabled condition is a way to cultivate his vital support network—relationships.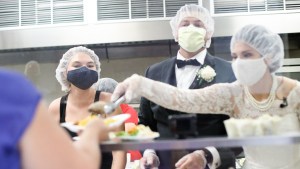 Read more:
Inspiring couple radically change their wedding plans to serve others