The Madonna del Ghisallo church was built on the spot where the Virgin Mary helped a struggling medieval traveler.


Italy is one of the most important countries for cycling. Every year, hundreds of professional cyclists challenge each other in the world renowned "Giro d'Italia," a three-week Grand Tour cycling race.
In the small town of Magreglio in the Italian Alps, near lake Como, there is a sort of pilgrimage site for cycling enthusiasts: a Catholic church consecrated to the Patron Saint of Cyclists, "Madonna del Ghisallo."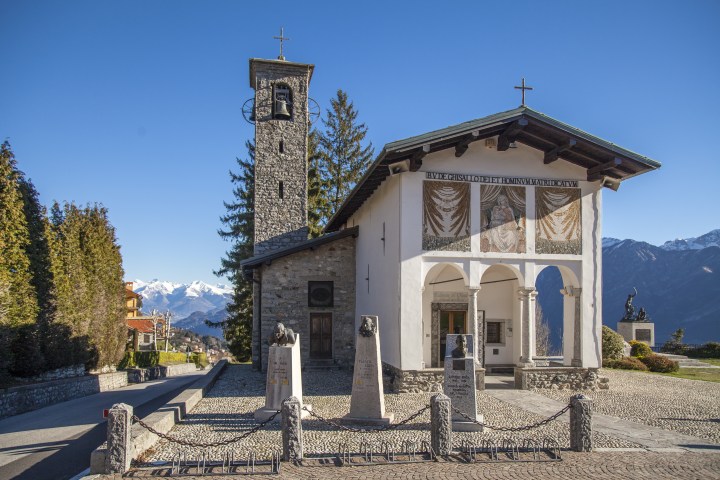 Launch the slideshow
The Madonna del Ghisallo
Built in 1623 and further expanded in the 18th century, the Madonna del Ghisallo church was built on the site of a famous Marian apparition. According to a local tradition, the Count of Ghisallo was traveling across the hill where the church stands today. Attacked by bandits, he prayed for help and ran towards a sudden Marian apparition, ending up miraculously spared by his attackers.
Patron Saint of Cyclists
Since then, the hilltop shrine has become a pilgrimage spot for travelers of all sorts. Since the late 20th century, it has become particularly popular with the many cyclists that train on the steep hill just above Lake Como. In 1949, the Madonna del Ghisallo was officially named by the then-Pope Pius XII as the Patron Saint of Cyclists. 
On top of beautiful Baroque frescoes, the church hosts a series of celebratory artworks dedicated to cyclists, both living and deceased. Just in front of its entrance we find two statues depicting the famous Italian riders Gino Bartali and Fausto Coppi, while on the side of the building there is a moving bronze statue titled "Monument dedicated to a cyclist" built by Elio Ponti in 1973.
Acting as both a shrine for cyclists and a place of worship, the Madonna del Ghisallo has maintained strong ties to the Vatican. In 2000, a torch march from Ghisallo to Rome was organized by a local foundation, with the torch eventually reaching Pope John Paul II. 
In 2006, a fully equipped Museum of Cyclists opened its doors on the scenic terrace just outside the church, with Pope Benedict XVI blessing the final stone, which was inscribed with the words "Omnia Vincit Amor" (Love conquers all). According to data from 2017, the museum attracts visitors from as many as 57 countries.
Take a look at these social media posts from cyclists who have visited the church dedicated to Madonna del Ghisallo: