She lived with a man who was not her husband, flaunted her wealth, and was disrespected by all who knew her until she heard a voice that changed the direction of her life.
Cortona, in southeastern Tuscany is a lovely hill town known for its gentle beauty and made famous by the book and movie, Under the Tuscan Sun. At the same time, Cortona has a long history of spirituality and saints.
St. Margaret of Cortona, from sinner to saint
St. Margaret of Cortona (1247-1297) is considered one of the 13th-century penitents par excellence. Like St. Angela of Foligno, Margaret lived an early life of decadence and self-indulgence. 
Margaret was born to a peasant family in the small town of Laviano on the border of Tuscany and Umbria near Lake Trasimeno. As a child, she was energetic and enthusiastic; at the same time, she craved attention. When she was just seven years old, her mother died, and two years later her father remarried. Her relationship with her stepmother, however, was far from ideal. When she was 17, she ran away from home.
Margaret, who was both lovely and flirtatious, soon met a young knight. She lived with him as his mistress in his castle in Montepulciano near Siena, and they had an illegitimate son together. She was known to flaunt her wealth to those less fortunate and was disrespected by the local people and her own family.
After living as a concubine for 10 years, Margaret hoped her child's father would marry her, but he never did. At this point, Margaret began experiencing deep regrets.
One day, Margaret was horrified when she discovered her lover had been murdered. She immediately returned everything she had to the knight's family, and left with her son. She intended to return to her father's house, but he would not take her in. Margaret suddenly found herself a single mother with no place to go. 
A new life of self-discipline and service
While crying beneath a tree, Margaret heard a voice say to her: "Go into the town of Cortona and put yourself under the spiritual direction of the Franciscan friars." And so she did.
Margaret embraced a new life of self-discipline that included fasting, penance, and service to the poor. After three years of probation, she was admitted to the Third Order of St. Francis. Her son became a Franciscan friar.
From that time onward, Margaret lived in strict poverty. She supported herself by begging alms, tending to the poor and sick, and giving herself freely to others.
During this time, Margaret still felt lured to return to her old ways. She felt tempted to an easier life by using her beauty. By grace, she remained faithful to her new life and vows, and continued her disciplined religious life of devotion and poverty.
During this time, she began experiencing revelations. In 1277, as she was praying in the Franciscan church, she heard the words: "What is your wish, poverella (poor little one)?" She replied: "I neither seek nor wish for anything but You, my Lord Jesus." From that time forth she lived in intimate communion with Christ. 
Margaret tirelessly dedicated herself to serving the poor. She founded a hospital as well as a confraternity dedicated to Mary. The members supported the hospital through a spiritual ministry of prayer. She was known by the Franciscan friars as "the Franciscan Mary Magdalene."
Toward the end of her life, Margaret withdrew from her works, seeking solitude and prayer. She retired to a church outside the city gates run by Monks of the Order of St. Basil. There she died on February 22, 1297 at the age of 49, and her body was interred in the same church.
St. Margaret was canonized on May 16, 1728 by Pope Benedict XIII. After her canonization, the church was renovated in a more ornate style and renamed after her. It was transferred to the OFM Franciscans who look after it today.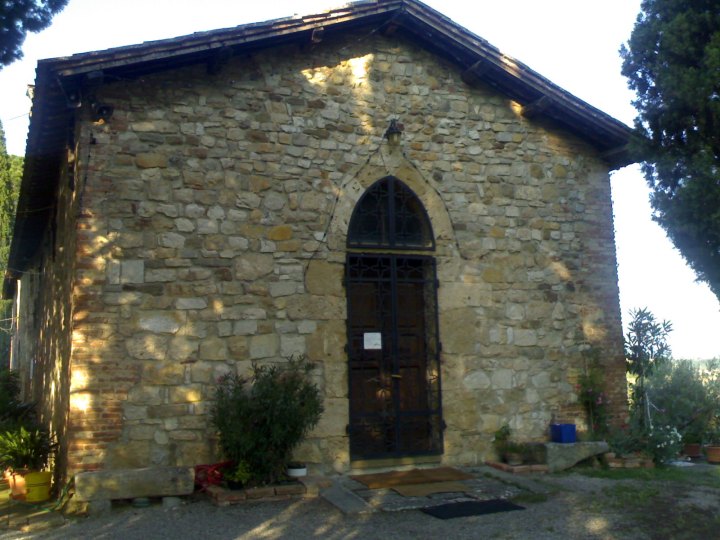 Launch the slideshow
A pilgrimage to St. Margaret's church
In the church of Santa Margherita, visitors can see the incorrupt body of St. Margaret of Cortona. Many miracles, both physical and spiritual, have been reported by pilgrims here.
St. Margaret's feast day is February 22. She is the patron of the falsely accused, homeless people, the mentally ill, orphans, penitents, single mothers, and reformed prostitutes.
Also in Cortona, not far from the Church of St. Margaret, is another important Franciscan church: Le Celle di Cortona – the "cells of Cortona." Nestled poignantly in a narrow valley, the striking Cells of Cortona offer an isolated place ideal for meditation and prayer.
The Franciscan hermitage was founded in 1211 by St. Francis himself not far from the city gates of Cortona. Initially, it was composed of a small cluster of primitive "cells" for strict penance and meditation. In 1226, shortly before his death, he was here with Brother Elia. While St. Francis was here, his stomach ailments worsened and he knew he was dying. He was taken back to Assisi, where he died on October 4, 1226.
Brother Elia eventually retired to Cortona. There, he oversaw the building of the church of San Francesco in 1232, in addition to the transformation of the "cells" into a more stable convent. Over the centuries, the complex expanded into what is there today. 
You can visit the original cell where St. Francis slept on a stone bed when he was here in 1211. Eventually the complex was occupied by the Capuchin Friars. The site was entirely renovated in 1969.