The blessing of a new baby can fill us with gratitude for the greatness and wonder of God's love.
Having children has taught me more about self-sacrifice, patience, and surrender to God's will than anything else in my life. Most of all, my babies reveal to me the everlasting depth and breadth of God's love.
It's no coincidence that God took the form of a newborn baby when He came to earth. Pope Francis has spoken about the newborn Christ as an image of God's goodness:
The very first way the Child Jesus revealed the love and goodness of the Father was in smiling at his parents, just "like every newborn baby in this world," Pope Francis said. "When we look at a newborn baby, we are led to smile at it, and if a smile blossoms on its small face, then we experience a simple, unsophisticated emotion," the pope said. "Jesus is the smile of God."
I recently welcomed my fourth baby, and the pope's words ring so true to me. With each child I have, I cherish and enjoy the baby stage even more. With my first, I couldn't wait for him to get older. Now, with my fourth, I almost wish she could always stay so small and sweet!
As I hold my newborn daughter, I can't help but be moved to tears at times by the power of my love for her. These are 7 ways that the priceless gift of her presence in my life reveals God's love to me.
1
Longing for the beatific vision
Any parent who has gazed at their newborn recognizes this feeling: She almost seems too cute to be real! I wish that I could gaze at her forever, taking in each precious little detail. Of course, even if I had nothing else to do all day but look at her, my own capacity to appreciate beauty is limited.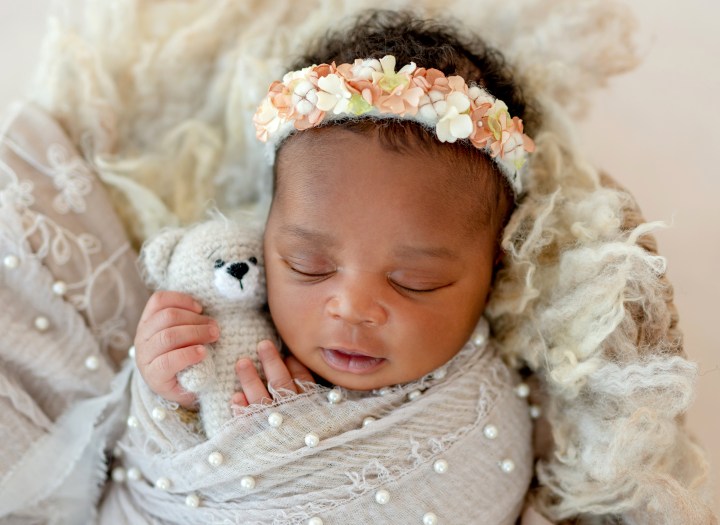 Tatyana Vyc | Shutterstock
But if I think my baby is lovely enough to gaze at all day, how much more perfect and beautiful must be the God who made her? It makes me long for an everlasting capacity to contemplate and appreciate the goodness of what God has made, and that's something that won't happen this side of heaven.
2
Gratitude for God's good gifts
While the world says that a baby is a burden to avoid, the Bible is abundantly clear that a child is the greatest gift God can give. The births of each of my children has brought overwhelming gratitude for God's generosity in giving them to me. 
3
God's patient waiting for us
Now that my baby can smile, our relationship has a new dimension of joy. She sits patiently and waits for her siblings, her father, or me to notice and smile at her, and then her face lights up with an enormous smile in return. 
Eleonora_os | Shutterstock
Like any baby, the Christ Child once waited in the same way for smiles from his family. It seems to me that he still waits this way for us today in the Holy Eucharist. There he awaits our attention patiently, and returns our notice with an outpouring of grace. 
4
Wonder at God's creation
Babies are absolute miracles of God's design. Some people even consider them proof of the existence of God. One of these was writer Whittaker Chambers. Contemplating his baby daughter brought about his conversion to Christianity. He wrote in his memoir Witness,
My daughter … was the most miraculous thing that had ever happened in my life … My eye came to rest on the delicate convolutions of her ear — those intricate, perfect ears. The thought passed through my mind: "No, those ears were not created by any chance coming together of atoms in nature (the Communist view). They could have been created only by immense design." The thought was involuntary and unwanted. I crowded it out of my mind. But I never wholly forgot it … If I had completed it, I should have had to say: Design presupposes God. I did not then know that, at that moment, the finger of God was first laid upon my forehead.
Like Chambers, I've found that spending time with my babies fills me with wonder at God's immense yet intimate design.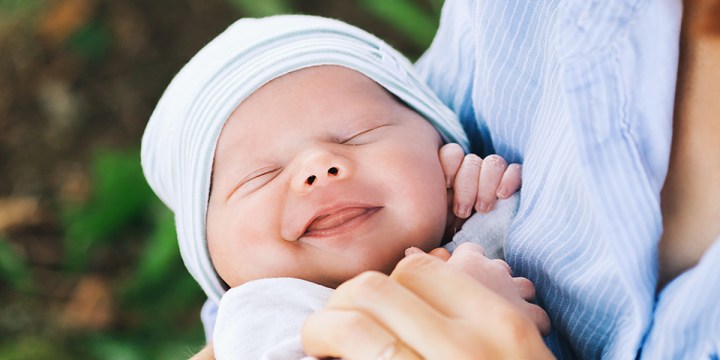 Natalia Deriabina | Shutterstock
5
What it means to "become like a little child"
I've wondered at times what on earth Jesus meant when he said "unless you turn and become like children, you will not enter the kingdom of heaven" (Matthew 18:3). I especially wonder this when one of my children has a tantrum because I did something unspeakably awful like give her a red cup instead of a blue one. 
But I also see that babies are a source of pure joy and total trust. It's this kind of joyful confidence and limitless faith in God that adults are called to imitate. 
I also see that my older children absolutely adore our baby. In spite of their inscrutable whims, children often possess profound wisdom and understand what's truly important in life. They know something that many adults forget, which is that a baby is the greatest gift. It's this wisdom and right ordering of priorities that I think we adults need to recover.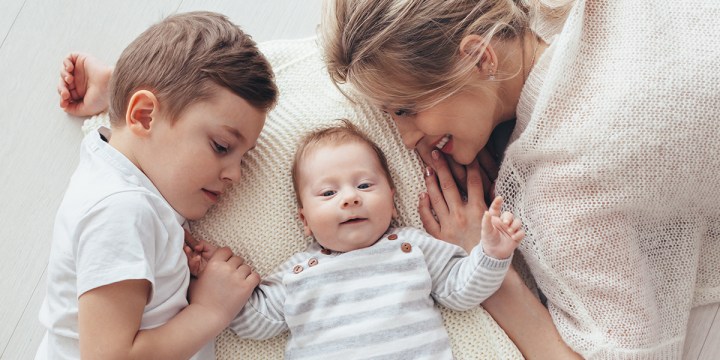 Alena Ozerova | Shutterstock
6
Practicing the Corporal Works of Mercy
Taking care of a baby is an opportunity to serve God, as we lovingly care for "the least of these" (Matthew 25:40). Parents frequently lay down their lives in service to their families, and as grueling as this work can be, it's also a privileged chance to fulfill the Christian mission of loving service.
7
Adoration of the Christ Child
My own infants help me understand why God became a baby: It's impossible not to love these sweet little people. When we remember that Jesus came to earth as a newborn, spending time with a baby can be an opportunity to love and adore the Christ Child.