Fraternity and working together is the best way to defuse it, says Pope in addressing Christians and Jews in Budapest.
Pope Francis says that promoting fraternity is the best way to defuse a lurking fuse of anti-Semitism in Europe, which "must not be allowed to burn."
During his brief stop in Budapest to close the International Eucharistic Congress, the Pope met with representatives of the Ecumenical Council of Churches and some of Hungary's Jewish communities.
"I express my appreciation for your efforts to break down the walls that separated us in the past," he said. "Jews and Christians alike, you strive to view one another no longer as strangers but as friends, no longer as foes but as brothers and sisters. This change of outlook is blessed by God; it is a conversion that makes possible new beginnings, a purification that brings new life."
The Pope said that the God of Christians and Jews "always points us in new directions."
Just as he transformed the desert into a highway to the Promised Land, so he wishes to bring us out of the barren deserts of bitterness and indifference, to that land of fellowship for which we long.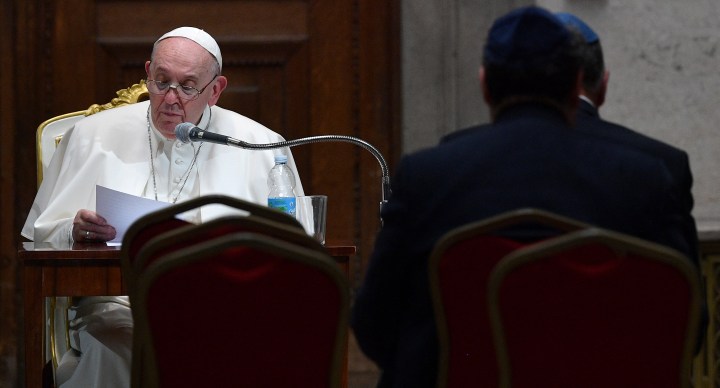 Tiziana FABI / AFP
The Pope continued:
It is not by chance that, in the Scriptures, those especially called to follow the Lord must always set out on a journey towards unexplored lands and unfamiliar places. We think of Abraham, who had to leave behind his home, family and native land. Those who follow God are called to leave certain things behind. We too are being asked to leave behind our past misunderstandings, our claims to being right while others are wrong, and to take the path that leads towards God's promise of peace. For his plans are always for peace, and never for misfortune (cf. Jer 29:11).
Pope Francis spoke of Budapest's Chain Bridge as an image of what he discussed.
"The bridge does not fuse those two parts [of the city] together, but rather holds them together. That is how it should be with us too," he said.
Whenever we were tempted to absorb the other, we were tearing down instead of building up. Or when we tried to ghettoize others instead of including them. How often has this happened throughout history! We must be vigilant and must pray that it never happens again. And commit ourselves to fostering together an education in fraternity, so that the outbursts of hatred that would destroy that fraternity will never prevail.
In this context, he warned of the "threat of antisemitism still lurking in Europe and elsewhere."
"This is a fuse that must not be allowed to burn," he said. "And the best way to defuse it is to work together, positively, and to promote fraternity."