Padre Pio was violently attacked by the devil and nearly died, but was saved by the Virgin Mary.
St. Padre Pio was widely known for his holiness and his ability to reconcile sinners to God through the sacrament of confession. His effectiveness drew many crowds, but also many enemies.
It was the spiritual enemies that caused him the most pain.
According to the biography Padre Pio: The True Story published by Our Sunday Visitor, late in his life a demonicallypossessed woman stopped by and started hurling insults and threats at Padre Pio.
As soon as he approached, accompanied by Padre Eusebio, the woman leaped at him, screaming incomprehensible words in a deep, hoarse voice. She tried to scratch his face, but both he and Padre Eusebio were able to keep their distance."I was terrified," Padre Eusebio wrote,"but Padre Pio less so."

"In the Name of God, go away!" Padre Pio yelled, moving past the madwoman, who didn't follow, but kept screaming, "I'll make you pay! I'll make you pay!"
The woman was taken away and a different priest began an initial exorcism of her.
Later that night the friars were awakened by a horrible noise.
A little after ten o'clock that night, the friars on the floor where Padre Pio lived heard "a frightful thud." Padre Eusebio wrote that it was "an incredible noise, as if the big door of the church was being slammed." Then they heard Padre Pio crying, "Brothers! Brothers!"
The friars rushed in to see Padre Pio on the floor, bleeding from his face. A cushion from the kneeler was underneath his head, which saved Padre Pio from suffering a major blow to the head.
The next day Padre Pio's face looked bruised and his eyes were black from the impact he suffered the night before. The woman was back in the crowd and taunted Padre Pio.
"Ah, I got my vengeance on that miserable old man!" Moreover, she kept shouting, "Ah, that cushion! That cushion!"
Later the priest resumed the exorcism and related how the woman was distraught at how that cushion saved Padre Pio.
[W]hen the priest who had been trying to exorcize her the day before began once more, the woman shrieked,"Where were you last night? I was upstairs to see the old man I hate so much because he is a source of faith. I would have done more, only the White Lady stopped me." It was said that the cushion found under Padre Pio's head was put there by the Virgin Mary.
Eventually the woman was successfully exorcised from the demon possessing her and was grateful for Padre Pio's prayers. She was liberated and became, "the most happy woman in the world."
Rarely seen photos of Padre Pio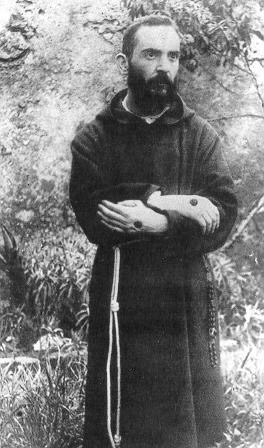 Launch the slideshow