Classes and friendships are two of the most prominent aspects of college life. In these letters, senior devil Tapeworm expounds on the dangers of studying the Development of Western Civilization.
Editor's note: This article is an original letter written by a Providence College student who was introduced to C.S. Lewis' 'Screwtape Letters' in this college professor's course.
My Dear Wobbegong,
I am delighted to hear that the patient has not been going to Mass. He seems to be spending quite a bit of time seeking out pleasure, and this is crucial if you are to win his soul. However, we must talk about classes. After all, this is why the patient is attending college to begin with.
I have been informed that the patient's favorite class right now is the Development of Western Civilization 101?! Is this a joke? DWC is one of the primary mechanisms that may lead the patient to think in a way that aligns with the Enemy. Before he attended Providence College I warned you about the dangers of DWC, and now you go ahead and let this happen. Before this escalates any further, changes must be made —  but you must be very particular about the sequence of events!
First, remember the advice that I relayed to you in my most recent letter? This is how step one is initiated. You must distract the patient from his DWC reading and homework. Make him question the length of the reading and consider how long it will truly take him to do the reading effectively. Next — and this is critical — you must remind the patient that he is paying to attend Providence College. The patient will begin to get frustrated as to why he is paying for all of the stress and anxiety that comes with schoolwork. Ensure that the patient remembers how well he has been doing in DWC, how he has yet to miss a reading. He will be proud of all that he has accomplished and feel entitled to a night off. This sense of pride is key, and if you handle it correctly, you will have successfully persuaded the patient to ignore the DWC homework.
Now, one skipped homework is not going to win this soul. You must cut deeper. When the patient attends his next DWC class, make sure that he was at least willing to find some sort of summary of what he was supposed to read. This way the patient will not be completely lost during the class and so won't feel any sort of shame for not doing the reading. This is where you ensure that skipping the readings becomes a habit. Once the patient realizes skipping readings once was fine you need to make sure that he skips the reading every time. Everything that the patient begins to do should be pushed to the extreme, nothing should be in moderation. That is, unless the patient begins to devote himself to the Enemy. Extreme devotion to the Enemy will make your job that much harder.
Once skipping DWC readings becomes a habit the patient will begin letting go of his critical thinking and reasoning skills. And trust me, at this point it will become very easy to get the patient out of the library and into the comfort of his dorm room. Before you know it, Monday through Friday will be spent sitting on the couch, drinking beers, and playing video games instead of tending to the hours upon hours of schoolwork that the patient has missed due to lack of moderation.
Throughout this process be sure to inject as much pride as you can into the patient. There are troughs and peaks in life and, surprisingly, the peaks are the easiest point at which to win souls. Anger or sadness because of bad grades can easily be capitalized on by introducing the patient to physical pleasures like sex or drugs that will make him feel instant pleasure and will consume him.
However, the Enemy prefers troughs to peaks to win souls for himself. This is because our aim is to absorb the patient as food, while the Enemy's aim is to fill the universe with beings that have wills that freely align with his. To do so they must learn the Enemy's ways of loving all men and charity through suffering. Due to this, triggering feelings of pride rooted in how much the patient pays to attend and all that he had to do to get into Providence College is the safest way to win this soul. Grades are just numbers and letters that the patient can work on in the future. Continue the same path of exploiting the patient's pride and next week I will give you some advice regarding the patient's social life.
Your Warmhearted Uncle,
Tapeworm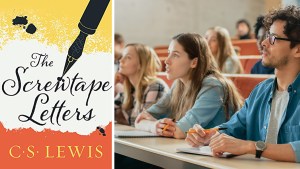 This snippet from a later letter suggests that cultivating the "proper" friendships can reinforce the damage done through skipping reading assignments for DWC:
I was delighted to hear from my assistant Weezenug that your patient has crossed paths with some rather desirable acquaintances on Eaton street. From the looks of it they seem to be a skeptical bunch, condescending toward their peers, and far more confident than intelligent. From what I understand they enthusiastically belittle others' opinions while being unable to form an opinion of their own. This is ideal.
And I see that you have been properly exploiting his sexual vanity. Now we can exploit his social and intellectual vanity. However, you must tell me: does he seem to be truly committed to this group? You must examine the patient's expressions, tones, and words as he speaks with them. Does he give off a subtle arrogance that he understands all that the other has to offer? This beautiful condescending attitude must be ingrained in his personality.
There is no doubt that he will eventually meet new people and possibly form different friend groups. Of course, the easiest course of action is to maximize the patient's time off campus at Eaton street parties. The patient is more likely to make more of the same great friends that share the love of drugs and alcohol. Remember, it is easiest to manipulate the patient when he is unable to use reason. This must be approached carefully, though.
If the patient strays too obviously in the opposite direction of the Enemy, he may begin to question his decisions. Make sure that the patient is still attending his classes to create the illusion that he is still fulfilling his duties as a student. Upon talking to others in classes the patient may begin to realize that other students are putting much more time and effort into their schoolwork. Once again, pride steps in here. While the patient is, of course, not actually doing the readings, he must be too proud of his so-called intelligence to admit that he does not do the work. The condescension and other delicious traits he has picked up from his other friends will leak over into his academic life…