Let's take a moment to honor some modern-day heroes.
It's been a rough year for most people, and there's a real temptation to lose hope and feel that goodness is gone from this world. But the heartening truth is that there are countless good people out there dedicating their lives to serving others as Christ did. Some of these people end up making the news, but others work quietly. Regardless, their witness of faith, courage, and sense of mission always brings a strong sense of hope.
So let's take a moment to honor some of these heroes from the past year. There are many others who deserve to be mentioned, but these 10 will inspire you as the calendar year comes to an end and we get ready for a new one to begin, with all its joys and challenges.
1
Sister Ann Nu Thawng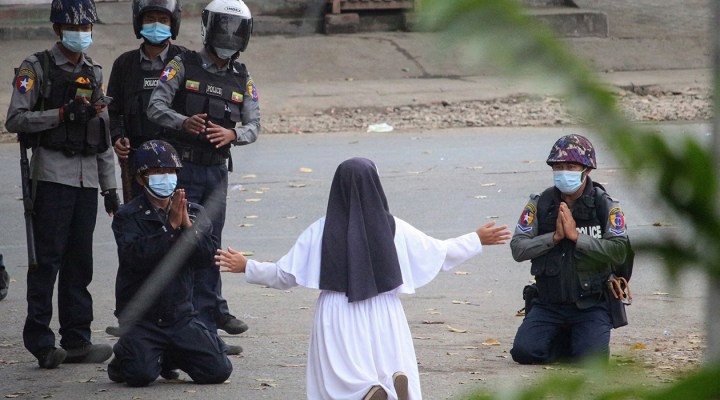 Handout / Myitkyina News Journal / AFP
This Catholic nun courageously offered her life in place of others when a peaceful protest turned deadly in Myanmar. As police cracked down on marches, the Sister of St. Francis Xavier knelt down in front of troops, raised her hands into the air and cried out, "Don't shoot, don't kill the innocent. If you want, hit me." 
Reports say that the soldiers were surprised at her actions and did not shoot but stopped their advance. Joseph Kung Za Hmung, editor of the Gloria News Journal, the first online Catholic newspaper in Myanmar, said, "Sr. Ann Nu Thawng is today a role model for Church leaders: bishops and priests are called to step out of their comfort zones and follow her courage as an example."
2
The Cuban freedom fighters
YAMIL LAGE / AFP
After decades of brutal oppression, the people of Cuba rose up against the regime several times this past year. Their fight is ongoing as they cry out for "a Cuba where justice, freedom and peace reign." While not all of the protestors are Catholic, of course, we are thinking in a special way of the Catholic priests and bishops of Cuba who have voiced support for the protestors. 
3
Sister Theresa Aletheia Noble, FSP