Born in Africa, enslaved, and brought to Italy, St. Josephine converted to the Catholic faith, became a nun and was canonized by Pope St. John Paul II.
St. Josephine Bakhita was born in 1869 in Olgossa, Sultanate of Darfur.
In her autobiography, she details how she was captured and sold as a slave, regained her freedom, and was baptized and became a nun:
My family lived in the center of Africa, in a suburb of Darfur, called Olgrossa, near Mount Agilerei. I lived fully happy […] I was about nine years old, when one morning I went for a walk in our fields. Suddenly two ugly, armed foreigners [emerge] from a hedge. One takes a large knife from his belt, points it to my side, and with an imperious voice says, "If you cry, you are dead, go ahead follow us!"
Her abductors gave her the name Bakhita, which means "fortunate" in Arabic. Despite the horrors she endured, she never lost her positive outlook on life.
She was passed from master to master and suffered deprivation and floggings. The cruelest ordeal was when she was tattooed in a tribal ritual: she endured 114 knife cuts to her body:
It seemed to me that I was dying at every moment. Immersed in a lake of blood, I was taken to the bed, where for several hours I was out of myself. For more than a month [I lay] on the mat without a cloth with which to dry the fluid that continually came out of the semi-open wounds due to the salt [placed to ensure scarring]. 
From Africa to Venice
In 1883, she was sold a fifth and final time. An Italian consular agent named Callisto Legnami bought her. For the first time, she was treated with kindness. After two years, Legnami returned to Italy and took Bakhita from her native Darfur in present-day Sudan.
There, he gave her to some friends, the Michieli family. For three years she served as nanny to their daughter, Mimmina. 
When the Michielis left for an extended trip to Africa, they sent Bakhita and their daughter to Venice. There, Bakhita was hosted in the Institute of the Catechumens, run by the Canossian Sisters in Venice. It was 1888.
When the Michielis returned to Italy, they wanted to take Josephine back with them. But she refused. The Canossian Sisters and the patriarch of Venice intervened on Sr. Josephine's behalf, and the case went to court. The judge ruled that since slavery was illegal in Italy, Bakhita had actually been free since 1885.
Her journey to become a nun
In Venice under the care of the Canossian Sisters, Josephine felt drawn to the Catholic Church. On January 9, 1890, she received three sacraments from the patriarch of Venice himself: baptism, confirmation, and Eucharist. She was given the baptismal name Josephine Margherita Fortunata. (Fortunata is the Italian word for Bakhita.)
Josephine entered the Institute of St. Magdalene of Canossa in 1893 and made her profession three years later. In 1902, she was transferred to the convent in the town of Schio. There, she assisted her community through cooking, sewing, embroidery, and serving visitors.
Over the next 45 years, she was known as a woman of prayer and mercy, and she conquered the hearts of the people. The children called her the "chocolate" nun, and playfully tried to eat her. Already in her life they called her a saint.
Sr. Bakhita died on February 8, 1947, from pneumonia. The town of Schio went into mourning.
She was canonized in St. Peter's Square by Pope John Paul II on October 1, 2000, amidst African dances and songs. Her feast day is February 8.
Visiting Schio for a pilgrimage
The town of Schio is a delightful town. Located north of Vicenza (site of an important US military base) and east of the famed Lake Garda, it sits to the south of the "Little Dolomite" Mountains. Schio was prominent in the textile industry in the 119th-century, leading to the construction of buildings in a neoclassical style.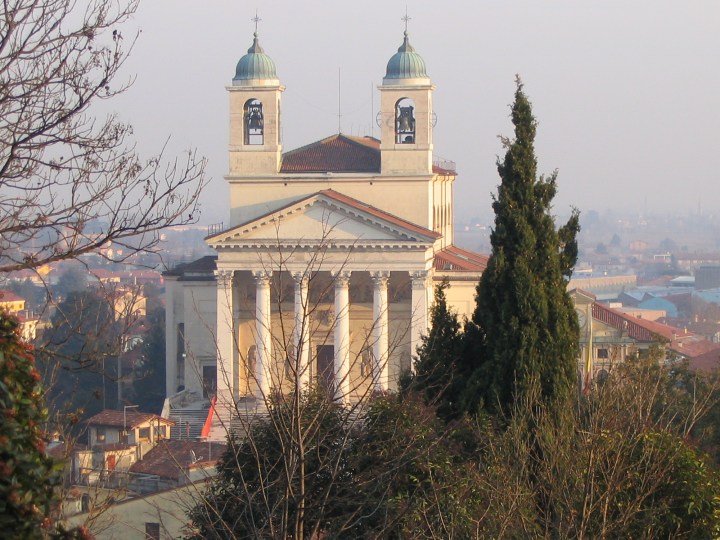 Josephine Bakhita's remains are conserved in the Church of the Holy Family adjacent to the Canossian convent in Schio. Located 80 kilometers (50 miles) northeast of Verona, Schio is accessible by train from either Verona or Venice.
Two smiling images of St. Bakhita greet pilgrims upon arrival at the church, before they even enter. One appears to the left of the manicured garden, while the other appears over the main door.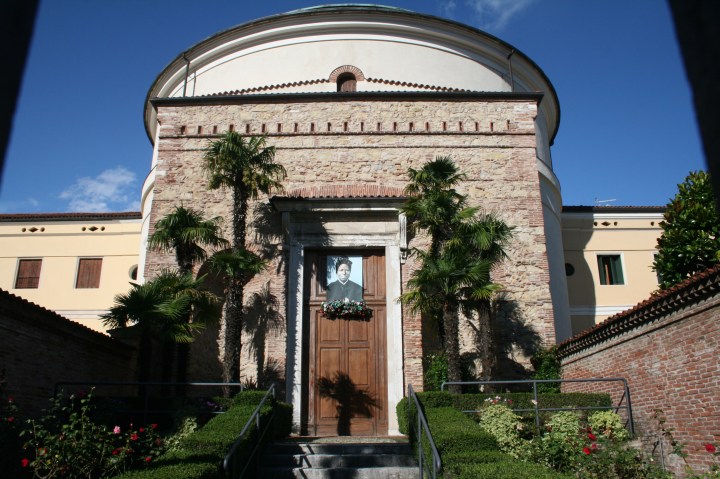 The church is a bright, airy rotunda. With its circular form, pairs of marble columns, coffered ceiling, and oculus in the center of the dome, it has the feel of the Pantheon in Rome, albeit on a much smaller scale.
There are side altars on either side of the church. The one on the left is dedicated to Our Lady. There is a statute of Mary holding the crucified Jesus in her lap, recalling Michelangelo's Pietà in St. Peter's Basilica in Rome. On the right side is an altar dedicated to a blessed Canossian sister.
But one's attention is immediately drawn to the main altar in the front. There, beneath the main altar, is the effigy containing the remains of St. Josephine Bakhita.
She is vested in the black habit of the Canossian Order. Her clasped hands are clutching a rosary. Her face and hands are a mannequin; within the effigy is an urn containing her bones.
Beneath the effigy are capital letters indicating her baptismal and religious name: MADRE GIUSEPPINA BAKHITA. Beneath her name are the years of her birth and death: 1869-1947. 
Used with permission of the Canossian sisters of Schio
To the side of the church is a chapel where she was initially buried. There is a white coffin with a cross on top.
There is a permanent exhibit dedicated to St. Bakhita where visitors can view relics and other artefacts associated with her life, as well as her room within the convent.
The nuns, who run a school, are available to greet pilgrims, whether individuals or groups.