Released at the tail end of 2021, 'While Earth Remains' belongs in the music collection of any discerning Catholic listener.
At the tail end of 2021, Jacob Rudd quietly released the most important Catholic album of the year, While Earth Remains. The work, is a 14-song masterpiece that draws on the artist's faith and reflects on the beauty of a close-knit family. Rudd's contemplative style is steeped in the millennia-old Catholic tradition of introspection that seeks not just to praise the Lord, but also to understand our own devotions. 
It's been a busy two years for Rudd, who has begun homesteading with his wife and three children. The demands of the land are high, but have yielded more fruit than what they planted, giving Rudd a new dimension to his craft. Indeed, Rudd's gentle, mostly acoustic style would sound right at home on the range, casting a glorious soundtrack before a comfortable bonfire. 
Jacob's immense talent on the guitar is the driving force of the album, but it's matched by a strong vocal performance. The album strikes a great balance between liturgical tunes like "The Most Holy Eucharist" and songs that strive for self-examination and faith exploration, like "Seed on the Branches." Our personal favorite is his re-recording of "Be My Captain," a phenomenal song that we will be delving into more thoroughly during the season of Lent. 
Jacob Rudd was kind enough to sit down with Aleteia for an interview about While Earth Remains:
How did you arrive at the title, While Earth Remains?
I was in prayer one day before the Eucharist and the phrase came to my mind … It encompasses both
    • Being grateful for all the beauty that God has made in His creation
    • A cry for humanity (and my own soul) to turn to God to honor and worship Him before our time on earth runs out
The lyrics of this album are rooted in earthly experiences: a ship at sea, an apple orchard, a sheep in a green field, going through the desert, etc. Similar to how Jesus used parables, I attempted to use the earthly imagery to express spiritual truths. 
What is your goal as a Catholic musician and what do you hope that the Catholic community will take away from the album?
My goal is to create beautiful and wholesome music. I love Jesus, His Church, my family, and the gift of life. So, I make songs about them. From there, I hope people can be enriched spiritually and that somehow I can keep feeding my family through creating and sharing my music.
On this particular album, I hope that my songs will bring deeper spirituality among the Catholic community. That somehow God's grace could flow in a special way to make the faith of the listener stronger. A faith that prays more, serves more, and loves more. 
What comes first, the lyrics or the hook? One of the catchiest songs on the album is "Sons and Daughters," with a memorable hook and slick guitar line. On a song like this do you write the lyrics and melody first or did you start with the guitar work? How did you decide on which bible references to include?
On that song it all came together in waves. The melody and words "Oh my sons and daughters" came at the same time I was practicing a picking pattern on my baritone ukulele. That became the foundation of the song. 
From there I expanded the ukulele by adding a strumming part and the theme of not being afraid of the storms of life. I then thought of Noah and the flood – how he had to trust God so much. I then continued the biblical theme by adding sections describing the faith of Abraham, Moses and King David.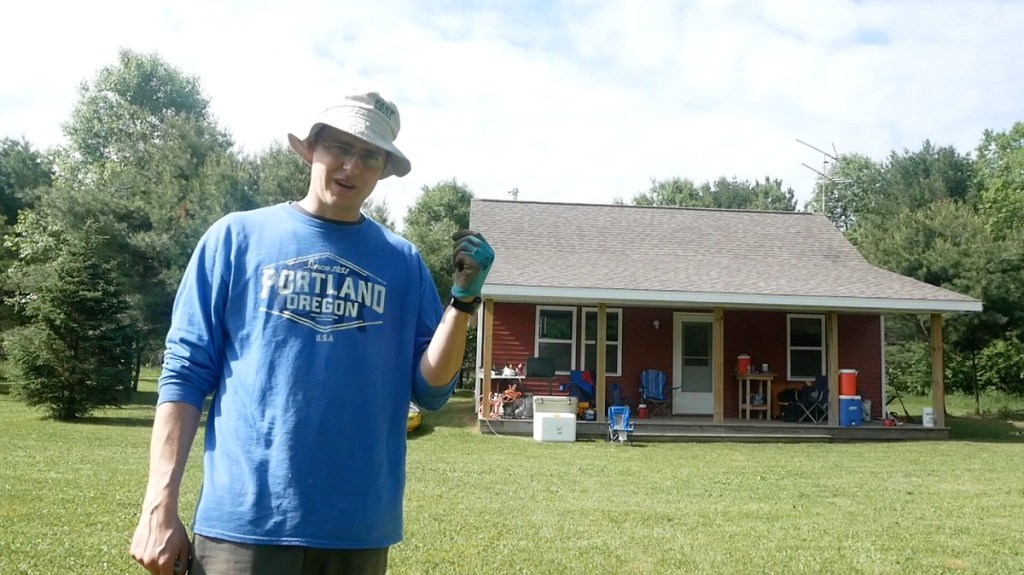 Jacob Rudd – Provided
I then sent what I had to a friend named Matt, who amazed me by adding the slide guitar, bass and percussion. He did a great job and it really brought more life and energy to the song. 
The funny story is that I played soccer with him as a kid probably 20 years ago. My dad was the coach! 
I had not seen him since then until this past summer, at a gathering of Catholic families on a Sunday afternoon. He looked familiar and we realized our childhood connection and then we were both pleasantly surprised we both have been doing musical projects over the years. He volunteered to help me out on this album for no cost at all. I am so thankful for his generosity and for making my album more beautiful. 
What's your process for writing a song like "The Most Holy Eucharist"? Do you have a prayer that you feel guides your songwriting?
For the this song I originally made the guitar part on electric guitar using a ton of reverb. It was originally meant to be more of an atmospheric instrumental. I had this idea to make an ambient song, inspired by a guy on YouTube whose channel is called Chords of Orion. 
I was living in an old church rectory with my family so we had 24/7 access to Jesus in the Blessed Sacrament. One evening I went over there with my guitar. I was bringing the song to Jesus. It took a while and maybe multiple visits but suddenly the song was no longer going to be an ambient instrumental. It was going to be a song about the Eucharist! I didn't have any mystical experience but the lyrics did come somewhat naturally and I attribute that to God's grace.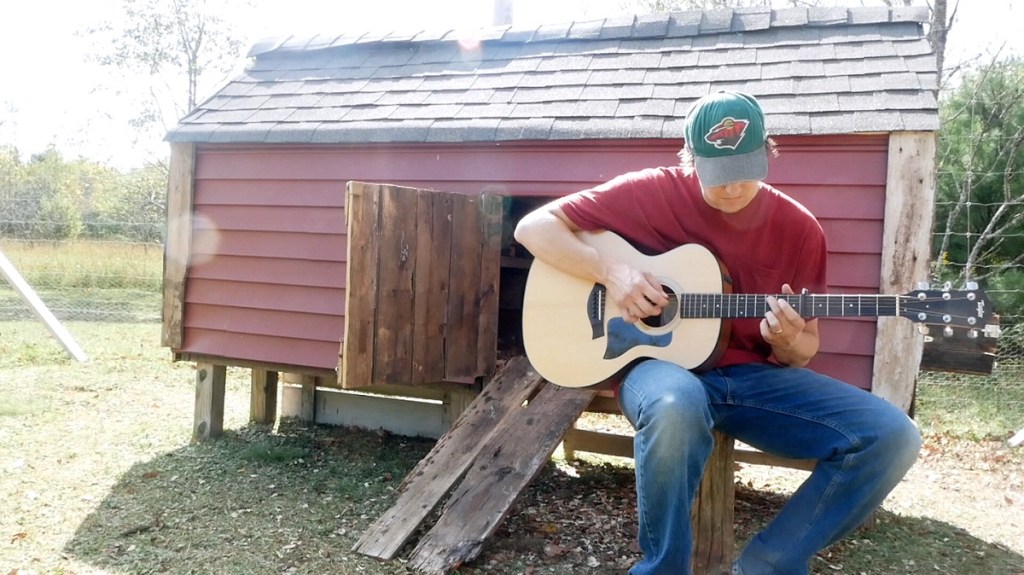 Jacob Rudd – Provided
We have many talented Christian musicians in the world today and many new songs coming out. But not many are about the Eucharist. Most artists are Christian but not Catholic. And for artists that are Catholic, some might not want to be as direct about putting Catholicism into their lyrics because then non-Catholic Christians might be turned off.
It's hard to explain and I've wrestled with these same thoughts. But then I visit Jesus and have so much peace in His presence, and I wonder why wouldn't I want to sing about the Eucharist. It is so mysterious, powerful, and amazing that God is with us in the Eucharist. My song feebly attempts to capture this amazing truth.
One of the most striking aspects of the album is the vivid imagery of your lyrics. Where did you draw the imagery for songs like "Seeds on the Branches" and "Wherever I Go?"
"Seeds on the branches" was kind of an accident song. I was in a sad mood and using the guitar to help cope with my emotions. I began playing guitar and just wanted to sing something new. I started singing the words "Seeds on the Branches." 
I really liked how it sounded. The words went perfectly with the guitar. I recorded it on my voice memos app and moved on. Many days later I revisited the recording and decided to try to write a song using that main lyric of "Seeds on the Branches." That is the result of that song.
For "Wherever I Go," it was a more arduous process. I really had to stretch my brain. I wanted to include my favorite things of creation and relate each one back to my friendship with God. Lyrically, this song probably took me longer than any other song I've ever written. If I were to try to share a poem with the world, these lyrics might be it.
You mentioned that you and your family are starting to homestead. When was that? How do you balance your music with the demands of the land and raising animals? Also, how have your children taken to it?
We bought a little house in the big woods of northern Wisconsin! We have five acres of land and moved in June of 2021 on my 7th wedding anniversary with my wife, Calena. It was our first time ever buying a property. We really love our new home. We are surrounded by pine trees, deer, birds (from hummingbirds to eagles), and a sky full of stars. We have been combining my music with our new life in the woods on YouTube!
We currently have a dog, two goats (one may be pregnant), 23 chickens, a bunch of meat rabbits, and one German angora rabbit to use for the wool to do crocheting.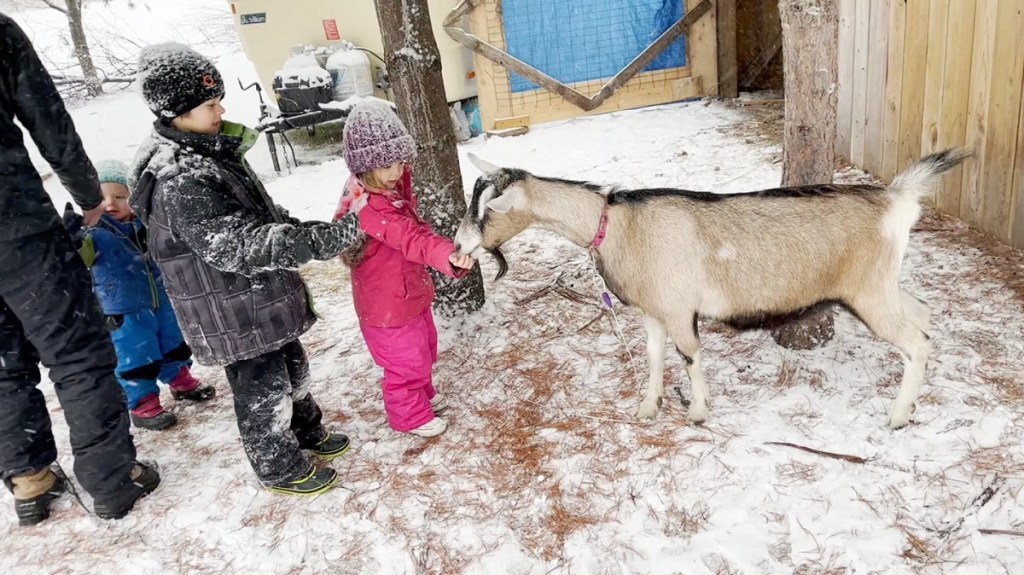 Jacob Rudd – Provided
We both grew up in neighborhoods so having the animals is new to us. Calena stays at home to homeschool our three young children. She and the kids love the animals! My wife takes care of most of the chores associated with them, but the kids and I help out a bit.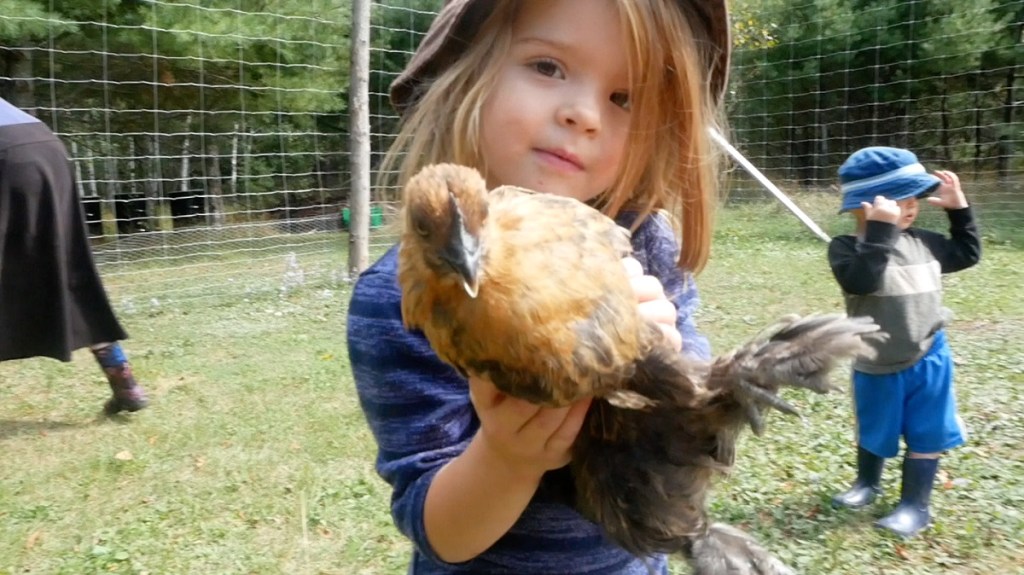 Jacob Rudd – Provided
This winter, I made a 35 x 70 backyard ice rink! A lot of my time outdoors currently is spent either shoveling the rink or skating on it. We all love it and it helps us to get outside quite a bit despite the cold.  
When we moved here last June, one of the first things we made was a big fenced-in garden (roughly 40 x 60 feet) using 10-foot cedar posts and eight-foot deer fencing. We tried transplanting our garden but had little success. We knew that our soil was very acidic but didn't have enough time to treat it with lime. This year, my son Blaise and I will be in charge of the garden. We are going to do a soil test and then treat the soil. It's also great that my wife has been preparing a compost pile. 
Our children have been enjoying and taking care of their dog Teka (named after St. Kateri Tekakwitha). They hold Otto (our indoor Angora rabbit) almost daily.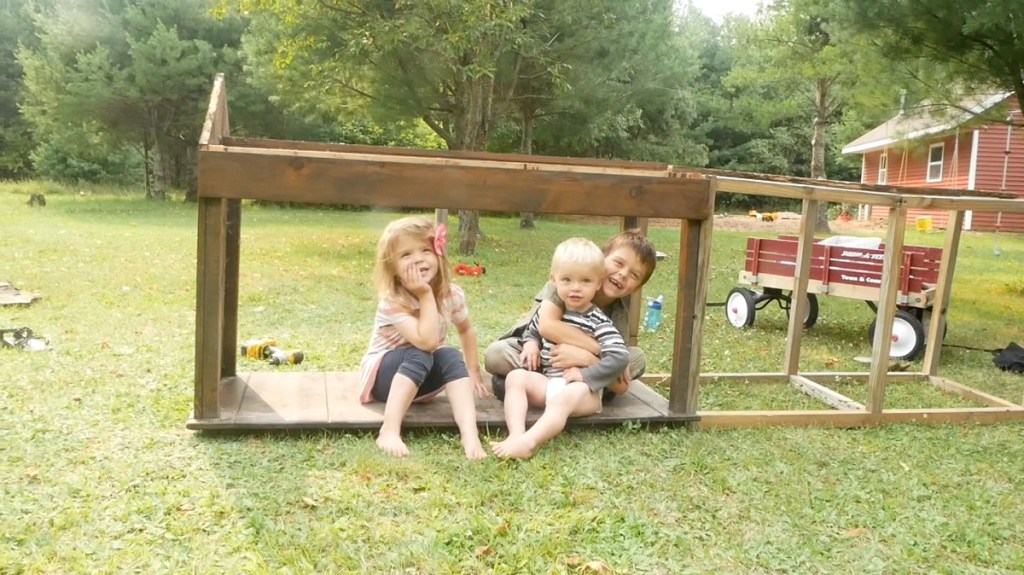 Jacob Rudd – Provided
While Earth Remains features a re-release of "Be My Captain." What led you to re-record this touching song?
I randomly met a retired professional sound engineer at my local grocery store. It has been a blessing to meet and work with him. He took a listen to my old version of "Be My Captain" and had a hunch the song could be better if it was mixed in a different way and if I redid the vocals. At no cost (so generous!), he helped me to record the new vocals and put a lot of effort into mixing it. I think he did a great job!
There's a wide variety of acoustic instruments on this album, from guitar and piano to horns and strings. How many of the instruments on this album did you play yourself?
In every song, I played the main instrument, which in most cases was the steel string acoustic guitar. In some songs, this was a piano ("Be My Captain") or Ukulele ("Sons & Daughters"). I played the banjo in "Be My Captain" and "Fields of Green," and electric lead guitar in "Through the Desert," "Apple Orchards," and "Wherever I Go." I also played the background piano on "Seeds on the Branches." 
My brother Eric played the lead guitar of Fields of Green. That was fun to get him involved. 
My friend Matt helped out on "Sons & Daughters," "Be My Captain," "Seeds on the Branches," "House on Wheels," and "I Love You God." Each song that I sent him he added multiple instruments. All of the slide guitar work is his. He also added the horns and trumpets as well as the percussion and bass to those songs. I never had to ask what to add, he just listened and threw his creativity into the song. He did a great job!
These days it's rare to hear an artist include an instrumental track on a record. What do you feel instrumentals like "The Pearl of Great Price" bring to an album?
One of my favorite artists is Josh Garrels. In many of his albums, he has an instrumental track. I think it makes the album a little bit more contemplative. I also like working on instrumentals because it changes things up a bit.
The tune that feels the most liturgical on this album is "My Consecration to Mary." Have you ever considered arranging any of your songs into SATB choral books for use at Mass? When did your devotion to the Blessed Mother begin and how has it shaped your music? 
I am not too familiar with the process of how to do that but may look into it!
My devotion to Mary began at a young age. We would pray the Rosary as a family at least once a week. When I was 17, my friend committed suicide. His death had an impact upon me. It made me realize the fragility and shortness of my own life. 
I went on a Youth 2000 Retreat led by the Franciscan Friars of the Renewal and was completely filled spiritual through the Rosary, Sacrament of Reconciliation, and Eucharistic Adoration. It was after this that I decided that I wanted to pray the Rosary everyday and to give my life to God. After four years of formation towards the priesthood, I discerned God's will for me was marriage. 
Jacob Rudd – Provided
During that time, the Shrine of Our Lady of Good Help in Champion, WI was approved as an authentic Marian apparition site. That place is very special to me because my great-great-great-grandparents witnessed the miracle of the Shrine being protected from the terrible Peshtigo Fire. They lived very close to the Chapel and fled there during the fire and led by a priest, they prayed for God to protect them. He did! 
When the fire was over, the white picket fence was black on the outside and white on the inside. The chapel and the land consecrated to Mary was green and all around them in every direction was ashes. I would not be alive unless that miracle happened. That is motivation all the more for me to stay close to Our Lady and to continue praying the rosary every day. 
You just released this 14-song album and you mentioned that you already have an idea of what your next album will be. How do you maintain such a prolific songwriting pace?
I am blessed to have a support team (similar to Patreon) of people from all over that sustains me so that I can work on music full-time. Please consider joining! It would mean a lot to me! You can learn more by visiting JacobRuddMusic.com/support-team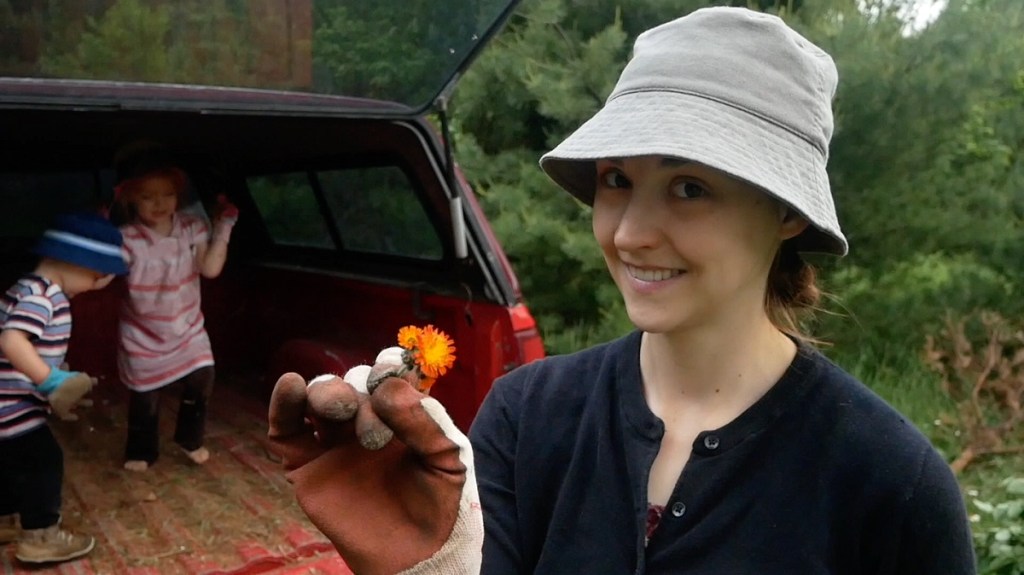 Jacob Rudd – Provided
Writing new songs comes fairly naturally for me and I enjoy it. The difficult part for me is recording them. It takes a lot of energy out of me to capture the right vocal and instrumental performances, as well as to figure out else might be needed to make the song complete.
This year I am hoping to create another album called "Fighting for the Kingdom." 
Are you planning to travel around and perform in concerts this year?
Yes! I am also hoping to do as many concerts as possible – whether it's at an event, retreat, parish, or home. If there is anyone out there reading this who may be interested in having me do a concert at their parish, home or event, please reach out to me! https://jacobruddmusic.com/booking/
Hear Rudd's phenomenal new album on YouTubeor Spotify.
Visit Jacob Rudd's website to learn more about this multi-instrumental Catholic artist.