The Italian people's love for St. Joseph is celebrated in a delightful annual tradition called the St. Joseph's Table.
St. Joseph never traveled to the Italian island of Sicily, but the Sicilian people have a great devotion to the gentle saint. Their love for St. Joseph is celebrated in a delightful annual tradition called the St. Joseph's Table (or the "Tavola di San Giuseppe"). 
According to legend, when a great drought and famine struck Sicily, the people beseeched St. Joseph for protection and relief. They pledged that if the rain returned, they would hold a special feast to honor God and St. Joseph.
Miraculously the rain started to fall, and every year, the people hold a feast to honor St. Joseph on his feast day. From Sicily, the tradition spread throughout Italy.
As luck would have it, my parents' next door neighbor is Sicilian. Several members of my family are named Joseph, so she instructed my mom on how to prepare a traditional Sicilian St. Joseph's Table. It's become a beloved annual custom for my family, and my mom has shared the tradition with school and church groups.
In some places, the festivities begin with a reenactment of the Holy Family seeking food and shelter. Then all are welcomed to partake in the feast at St. Joseph's Table.
These are the essential parts of the traditional table, along with the symbolic meaning behind each one. 
The table setting
Even the shape of the table has meaning. 
Traditionally, two tables would be put together in the shape of a T, symbolizing the Cross of Christ. 
Alternatively, three tables of varying heights would be put together side by side like stair steps. This would symbolize "the ascent to Heaven," with a statue of St. Joseph at the top. 
The statue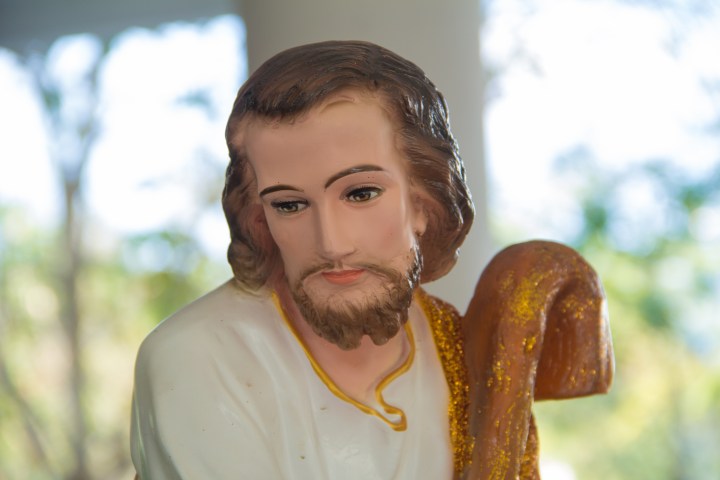 aimpol buranet | Shutterstock
A statue, image, or prayer card of St. Joseph is a must. It's a visual reminder of the great saint we are celebrating! 
Ideally, the image would show him holding the Christ child, calling to mind his loving fatherly role.
Before the meal begins, a prayer to St. Joseph is offered.
Images of loved ones
One of the tables is adorned with pictures of deceased family members and loved ones. Around these images, "vigil lights, incense and various plants create an ambiance of heavenly blessing."
Bread loaves in symbolic shapes
Italian bread is famously delicious, and for the St. Joseph's Table, the bread is formed into shapes with symbolic meanings. 
The bread might be formed into a J-shape to symbolize the name Joseph and St. Joseph's staff. Or it might come in the shape of a cross to represent Christ or a heart to symbolize God's love. 
There are many different traditional bread shapes for the feast. The idea is that the bread can feed the poor and anyone else who desires to eat at the table. 
A meatless meal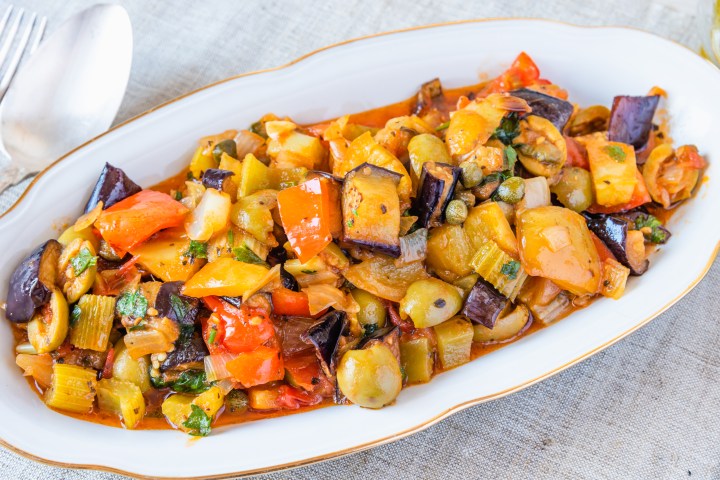 Ostranitsa Stanislav | Shutterstock
Traditionally, no meat was eaten in Lent at all. So the St. Joseph's Table was a meatless meal. It included all kinds of meat-free dishes:
The very first "greens" of springtime, dandelions and cardones ("burdock"), are sprinkled on pizza. Fish and seafood from both the Mediterranean and Adriatic Seas, especially anchovies and sardines (from Sardinia, another Italian island), are served on Foccaccia (Italian flat-bread), and Biscotti Di Camillo (a twice-baked Italian toast-bread). Other St. Joseph's Day staples include eggplant Caponata, excellent for dipping with Italian bread; as well as Pasta con Sarde, Egg frittas, bean dishes, olives, and especially lentils.
Italian pastries
Italian desserts are the stuff of legend, and bakers turn out their very best in honor of this great feast! 
The table is laden with Italian cookies, zeppole and the famous St. Joseph sfinge, a round cream puff filled with ricotta cheese or cream and adorned with candied fruits.
St. Joseph's Table is a feast for the soul as well as the body, and a charming traditional way to honor today's feast. Mangia!