Experts believe the sarcophagus, dated to the 14th century, will fill in some blanks about medieval burial practices.
As Notre Dame de Paris enters an important phase of its reconstruction, a team of archaeologists have unearthed a treasure trove of history. A routine examination of the floor to prepare for the reconstruction of the spire has led to the discovery of a tomb and a sarcophagus. 
While there is no indication of who it is buried under the famed French cathedral, experts believe the sarcophagus dates to the 14th century. The find is said to advance our understanding of medieval burial practices. Meanwhile, a pit was also discovered under the floor that dates back to the initial laying of the foundation, in the 11th century. 
Sarcophagus
According to Robb Report, the tombs and sarcophagus were placed underneath a section of floor that dates to the 18th century. The sarcophagus was made of lead and it looks as though it has been somewhat crushed and warped over the centuries.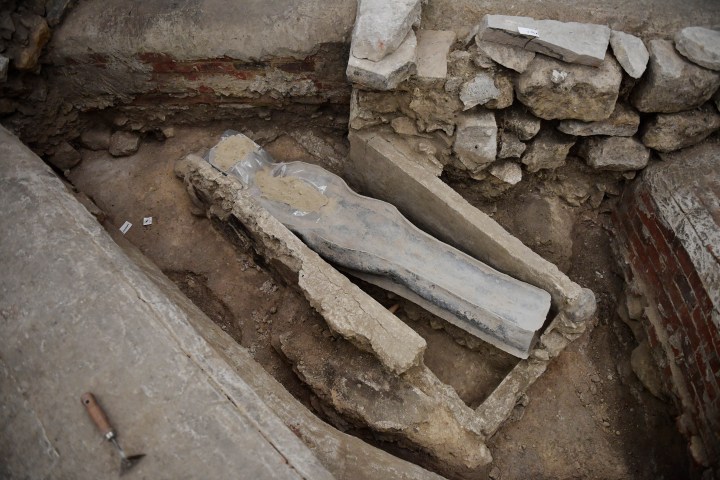 JULIEN DE ROSA | AFP
Although the sarcophagus bears some damage, preliminary examinations suggest that the remains inside could be remarkably well preserved. In a Reuters report, Christophe Besnier of France's National Archaeological Institute said that the team was able to insert a small camera. From the images, the team identified cloth and organic material such as hair and plants. 
Medieval burial
The plants that were discovered were a significant find, as it could help identify the remains. It has been previously documented that members of the social elite were buried with leaves of a boxwood tree which helped preserve the body. Experts must still confirm the type of leaves that were within the sarcophagus, but it is now thought that the remains belonged to a dignitary. 
Also found underneath the floor are the broken remains of sculptures, including a pair of hands, a bust of a bearded man, and a few sculpted vegetables. These remnants were also well preserved, with some bearing their original paint. 
Reconstruction
While the findings are fascinating, archaeologists cannot take their time excavating the site. In order to stay on track for their projected 2024 reopening, the spire reconstruction must commence. To set up the massive scaffolding that this job will require, the floor must be reclosed and made sturdy. Science Alert notes that the archaeological team has been given until March 25 to finish their work.