Pope says the consecration is a spiritual act of children who trust in their mother.
According to Sr. Lucia, one of the visionaries of Fatima, the three children heard the words of an angel cry out, "Penance, Penance, Penance!"
In the light of the private revelations of Fatima, it is particularly appropriate that the consecration of Russia, Ukraine, and all of humanity to the Immaculate Heart of Mary, was the culmination of a penance service led by Pope Francis on March 25 in St. Peter's Basilica.
After a Liturgy of the Word and the Pope's homily, the faithful were led in an examination of conscience. Then the Pope went to confession himself, before donning a purple stole to begin hearing the confessions of the faithful.
Music filled St. Peter's Basilica as scores of people stood in line to confess their sins and receive forgiveness through the hands of several dozen priests in the confessionals spread throughout the basilica.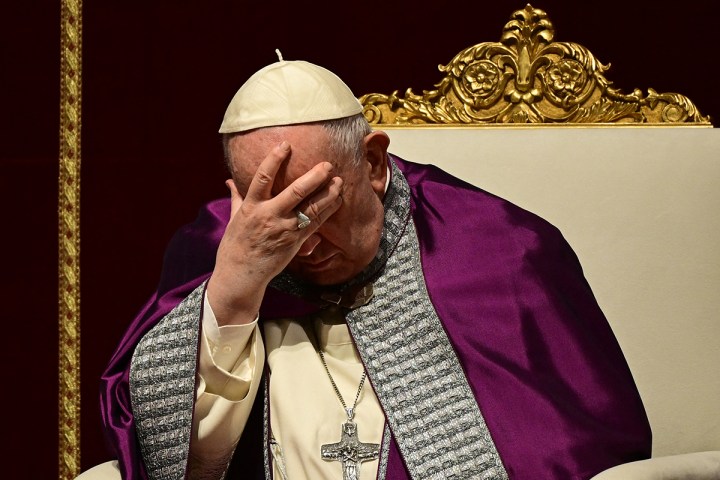 VINCENZO PINTO | AFP
The Pope's homily focused on Our Lady, and reminded that our prayer to her is not a "magic formula."
A statue of Our Lady of Fatima stood in a place of honor in the basilica, and a crucifix brought for the service presided.
The Consecration
While the Holy Father has been suffering with an inflamed knee, making his chronic sciatic pain even more problematic, he was walking briskly, albeit with his typical limp.
For the consecration prayer, which is lengthy, he sat.
After making the consecration, a boy and girl assisted him in carrying a basket of white roses to place at Our Lady's feet, and then the Holy Father incensed the statue, and stood in prayer, looking fervently to Our Lady, as the choir sang.
Pope Francis was surrounded by cardinals and bishops in the Basilica, spiritually united with Benedict XVI who joined him from his residence on the Vatican grounds, represented in Fatima by a cardinal who simultaneously made the consecration, and accompanied by bishops and faithful from around the entire world.