A visit to the tomb of the Venerable Servant God, Fulton J. Sheen, and the nearby museum dedicated to his memory, is well worth the trip.
What can God do in your life with one Bible verse a day?
Subscribe to Aleteia's new service and bring Scripture into your morning:
Just one verse each day.
Click to bring God's word to your inbox
In the early morning hours of June 17, 2019, the remains of Venerable Servant of God, Fulton J. Sheen were transferred from the Cathedral of St. Patrick's in New York to the Cathedral of St. Mary of the Immaculate Conception in Peoria, Illinois. Many spoke of this as Sheen coming home after the long court debates as to where Sheen's remains were to be kept.
Fulton Sheen was born in El Paso, Illinois, and spent his early years growing up on a farm outside Peoria with his three brothers. He was named Peter John Sheen at birth, but became known as Fulton as a child. In his memoir he explained that because he was constantly crying for the first two years of his life (it was later discovered that he had had tuberculosis), his Fulton grandparents often took care of him to relieve his mother. Thus, he became known as "Fulton's baby" and the name stuck.
He often served Mass at the Cathedral of St. Mary. In fact, it was while serving Mass for Bishop Spalding that Sheen accidentally dropped one of the cruets which shattered on the floor. After Mass, the bishop prophesied that Sheen would one day be a bishop himself. On September 20, 1919, Sheen was ordained to the priesthood in the Cathedral of St. Mary. In 1951, he was consecrated a bishop in Rome.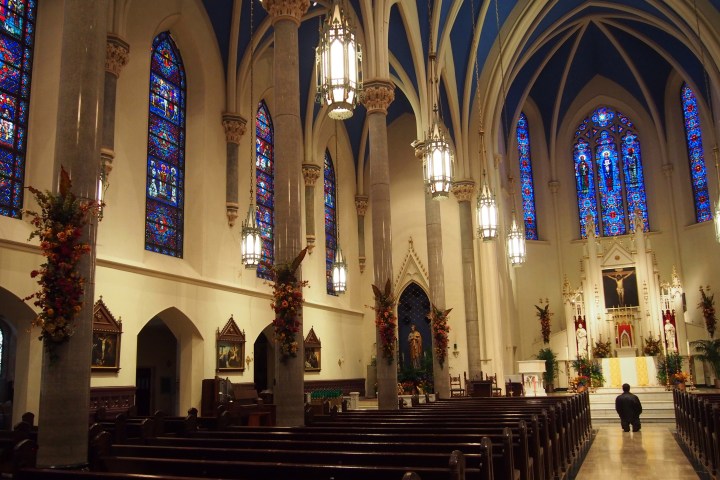 Sheen began his career as a priest in Peoria, serving at a local parish for about a year. Sheen's bishop at the time knew he was utterly brilliant but wanted to see if Fulton would be obedient. During the short time Sheen was at the parish, it was a flourishing community. Eventually, Sheen's bishop allowed him to leave the parish to teach at Catholic University of America.
Visiting Fulton's Sheen's tomb
When entering the Cathedral of St. Mary, one is immediately caught up in the beauty of the place. The celestial blue ceiling is dotted with stars representing how all of creation gives glory to God. The nave is lined with great Corinthian columns representing Mary's perpetual virginity.
Sheen's remains are interred at one of the side altars of the Cathedral, the one dedicated to Mary, specifically Our Lady of Perpetual Help. It is very fitting that Sheen was placed under an image of Our Lady, considering his great devotion to her. After his baptism, his mother consecrated him to Mary. He also dedicated every book he wrote to her, and wrote an entire book about her called The World's First Love. 
Pilgrims are invited to come pray at the tomb of one of the greatest churchmen in the history of the Church in the United States. Times for visiting the tomb vary and can be found at the Cathedral's website here. Pamphlets and other resources are readily available for pilgrims wishing to know the basics of Sheen's extraordinary life. Holy cards asking for Sheen's beatification, canonization, and intercession are also distributed to pilgrims. 
The Archbishop Fulton Sheen Museum
A couple blocks down from the Cathedral on Madison Avenue, is the Spalding Pastoral Center, home of the Archbishop Fulton Sheen Museum. One can go on a guided tour given by the nuns who run it. Pilgrims coming from far away can contact the museum ahead of time to ensure they are open and view visiting hours here. Donations are appreciated but there is no entry fee to the museum.
There, visitors can learn about Fulton Sheen's fascinating life. He wrote over 60 books, hosted The Catholic Hour for many years, as well as his own TV show in the 1960s called Life is Worth Living. Viewed by Catholics, Jews, and Protestants alike, the show earned him an Emmy Award in 1952. Upon accepting it, he quipped, "I feel it is time I pay tribute to my four writers – Matthew, Mark, Luke and John."
Throughout his many years as a priest, Sheen spent a good deal of time teaching, giving lectures, and retreats. He was a staunch critic of Communism, and frequently spoke out against it. Sheen knew some of the great English minds of the 20th century including Fr. Ronald Knox and G.K. Chesterton. 
Sheen served as the National Director for the Society for the Propagation of the Faith and attended the Second Vatican Council, contributing to the bishops' lectures on the missions. While National Director of the Society, Sheen created the World Mission Rosary in 1951 with each of the decades in a different color to represent the various regions of the world in order to better keep in mind the entire world while praying.
The museum contains many rare relics, artifacts, pictures, and personal possessions of the great Archbishop. Sheen's radio broadcasts, TV programs, and many books by and about him are available for purchase. Visitors can watch the movie Archbishop Fulton J. Sheen: Servant of All, which includesmany personal testimonies on Sheen's influence on people's lives.
In 1979, not long before Sheen's death, Pope St. John Paul II told him "You have written and spoken well of the Lord Jesus. You are a loyal son of the Church." Sheen died in his apartment in New York making the last of his famous Holy Hours, on December 9, 1979. In 2012, Pope Benedict XVI declared Fulton Sheen Venerable.