Robert Naoussi offered his life for the happiness of everyone around him.
It was October 1, 1970, 12:15 a.m. In the heart of a tropical night, the bells of the Dibamba leprosarium, in the west of Cameroon, rang out. Outside, the patients were singing and dancing. At the age of 23, Robert Naoussi had just given his soul back to God. "St. Therese of Lisieux came to get him," Fr. Raymond, who accompanied him during his illness, would later write. It's a joyful image of all that Robert sowed in that place, where an inexplicable peace still reigns today. 
Robert Naoussi was born in 1947 in Cameroon into a poor family with a polygamous father. At the age of 7, he asked the priest of his village mission for baptism. His fervor surprised those around him. It was he who ran to ring the bells for prayer. He dreamed of entering the seminary, but his older brother was against it. Sent to high school far from home, he lived with a local. In the morning, when there wasn't enough to eat, Robert often gave his share to his host's son and left for school on an empty stomach. 
He fell ill when he was 16-17 years old: it was lepromatous leprosy, the most serious form. What an ordeal for Robert, who had such beautiful projects! He was taken to the Dibamba leprosarium in May 1969. Dejected, he asked the chaplain why he was there. "Only Jesus can answer you," he told him.
For three days Robert prayed, without eating, drinking or sleeping. And finally he understood: "I'm here so that my brothers and sisters may know Jesus!"
"From that moment on, he never complained again. His 'yes' was like Mary's 'fiat': a definitive, total, and joyful yes," said a nun who knew Dibamba well. 
Robert learned a little later that he was not able to be cured. During this year of great suffering, he prayed for others and joyfully welcomed those who came to see him. Fr. Raymond read the life of St. Therese of Lisieux to him: a "revelation" for the young man, who understood that he could be a missionary with his suffering.
His friends didn't know Jesus, and their hearts were sad. "I will give my life so that they may be happy. My illness is my tool to clear the road to heaven for others," the young man said. He impressed those around him with his smile and his faith, suffering the very painful illness with abandonment to God's will.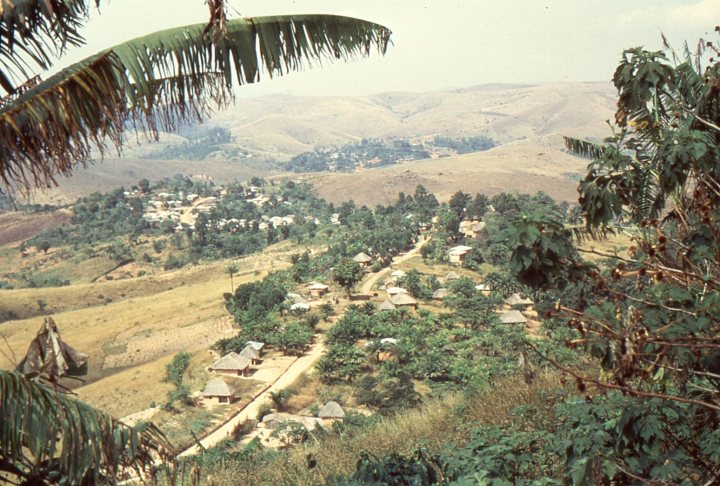 Frères Jaccard en visitation
He finally passed away on October 1, 1970. "Papa Louis," his nurse until the end, had "never seen so much suffering." "The good Lord gave me the courage to work with Robert. He once said to me, 'I want God to give me even more pain so that leprosy will leave this world.'" 
Robert taught that suffering was not due to evil spells, as is sometimes thought in Africa. "Here, it is love that heals," said Marie-Pascale, a Carmelite missionary at Dibamba, in a 2020 interview. Surrounded by tenderness and care, the sick find a deep trust in God there.
The power of his testimony
Robert's testimony of life has spread throughout the diocese of Douala and beyond, as witnessed by the many pilgrims who come to his grave every weekend, including the young people of the "Robert Naoussi" school of evangelization. The institution was created in 2005 inspired by the young leper's example, and its objective is to learn how to make suffering an instrument of evangelization. "The main activity is prayer, especially adoration," explains Fr. Batoum, founder of this movement, which currently includes about 50 young people and adults. 
Robert's influence goes beyond borders: Michèle Atlmeyer, a theology teacher in eastern France, was inspired to introduce him to her students. Every year for 20 years she has shown a video of his story to her classes. Her students don't have leprosy, but they do have other kinds of spiritual illness, "other forms of poverty, including not knowing God and often being deprived of the support of faith," she says. "Robert cleared the way for many of the teenagers I have introduced to him!"
Fr. Daniel Ange made Robert Naoussi the godfather of the school of evangelization "Jeunesse Lumière" and considers him a model of holiness for young people. All those who have heard Robert's testimony are deeply affected in their lives. They are impatiently waiting for his cause (for which documentation is being collected) to be presented to the Congregation for the Causes of Saints.