This young Carmelite was called to study psychology so he can help those who come to him find healing and consolation.
It's not a common sight to see a monk wearing a habit and sandals in a psychoanalysis class having academic discussions about Freud's theories. But when the person in question is also a cloistered monk, the situation is even more unusual and curious!
Such was the situation of Br. Juan Diego del Niño Jesús during his studies in psychology at Luis Amigó University in Colombia.
While telling his story to Aleteia, this 21st-century monk said he never placed any trust in psychology, but felt that something was missing in his apostolate to strengthen the spiritual accompaniment and vocation of consoling and welcoming souls that characterizes his community, the Contemplative Brothers of Carmel.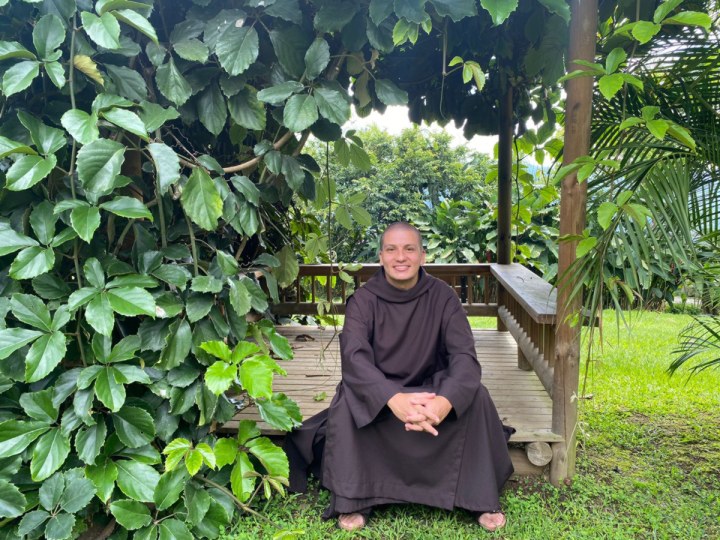 Cortesía
From monastic seclusion to classrooms
"I took perpetual vows as a monk because I didn't feel the call to the priesthood, and as part of my mission I offer those who come to our monastery accompaniment in their spiritual needs. I knew, however, that I wanted to do it differently. That's when the Lord gave me an inspiration to integrate spirituality and psychology," he said.
Br. Juan Diego got this inspiration while at the monastery of St. Teresa of Ávila (Spain), after asking on his knees for enlightenment for his vocation. "On our way out of there we met a priest who asked, 'Are you visiting the most human saint?' She was indeed very human, and there I realized that I wanted to be a 'human monk.' That's when psychology came to my mind."
With the support of his prior and the community, he found the best option, a virtual university where he was required to attend classes in person only on Saturdays. On those days he exchanged the prayer, silence, and solitude of his monastery for subway rides, noisy students, and some amount of teasing and criticism.
During his years of studies, his classmates included various atheists and people who struggled with the Church, but most people respected and loved him. This great challenge of joining the rhythm his fellow students were following ended up being an achievement for Br. Juan Diego on a personal level and on the level of faith.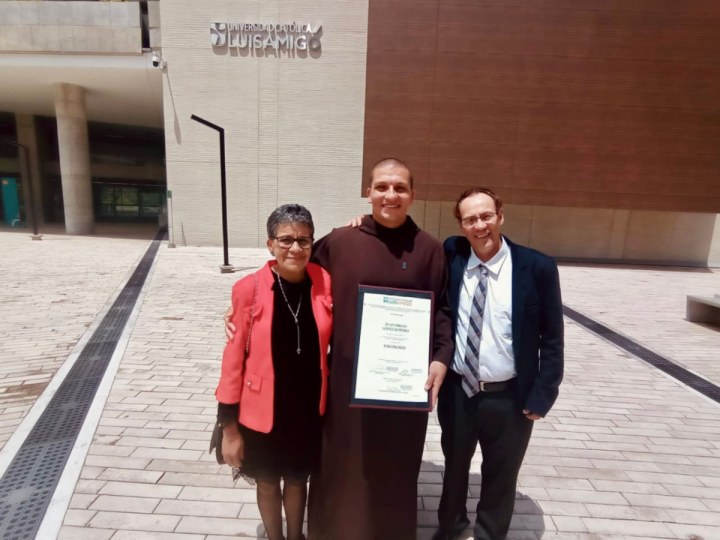 Cortesía
A call within the call
Br. Juan Diego del Niño Jesús just graduated after five years of "fruitful sacrifice" that marked his life.
"Psychology in my religious vocation becomes a call within the call, as Mother Teresa of Calcutta used to say. With this I can facilitate processes in people so that [the people who come to me] can have an encounter with the Lord starting from a healthy place in their life. A person with good mental health will be better disposed to encounter God."
He carries with him many anecdotes from his passage through Luis Amigó University, such as when he started to learn about the theories of psychoanalysis by Freud, who had a decidedly atheistic attitude, and it turned out to be among the subjects he enjoyed the most. The complex topics and the attitudes of some professors who were hard on him never discouraged him.
"I always thought that I was there to fulfill God's dream, because he wants the hospitals for the soul in my community to have more instruments of consolation."
The impact this step has had on his life is demonstrated constantly, as when he listened to a 35-year-old man who wanted to give himself to God more deeply, but who cried in despair when he talked about his father.
"I understood that there was great pain in his soul, and that he had to heal it before proceeding in his relationship with God. Once he identified and healed the unresolved issues in his relationship with his father, he was able to give himself radically to his faith."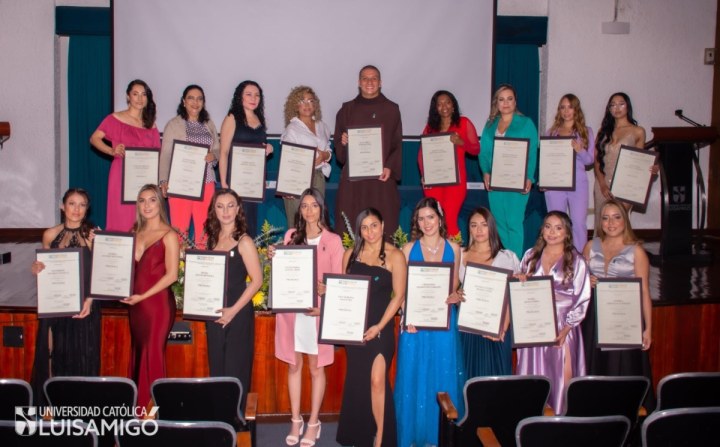 Cortesía
Passion for cooking
Br. Juan Diego del Niño Jesús was trained as a professional chef. He inherited his passion for cooking from his grandmother and aunt, whom he helped prepare Christmas dinners. That led him to study gastronomy. He thought his future was decided, until he did an internship cooking at a hotel run by the Discalced Carmelites. "I got to know the life of that community up close and felt God's call. I understood that I wanted to live an eternal novitiate," he told Aleteia.
And so eight and a half years ago—although it was difficult at first for his mother, since he's an only child and has been very pampered—he joined the Contemplative Brothers of Carmel, a monastic cloistered congregation that was emerging at the time in Colombia. They aren't totally isolated and have welcoming spaces, especially on Sundays, when dozens of people attend Mass and buy products made by the religious to support themselves. In that area, the contribution of Br. Juan Diego, being a chef, is crucial!
The religious also have some rooms to offer hospitality to those who wish to make individual spiritual retreats.
With the knowledge gained at the university, Br. Juan Diego will strengthen the help his community offers and gain more spiritual fruits, because he knows he has studied for the service of souls.