Claudio and Cristina Boeira credited St. Thérèse's intercession when Claudio was cured from a very grave case of COVID.
For more than a century, Brazilians have been particularly devoted to St. Thérèse. Brazil is even called a "branch" of Lisieux because of the successful efforts of Fr. Henri Rubillon to promote the spirituality of Thérèse in that country.
From September 8 until December 15, 2022, the relics of St. Therese are traveling for the third time through Brazil, thus nourishing the strong devotion of the Brazilians to the saint of Lisieux. She's a saint who has been dear to the hearts of Claudio and Cristina Boeira for years, and even more so recently, when Claudio was cured from a very grave case of COVID through her intercession.
Claudio, 59, and Cristina, 53, are doctors at an intensive care unit in the city of Santa Maria, Rio Grande do Sul, Brazil. They've shared a deep devotion to St. Thérèse for more than 25 years and have already made two pilgrimages to Lisieux. When Claudio fell ill with COVID-19 on January 31, 2021, they naturally turned to Thérèse, asking for graces of healing through her intercession. A statuette of Therese accompanied Claudio throughout his hospitalization. Cristina, for her part, began a novena to St. Thérèse in the silence of her heart.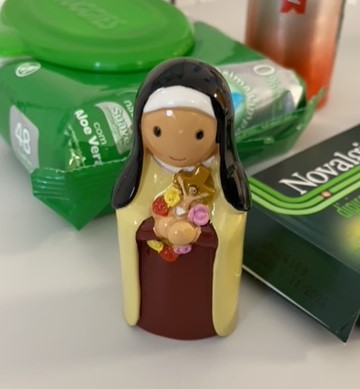 Cristina Boeira
Claudio tested positive for COVID and his lungs were gravely affected. On February 27, the doctors informed Cristina of the seriousness of her husband's condition. At that moment, she asked her friends and family, via the internet and social networks, to pray for his recovery. A huge chain of prayer was formed all over the world.
A shower of white roses
"On March 2, in the early afternoon, I was finishing the novena, still sitting in prayer, when the intercom rang; it was the flower delivery man, with two white roses sent by colleagues of my husband," she says. "It was the sign I needed to be sure of his recovery, despite the extreme seriousness of his condition," she says, referring to the symbolism of the rose in Teresian spirituality. The next morning, she received six more white roses from a group of friends. She was even more surprised because she had not told anyone that she was praying to St. Therese.
Cristina Boeira
On March 29, after 56 days in intensive care, Claudio was released. He was awake and lucid again but could only move his head and hands. After nine months of convalescence, he returned to work, without any aftereffects.
"For us, the intercession of St. Therese is not in doubt. I have been an intensive care doctor for 27 years and I have never seen another patient survive with 100% lung damage, especially without any aftereffects," says Cristina.