Carmelite ministry in Wisconsin offers more than a fun, safe place for persons with intellectual and developmental disabilities.
While persons with intellectual and developmental disabilities who cannot live independently face many challenges in our world, some are fortunate enough to find homes that provide a safe, secure place to live, as well as care and daily activities.
The Carmelite Ministry of St. Teresa in Wauwatosa, Wisconsin, offers that and something more – care for the spirit.
Their $4.5 million residential assisted living center is designed to provide permanent housing and formation to women with intellectual and developmental disabilities.
Recently celebrating its third anniversary, the home, outside of Milwaukee, follows a legacy of Carmelite service for those with special needs in the area. 
"Our Carmelite spirituality is prayer/contemplation and constant union of heart with God," said Sr. Mary Brigid, program director. "The combination of prayer and work is the totality of how we live our spirituality as Carmelite DCJ."
Carmelite DCJ is the abbreviation for the Carmelite Sisters of the Divine Heart of Jesus, a community founded in Germany in 1891. The sisters came to Wisconsin in 1916 and established the Carmelite Home for orphan boys in Wauwatosa. In the late 1960s, the home transitioned to a residential treatment center for delinquent boys. 
But in July 2017, after 101 years of service, the sisters decided to close the home and venture into a new apostolate serving persons with intellectual and developmental disabilities. 
"They undertook a community needs assessment, in partnership with the Archdiocese of Milwaukee and a number of other providers," said spokesman Jeffrey Robb. "The consensus came back that there's a tremendous need in southeastern Wisconsin and northern Illinois for services that are helping women with intellectual or developmental disabilities."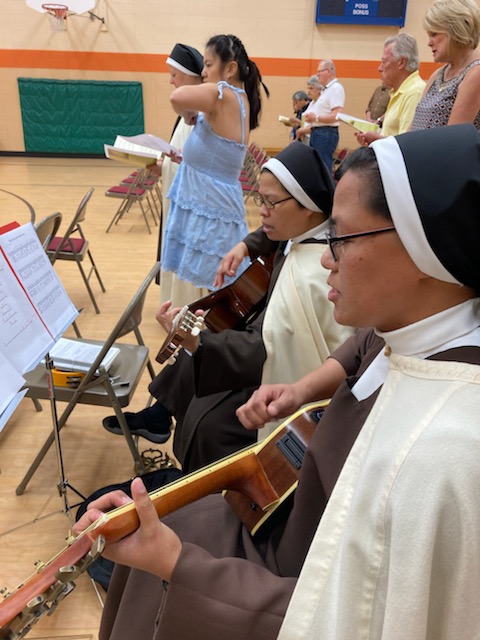 Robb said that there's "almost a complete absence" of any programming on weekends or weeknights for women with IDD. 
"From the Church's perspective, this was troubling because on the weekends people would go to Mass and participate in sacramental activities," he said. "So the sisters reflected on this a bit and came to the decision that they wanted to help out and try to bridge this gap."
The result was St. Teresa's Place, which offers individual apartments to women with IDD, including those who aren't able to live independently, who are blind or have medical issues, who have Down syndrome, or who are on the autism spectrum, Robb said.
A central idea in the planning was to "make sure to incorporate faith formation as a major component," he emphasized.
Raising the money to upgrade their Wauwatosa facilities to be able to welcome up to 16 residents might have turned out to be the easy part. Shortly after St. Teresa's Place opened and began accepting residents in October 2019, COVID-19 struck, forcing the facility to restrict the number of residents and the flow of visitors for some time. 
Those restrictions eased up in time, but the sisters continued to encounter challenges. A particularly severe winter led one day to pipes freezing and bursting, and structural issues required some reconstruction of part of the facility. 
The sisters got through it all – and with a smile, Robb said.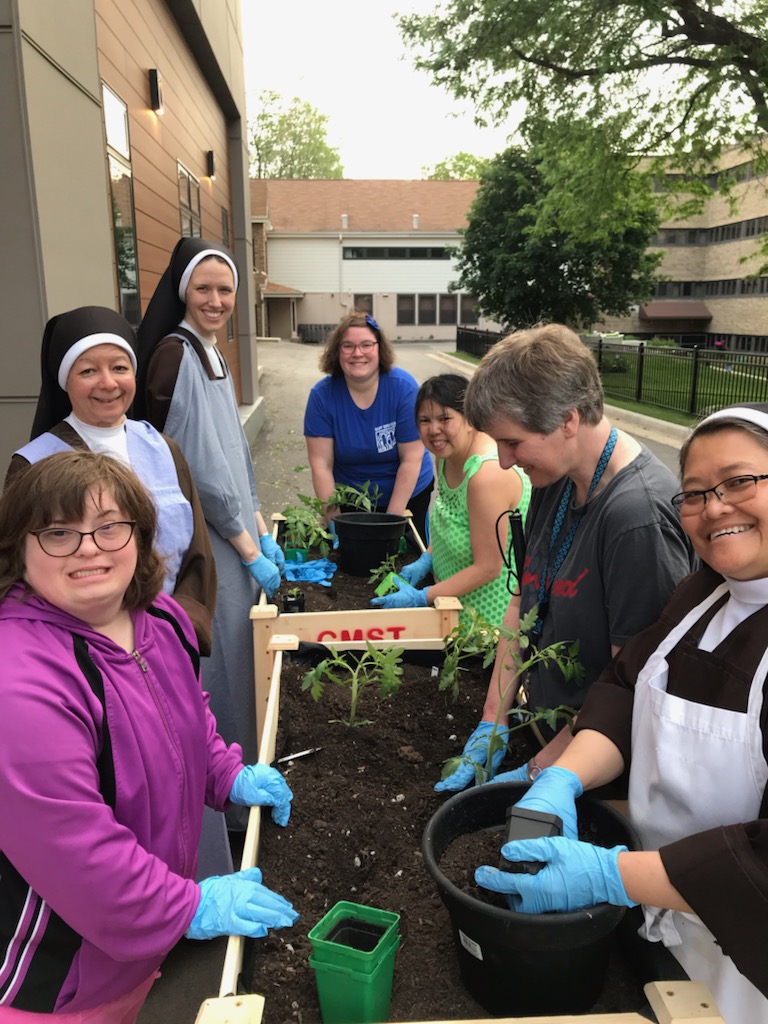 Courtesy of the Carmelite Sisters of the Divine Heart of Jesus
Adjusting to a new life
But what really worried them was how new residents might adjust to St. Teresa's Place. Most of them had never lived apart from their parents – many of whom were aging baby boomers worried about how their adult children would be cared for when they themselves would begin to need care, and beyond that.
"When we started, we were bracing ourselves with a huge dilemma because for most of the ladies here this was the first time they came into a community like this because they had spent most of their lives at home," said Sr. Mary Brigid. "But they did really well with the transition. Some of them would even tell their parents, 'I'm good, I'm doing okay.'"
As an example, one of the residents is visually impaired, but has proven herself as one who can get around on her own quite well. 
"Our care plan was to have her go through the whole building and get her familiar with it," Sr. Mary Brigid attested. "Right now she does everything on her own. She does her own laundry, she goes to prayer [in a prayer room upstairs, separate from the sisters' chapel]. She goes to meals by herself. The only time we assist her is when she goes to chapel, because it's the connecting building to our convent, so it's a little hard to maneuver."
One resident who did live on her own before for a time is Janis S., 66. In an interview, she said she enjoys her room, which is full of Winnie the Pooh stuffed animals, and goes out to work twice a week. When she's not taking a science class at the residence or making gifts for soldiers overseas, she enjoys watching television. A favorite is The Good Doctor, about an autistic savant surgeon. 
"Janis associates the good doctor with Pooh as someone different but who has a good heart, and is very smart," confided Sr. Mary Brigid. "That's what's important. The doctor is like Pooh, in having a good heart. Janis always mentions, 'Well, I am a bear of very little brain. Christopher Robin: No, Pooh. You are, I think, a bear with a very big heart.'"
Courtesy of the Carmelite Sisters of the Divine Heart of Jesus
Faith formation
Like Janis, other residents also go out to work. Sisters help train and prepare them, to be able to socialize and function in a work setting. And they help with transportation. 
Each day there are classes available for residents and for others who visit. "Our classes are based on their interests and also help them develop their talents," said Sr. Mary Brigid. But science, reading, and other classes can be good vehicles to impart truths of the Catholic faith. 
As well, deacons from the Archdiocese of Milwaukee come in to give regular Gospel lectures and catechesis classes. Volunteers come to teach physical fitness or arts and music. Residents have the option to attend daily Mass with the sisters, and confession and spiritual direction are offered. And there are opportunities for residents to practice charitable acts, such as sending cards to troops, packaging gifts for patients in the Wisconsin Children's Hospitals, and preparing mugs with hot chocolate and cookies for homeless veterans.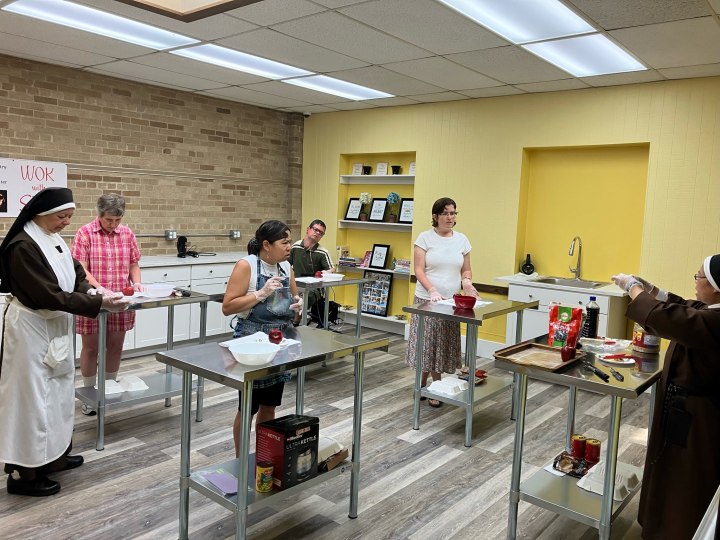 Courtesy of the Carmelite Sisters of the Divine Heart of Jesus
"It's little things we can help with, because we've been so blessed," said Sr. M. Rose Thérèse, the cook, bookkeeper and fundraiser. "We like to teach the ladies how to share their blessings, and they like to give their service, with something they can prepare or help out in wrapping. During the [COVID] lockdown, the ladies made the do-it-yourself face masks that we distributed to the community. "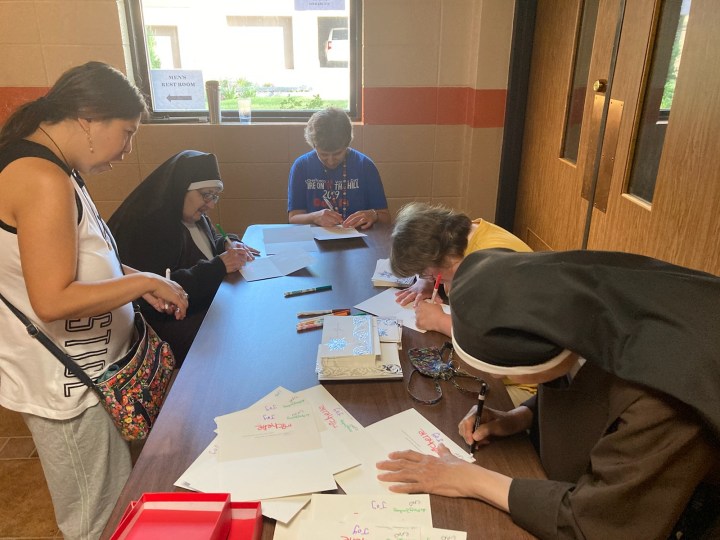 Courtesy of the Carmelite Sisters of the Divine Heart of Jesus
Meanwhile, though the Carmelites are the primary caregivers (assisted by social workers and caseworkers), they are semi-cloistered. On a daily basis they spend quite a few hours in prayer and contemplation, Robb said.
And that's what drives the work. 
"Our prayer life does not end as we leave our chapel," Sr. Mary Brigid said. Referring to other Carmelite ministries, she continued, "As we serve in our workplace, our prayer life continues — when we hold our babies, kids that are abused, or when a child comes and is uncertain about what kind of life she has, [or] our seniors when they come to us because family entrusted them to us to be able to serve them through their last days — these are for me a form of prayer through service, … seeing Christ in them, sharing Christ in them, being Christ's hands and feet, doing works of mercy, walking the Gospel — this is a way of contemplation through work. It balances my prayer life and work. It reminds me day in and day out who I am as a bride of Christ and what my life is about."