Especially in the summer, we yearn to visit exotic, faraway lands. These books will satisfy your wanderlust, while also making you think about why your heart is so restless.
Our 2023 Summer Book List is here! This choice selection of great reads has been curated just for you, our thoughtful and discriminating Aleteia readers, to enrich both mind and soul during sunbaked days and stormy nights.
Most of these books deal with grownup subject matters and may not be suitable for young readers. Worry not, however, because we also have summer book lists for teens and kids coming later this week!
Summer fiction recommendations for adults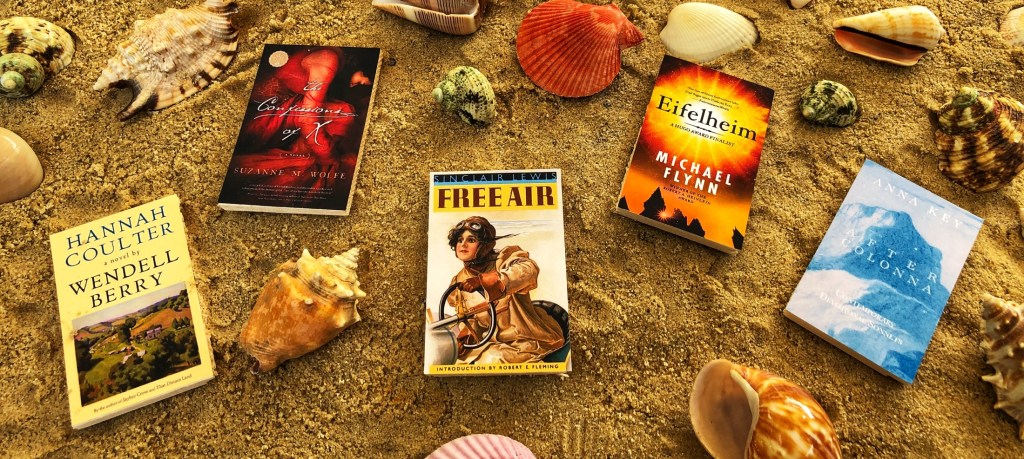 John Touhey | Aleteia
1. Free Air by Sinclair Lewis
A wealthy heiress drives West in her fancy roadster and falls in love with a down-to-earth mechanic in a scenic romance that will leave you smiling and wanting to go "on the road."
Published 1919. Available on audiobook.
2. Hannah Coulter by Wendell Berry
"This is my story, my giving of thanks," Hannah Coulter says. Elderly and twice widowed, the narrator endures the throes of the Great Depression and World War II, along with the slow dissolution of her family due to modern life, but never loses hope.
Published 2004. Available on audiobook.
3. The Confessions of X by Suzanne Wolfe
St. Augustine of Hippo tells us in his Confessions that there was a woman in his life whom he "deeply loved." Her story and the atmosphere of ancient Carthage are wistfully and richly evoked by a skilled storyteller who also co-founded the C.S. Lewis Society at Oxford.
Published 2016.
4. After Colonna by Anna Key
Poet Anna Keys calls her sonnet cycle "a spiritual journey up the mountain of faith." Basing her work upon "Sonnets for Michelangelo" by Vittoria Cologna (who was Michelangelo's muse), After Colonna is a treasure for those seeking "to find your truth in humble rhyme."
Published 2023.
5. Eifelheim by Michael Flynn
UFOs are in the news again. Author Michael Flynn asks: What if an alien spaceship had crashed in medieval Germany? Father Dietrich is a devout priest who is well-versed in Aristotelian logic and is called by God to establish first contact with an alien race.
Published 2007. Available on audiobook.
Summer nonfiction recommendations for adults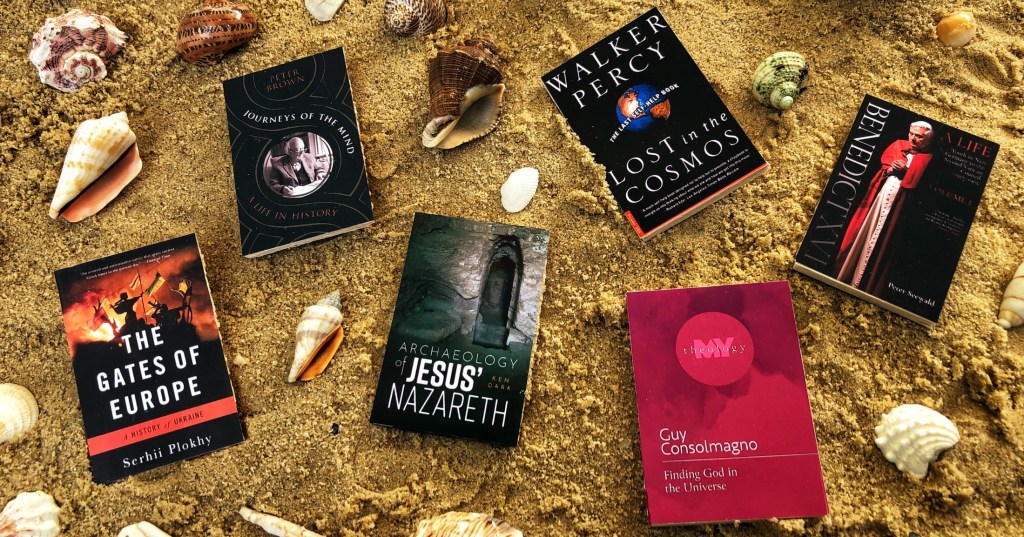 John Touhey | Aleteia
1. The Archaeology of Jesus' Nazarethby Ken Dark
Indiana Jones may be searching for the Dial of Destiny this summer, but you can join real-life archaeologist Ken Dark as he explores the hometown of Jesus and the remains of a house where Our Lord may have grown up with his mother, Mary. 
Published 2023.
2. Lost in the Cosmos by Walker Percy & Finding God in the Universe by Brother Guy Consolmagno
Walker Percy's classic "self-help" book still leaves us laughing and pondering the peculiarities of being human. Pair it with a rich reflection by the director of the Vatican Observatory about our thirst for truth and how the answers sought by science and religion are deeply connected.
Lost in the Cosmos published 1983. Finding God in the Universe published 2022.
3. Journeys of the Mind: A Life in History by Peter Brown
As a professor at Oxford and later at Princeton, Peter Brown discovered that the so-called "Dark Ages" were, in fact, a dynamic turning point in world and Christian history. (He also wrote one of the great lives of St. Augustine.) His new memoir is an engaging account of his scholarly research and attests to the value of the humanities in a time when they are sadly undervalued.
Published 2023.
4. The Gates of Europe: A History of Ukraine by Serhii Plokhy
This fascinating account of Ukraine and its lively and tumultuous 2,000-year history will help you understand the underpinnings of the current conflict.
Published 2021. Available on audiobook.
5. Benedict XVI: A Life (Two Volumes) by Peter Seewald
Pope Emeritus Benedict XVI died this past December, but his legacy is still unfolding. What better way to spend the summer months than reading this definitive, two-volume account of his holy and consequential life?
Published in 2020-21. Available on audiobook.
Be sure to also check out our 2023 Summer Book Lists for Teens and Kids. (Both coming soon!) We will also have articles throughout the summer featuring the books on these lists — with author interviews, reading guides, discussion questions, and more!