When old age looms and our parents need us materially, medically, or emotionally, how can we help them without harming our marriage?
When parents become elderly and are no longer self-sufficient, their adult children need to step up. "Choosing how to care for elderly parents, taking their choices into account, managing accounts and administrative procedures, organizing visits and vacations — it's all very time-consuming," explains Geneviève de Leffe, a marriage counselor.  
And what about the spouses of those who have become caregivers? It's essential to be sensitive to signs of difficulties in the relationship to avoid the "pressure cooker" effect and keep the marriage from blowing up.Aleteia spoke to a few couples going through this difficult time.
Beware of emotional overload
One danger is emotional overload. "My husband criticizes me for being emotionally dependent on my parents. He finds it hard to cope with the fact that I'm always taking care of them," says Pauline. She loves her parents deeply, and sometimes feels torn between the two loves of her life: her husband and her elderly parents.
Sometimes, this kind of emotional attachment is exaggerated, premised upon filial duty, with the spouse taking a back seat. "In such cases, it's often the spouse who calls attention to the fact that someone is taking on too much. It leads first to numerous arguments and then to a gradual degeneration of the marriage, even to the point of ending it," notes the marriage counselor.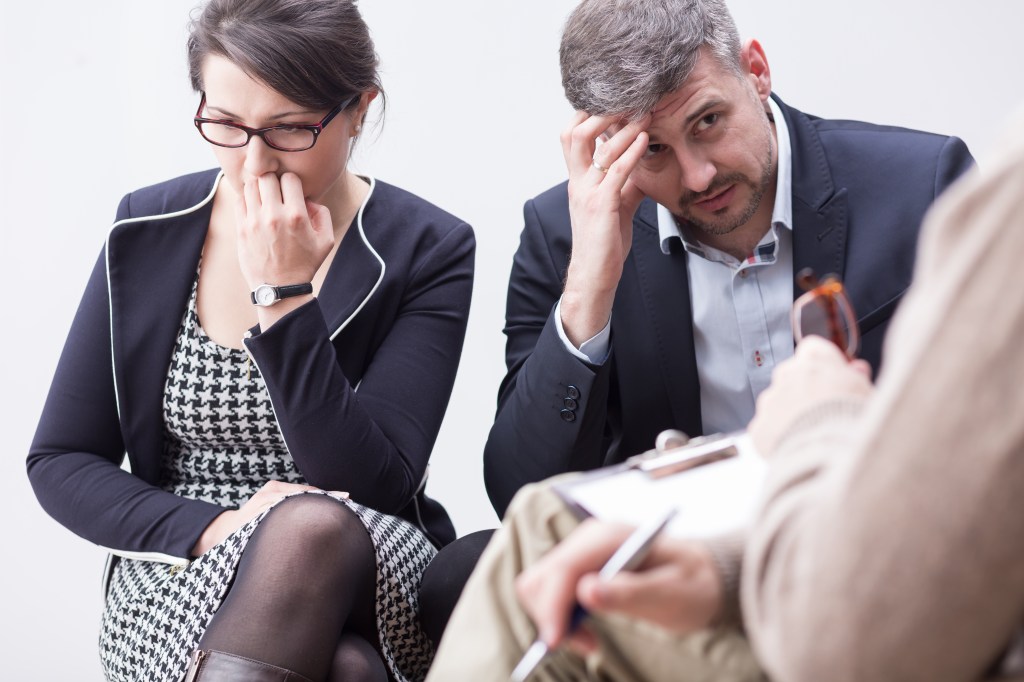 Ground Picture – Shutterstock
Another difficulty can be over-investment by both spouses in the situation. At an age when marriages are often weakened by the departure of children from home, the couple may compensate for this empty nest by taking excessive care of an elderly parent. This is unhealthy and can distract the couple from keeping their own relationship healthy.
Lastly, there's a real risk of leading parallel lives at this particular time. "Recently, my mother's need for my presence increased. I was so tired, both physically and mentally, that I couldn't find the strength to talk to my husband, Thomas," recalls Florence. What's more, giving all your attention to elderly parents can occupy your whole mind, causing anxiety and a lack of patience with your spouse. "It makes me irritable, aggressive, and physically and mentally unavailable," Pauline admits lucidly.
It's difficult to have a well-adjusted presence with an elderly parent. It can easily tip towards being codependent or conflictive. "And in both cases, it has a negative impact on the marriage, with the spouse feeling either distanced or powerless in the face of the conflicting loyalties at stake," explains the marriage counselor.
What can we do? 
For Pauline, it's essential to react quickly to the first signs of a spouse's discomfort. As soon as you feel your husband or wife can't take it anymore, you need to adjust the way you organize things. Maybe you can try improving communication, calling your spouse when you're apart. And, of course, you should listen to the Holy Spirit! 
Indeed, communication and structure are vital. "As long as you say what works and what doesn't, the situation won't get out of hand. Structure also helps prevent things from getting out of control. For example, in our home, each of us looks after our own mother, and each makes decisions with their own siblings, without interfering," says Jehanne, who also finds herself in this tricky situation.
Dialogue, adaptation, realism, prayer
Geneviève de Leffe offers the following advice as a marriage counselor. The first step is to engage in dialogue as a couple, expressing your emotions and feelings, which can sometimes be ambivalent. This helps you to better understand each other. Talking allows you to unburden yourself, to take a step back and to be clear about your parent's real needs.
You also need to know how to adapt. Everything evolves: professional life, relationships, illness, old age … Don't lock yourself into a particular mode of care. You may have to reinvent new solutions as necessary.
It's also essential to identify and become aware of the time actually invested in the elderly parent, and the impact it has on each spouse and on the life of the couple. And remember to ask for help and accept your limits.
Trusting God through prayer
Finally, it's important to spend quality time together with our elderly parent, with our spouse, and with our whole family. And we shouldn't forget to get help if we need it, either individually or as a couple. Therapists, support groups, and caregiver discussion groups are ways we can find comfort and, above all, help us find ways of living our relationship with both our parent and our spouse. 
Lastly, it's essential to turn regularly to prayer for both spouses: intercession, novenas — anything is welcome in this area. Little by little, things will become clearer.
And keep in mind: This is just a stage in life. Sooner than we want, our parents will have gone to the Father's house and it will be our turn to prepare for our own departure home.