People come to Sainte Mère-Église in Normandy not just for its beauty, but to remember those who sacrificed their lives in Operation Overlord.
In June 1944, Allied forces from 12 different nations ventured into direct peril to serve the people of Europe. Sainte Mère-Église was the first town in Normandy to be liberated on June 6, 1944, on what came to be known as D-Day.
Chaos and destruction reigned in Sainte Mère-Église that day. Some 15,000 paratroopers of the 82nd and 101st Airborne Divisions descended in and around the small town in northwest France. Sainte Mère-Église occupied a strategic position. The mission of the paratroopers was to capture the town and thus achieve easier access to the borders of the landing beaches where the main assault of Operation Overlord would take place.
The paratroopers were very vulnerable to enemy fire as they descended from the sky. Many were shot and killed.
Visitors come to Sainte Mère Église from around the world to honor, pay tribute, and express gratitude to those soldiers for their heroic acts. They also pray for the souls of the fallen on both sides of the battle.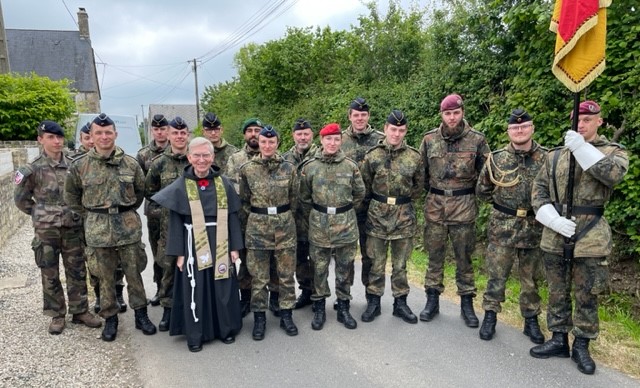 Courtesy of Fr. James McCurry, OFM
Fr. James. McCurry, OFMConv from Holyoke, Massachusetts, has been attending commemoration ceremonies in Normandy for many years. He confirmed that every year a new generation of soldiers from the 82nd travel to Normandy to honor their comrades. This year he offered Mass and paid tribute to the Airborne Divisions in the neighboring hamlet of Cauquigny, a site of heavy fighting 79 years ago.
With "fury from the sky," the Airborne Divisions fought land battles as fierce and deadly as the sea battles. These brave American soldiers, whose blood would grace the soil of these local villages, had one noble purpose – to liberate Normandy, then France, and eventually all of Europe, from the violent tyranny of Adolf Hitler.
German military troops also visited the town this year. Father James observed in his homily, "For many years now, as a beautiful sign that justice and freedom can flourish in peace, our former enemy — now our good friends — have come from Germany to give us a fraternal testimony of reconciliation and human solidarity."
Captain Ignatius Maternowski
Attendees also paid special tribute to a courageous chaplain, Captain Ignatius Maternowski, a Franciscan friar and priest.
On Monday, June 5, as troops were preparing for their mission back in England, Fr. Maternowski offered Mass for hundreds of the soldiers. In keeping with canon law, he gave "general absolution" to the troops, who were too numerous to engage in the sacrament of confession privately. This was to be his last Mass. He parachuted with his Mass kit and died on D-Day before having an opportunity to offer Mass on French soil.
Local French committees and US-Normandy Association, Memory and Gratitude members have installed a memorial to honor Fr. Maternowski. There is a large panel about the friar in the village of Gueutteville, where he died. A poignant etching depicts Fr. Maternowski ministering to a deceased American soldier.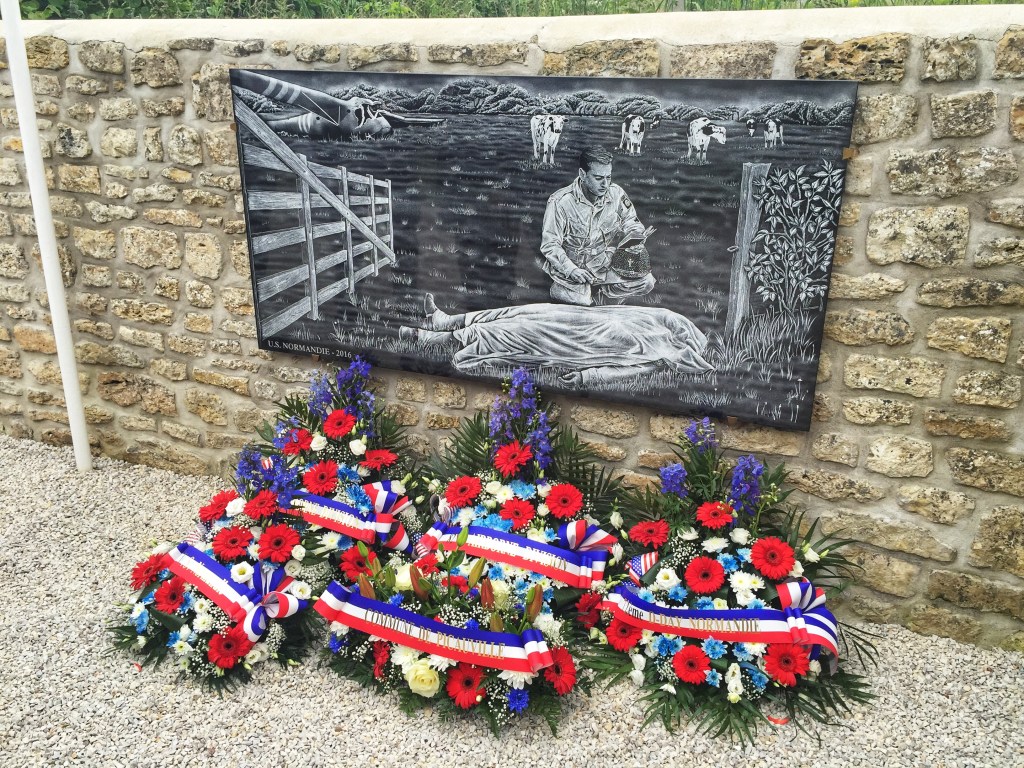 Courtesy of Fr. James McCurry, OFM
The Franciscan Book of Memories states, "He was an exemplary priest, a dynamic preacher, but most of all, he was truly an apostle and friend of the soldiers entrusted to his spiritual care." 
Private John Steele
Another paratrooper from the 82nd Airborne Division became a target that night. Private John Steele's parachute landed in the middle of the town, crashing onto the steeple of the 12th-century church. Wounded in the foot, Pvt. Steele was left dangling on the side of the church as the deadly fighting unfolded below. For the next two hours, he pretended to be dead. His story was later depicted in the film The Longest Day.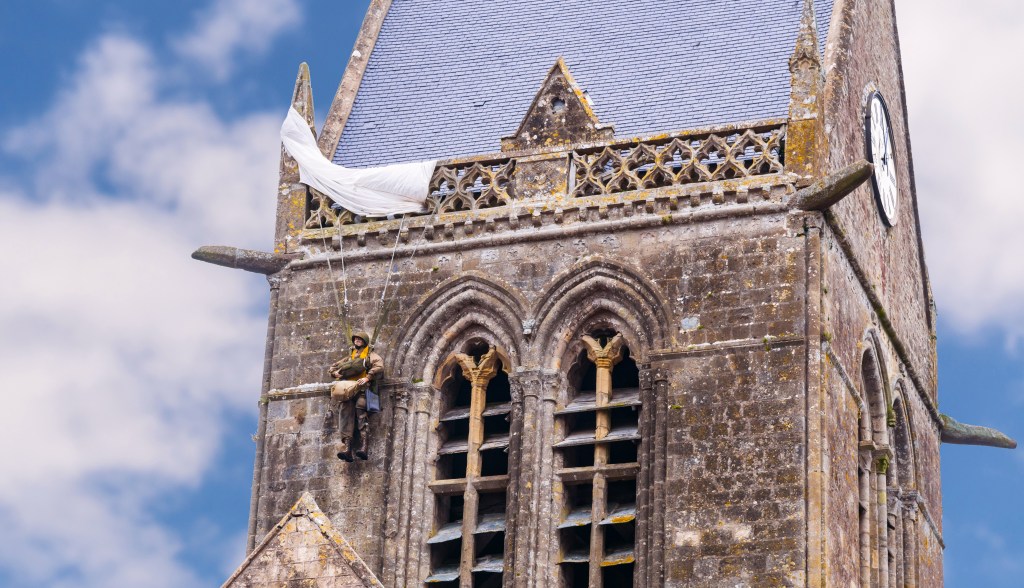 Cynthia Liang | Shutterstock
John Steele was eventually taken prisoner by German troops. He later managed to escape and made it back home to his family. The private has a special place in history and for the people of Sainte Mère-Église. After the war he returned to the town often and is fondly remembered by the locals. A uniformed mannequin hangs on the church steeple to honor Pvt. Steele.
The Airborne Museum and an ancient church
The newly refurbished Airborne Museum in the center of Sainte Mère-Église is the largest of its kind in Europe, a place of remembrance allowing visitors to access in-depth formation about the invasion, from its preparation in England through the ensuing battle. The museum was first inaugurated in 1964 and has, over the years, acquired a rich collection, including an authentic C—47 glider.
Should you visit Sainte Mère-Église, make sure to visit the ancient church near the museum, as it is a particularly moving experience. Visitors can read personal messages in the visitors' book. In particular, you will want to view two important stained-glass windows: one depicting St. Michael, the patron saint of paratroopers, and another dedicated to Father Maternowski.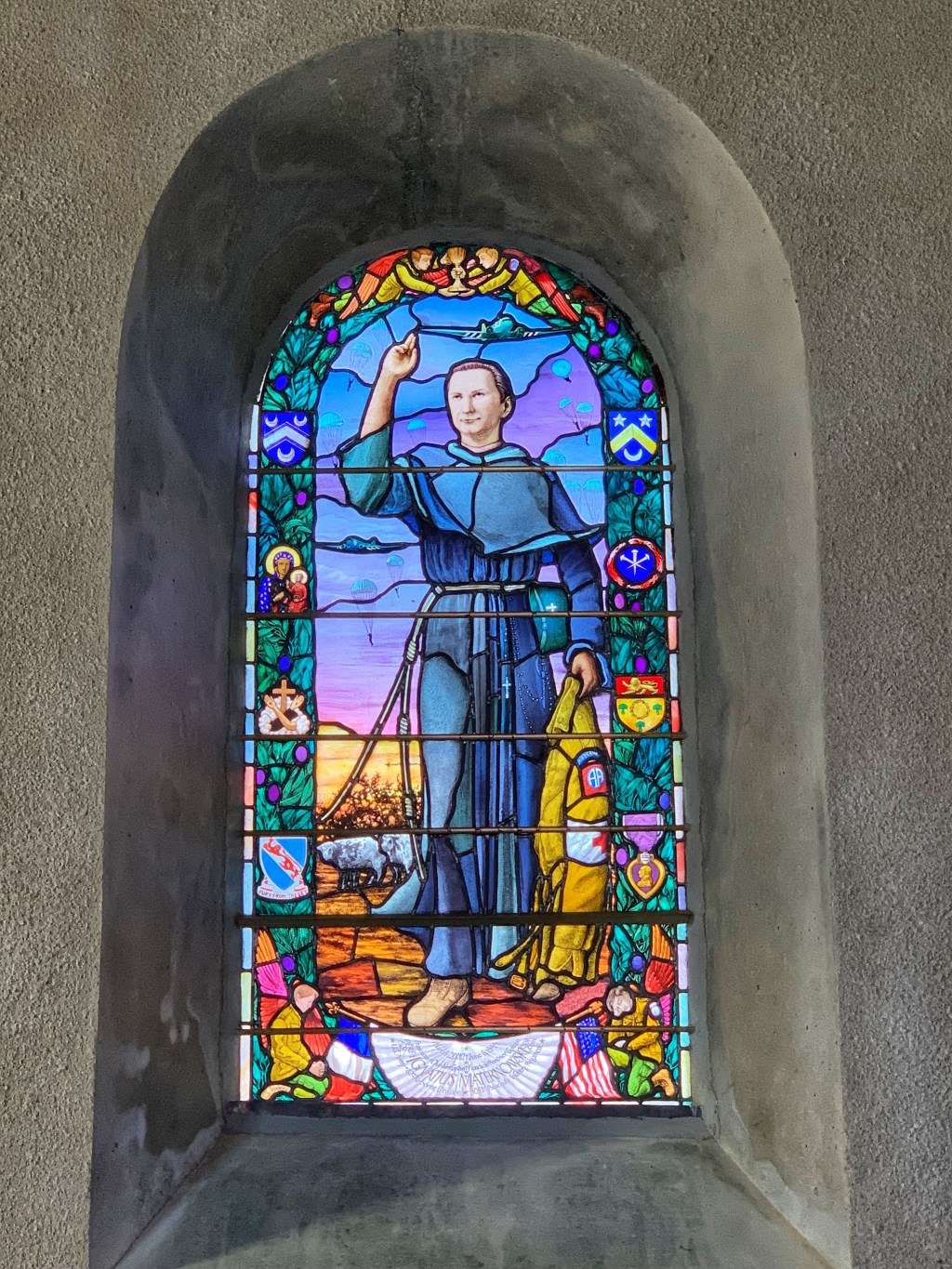 Courtesy of Fr. James McCurry, OFM