Spoiler alert: It has more to do with the saint who baptized Fermín than with Fermín himself.
San Fermín is one of the most renowned festivals in Spain. It is celebrated annually in the city of Pamplona, in Navarra, from July 6th to July 14th. The festival is widely known for the running of the bulls, an adrenaline-charged (and yes, sometimes dangerous) tradition that draws thousands of locals and tourists alike. But to understand why San Fermín is celebrated with bulls running through the streets, it is essential to delve into the festival's history and that of the saint it is named after, the martyrFerminius.
Ferminius was a third-century Roman Christian born in Pamplona, the son of a Roman of senatorial rank. Ferminius' father (Senator Firmo) and his whole family (Ferminius included) were converted to Christianity by Saint Honestus, a disciple of the great Saint Saturninus – a companion of the noted Saints Perpetua and Felicitas. In fact, tradition claims they were all baptized by Saturninus himself at a spot now known as the Small Well of Saint Saturninus, in Pamplona.  
Ferminius was ordained a priest in Toulouse and returned to Pamplonaas its first bishop. He was beheaded in Amiens, France, in the year 303 during a missionary trip. His feast day is July 7.
Several miracles are associated with the discovery and translation of the relics of Saint Fermin: It is said that a sweet odor arose from his grave, and that "the smell caused ice and snow to melt, flowers to grow, the sick to be cured, and trees to be inclined reverently toward the saint."
But what does it all have to do with bulls running loose through the narrow streets of old Pamplona? Somehow, Saturninus is to blame.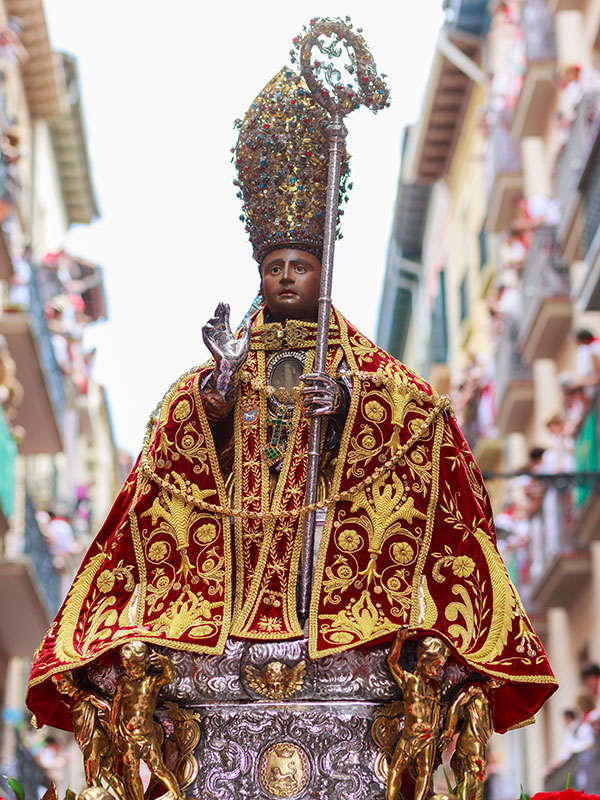 Saturninus was arrested by local Roman authorities and condemned to the death penalty because of his faith. He was tied to a bull by his feet and dragged to his death. In spite of the fact it was not Fermin who died that way, the people of Pamplona started celebrating San Fermin with bull races. Some others claim, though, that the running of the bulls emerged as a way to honor the saint, as if imitating the courage and bravery he exemplified when faced with martyrdom.
While the running of the bulls is now a prominent part of the feast of San Fermín, it initially served mere practical purposes. Historically, the event was a way for cattle merchants to transport bulls from the fields to the bullring, where they would be fought in traditional bullfights. Over time, the tradition evolved into the thrilling event that is today.
Today, the running of the bulls is not only a nod to Pamplona's heritage but also an opportunity for participants to test their courage and agility. However, it is important to acknowledge the inherent risks associated with the event and the need for participants to exercise caution and respect for the animals involved.