Here are graphs showing how Francis has shaped the group of cardinals that will have the task to elect a new pope in the future.
On July 9, 2023, Pope Francis announced 21 new cardinals, including 18 electors, to be created at a consistory on September 30. This will be the ninth consistory convened by the Pontiff since his election in 2013.
By regularly creating new cardinals, Francis has been redrawing the composition of the electors among the College of Cardinal, which includes only those who are under 80 years old and can thus elect the future pope. Naming cardinals is of course the task that falls to any pope, and the longer a pope serves, the more cardinals he will have created by the conclave that elects his successor, as previous cardinals age out.
By the evening of September 30, 99 of the 137 cardinal electors will have been chosen by the Argentine Pope, meaning almost three quarters.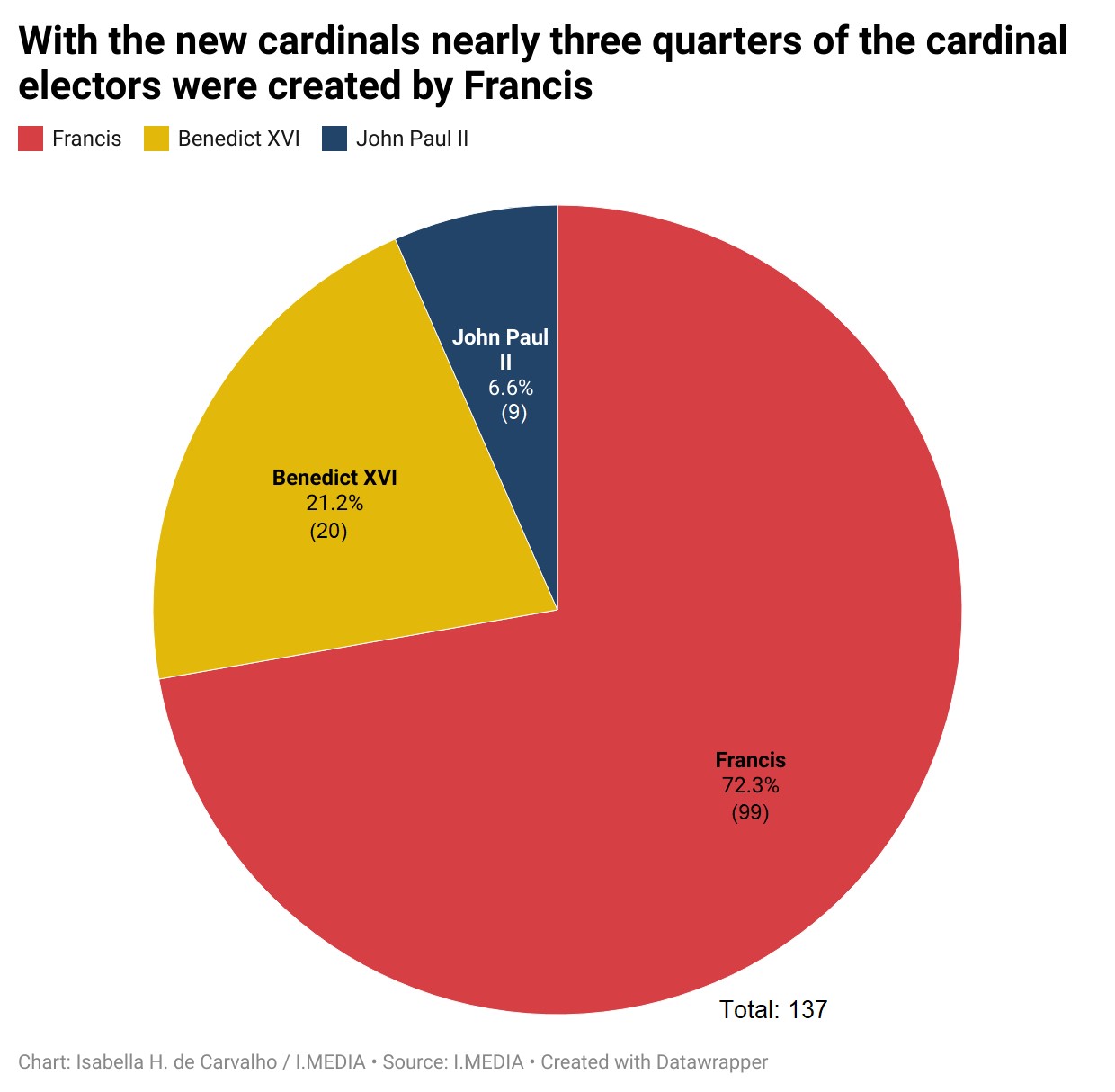 Isabella H. de Carvalho / I.MEDIA – Created with Datawrapper
One important aspect that has emerged from this consistory is that Europe's presence has been strengthened, after Pope Francis has become well known for choosing cardinals from the "peripheries" — such as the first Haitian, and the first to represent Mongolia.
The 18-person list announced by the Pope from the window of the Apostolic Palace includes eight European cardinal electors, meaning almost half. The Argentine Pontiff chose 2 Frenchmen, 2 Spaniards, 1 Portuguese, a Swiss, a Pole and only one Italian. As the Latin Patriarch of Jerusalem, the new Cardinal Pierbattista Pizzaballa, does not count as representing Italy, and thus Europe, but rather the Middle East.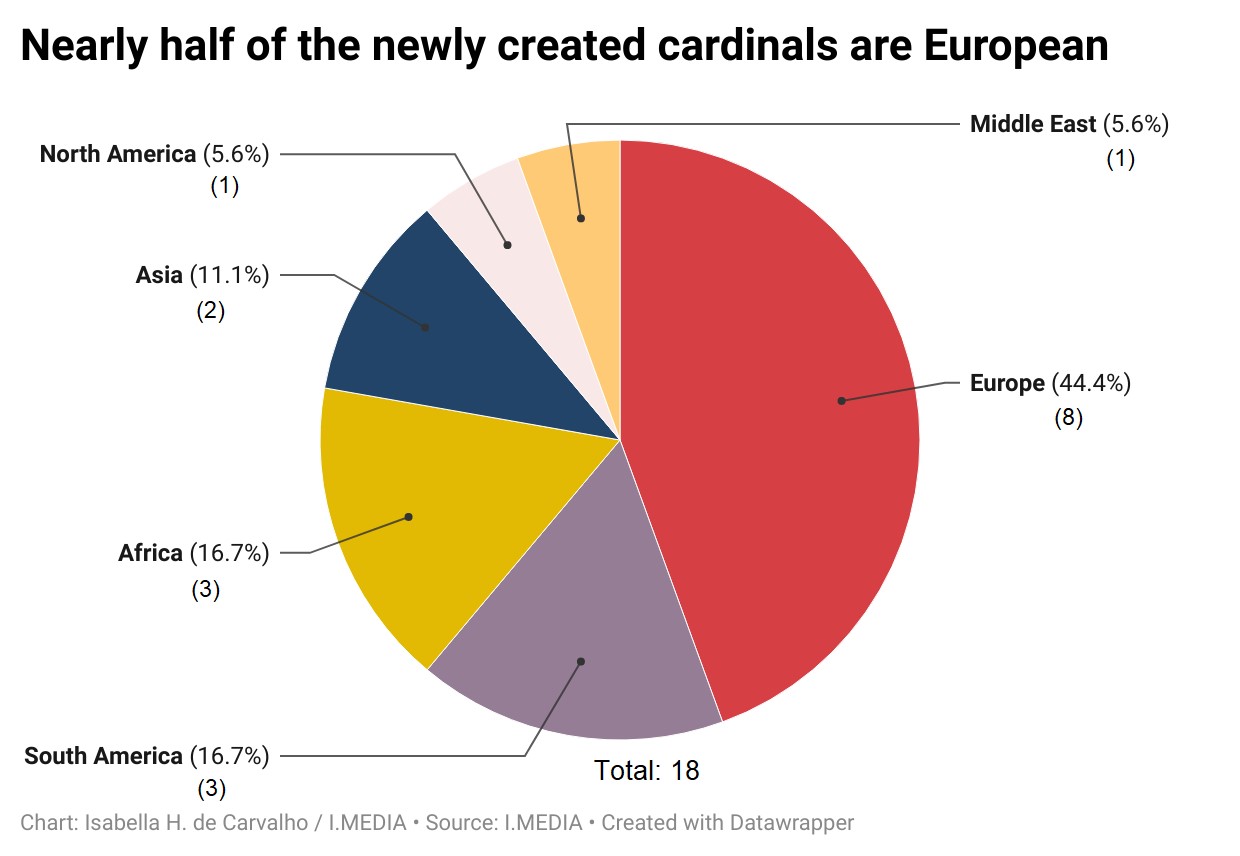 Isabella H. de Carvalho / I.MEDIA – Created with Datawrapper
Admittedly, this new group does not fundamentally change the proportions within the College of Cardinals, as the 18 new cardinals represent only 13% of the entire College. However, in addition to reinforcing the European presence – whose share has stopped decreasing – the proportion of Asian cardinals has been maintained at around 16%.
With the various consistories that have taken place since Francis' election in 2013, Asia's representation has risen greatly, as it represented only 7.9% of the College during the Conclave that elected Francis. 
Isabella H. de Carvalho / I.MEDIA – Created with Datawrapper
In 10 years of pontificate, Pope Francis has substantially altered the face of the College. While Asia has more than doubled its presence, the African continent has also seen a sharp increase in the number of its cardinals, rising from 11 in 2013 to 19 with this latest consistory.
Isabella H. de Carvalho / I.MEDIA – Created with Datawrapper
During his almost eight years as Pope, Benedict XVI created 90 cardinals. In the long reign of John Paul II (26 years), he created 231 cardinals. The pontificate of the Polish Pope is the third longest in history after that of Pius IX (over 31 years) and that of Saint Peter (between 34 and 37 years).