It's beautiful to see Our Blessed Mother honored as her statue on the Golden Dome shines brighter.
The Golden Dome at Notre Dame University is an internationally recognized symbol, and it'll shine a little brighter this fall thanks to an ambitious project: re-gilding the Virgin Mary statue.
And yes, the 17-foot-tall statue is covered in real gold.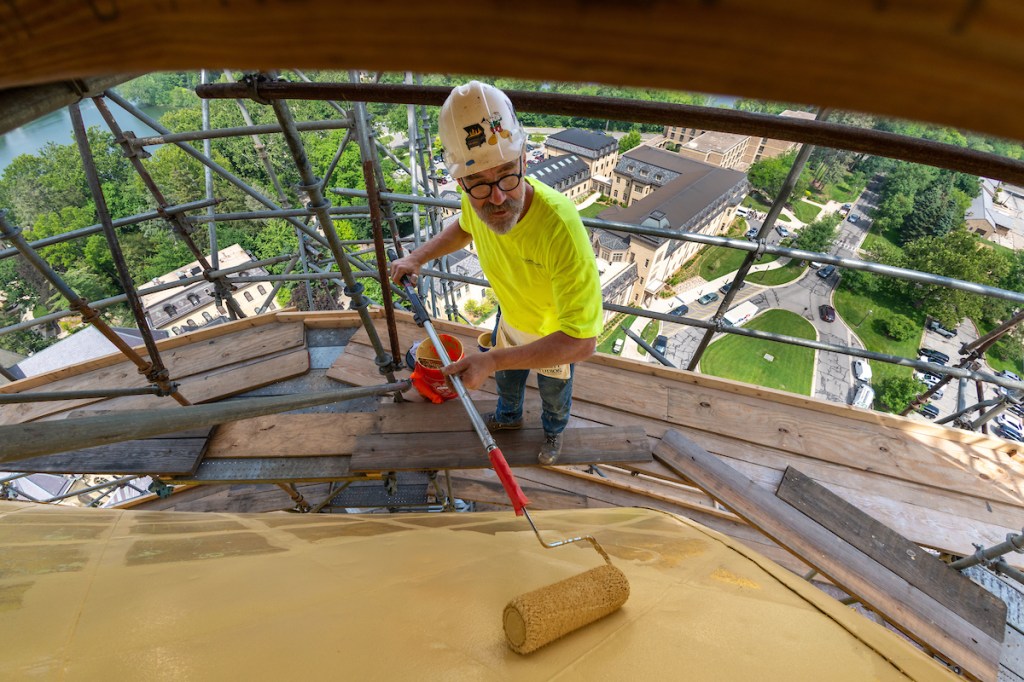 Barbara Johnston/University of Notre Dame
An inspiring story
The story behind the giant, gleaming statue of Our Lady on Notre Dame's Main Building is an incredibly moving one. 
Domers everywhere have Rev. Edward Sorin, C.S.C., to thank for the iconic landmark. He came to the frozen forests of Indiana as a young man with $310 and a wild dream of founding a great Catholic university.
"We have seen the almost ridiculous daring of the man, building his four-storied brick college when the student body was almost less numerous than the professors," a biographer wrote. 
His college, the University of Notre Dame du Lac, opened for students in 1844. It seemed to be flourishing until a devastating blow fell in 1879, when a fire destroyed the Main Building and forced the university to close temporarily.
Raising Our Lady aloft
Sorin was traveling away from campus during the fire, and he returned to find his life's work utterly gutted. He could have given up, but he was determined to rebuild bigger and better than before. 
No one knows exactly what he said, but his rousing response looms large in Notre Dame legends. Eyewitness Timothy Howard, a law professor, wrote: 
There was absolute faith, confidence, resolution in his very look and pose. "If it were ALL gone, I should not give up!" were his words in closing. The effect was electric. It was the crowning moment of his life. A sad company had gone into the church that day. They were all simple Christian heroes as they came out. There was never more a shadow of doubt as to the future of Notre Dame.
Above all, Sorin was determined to put all of his efforts and every work of his university entirely in the hands of the Virgin Mary. 
His board opposed covering the Dome and statue in gold leaf, but Sorin had a vast vision and he insisted on gilding it, with a near-prophetic foresight about how widely known that image would become. 
"When this school, Our Lady's school, grows a bit more, I shall raise her aloft so that, without asking, all men shall know why we have succeeded here," he said. "To that lovely Lady, raised high on a dome, a Golden Dome, men may look and find the answer."
Matt Cashore/University of Notre Dame
The facts and figures
The process of adding a new layer of gold leaf began immediately after Commencement Weekend on May 19-21 and is taking place over the course of about five months. It's due to be completed in mid-October. In addition, the upper tower of the Main Building will be cleaned and repainted.
After the existing 3,500 square feet of gold is cleaned, workers will apply a primer glue and apply 1,250 strips of gold sheets that come from Italy looking like an ancient scroll. The sheets are about 0.3 microns thick and contain in total about 15 pounds of 23.75-karat gold, so delicate that they can only be applied by hand in wind-free conditions.
Barbara Johnston/University of Notre Dame
23.75-karat gold is used instead of 24-karat because it can be blended with silver or bronze, making it much more resilient in outdoor settings. Experts suggest gold that is 21–23 grams per 1,000 leaves in weight for exterior gilding projects. 
The Golden Dome is re-gilded periodically, but it's been nearly 20 years since the last makeover in 2005. It's been regilded 11 times before, in 1886, 1893, 1904, 1912, 1924, 1933, 1948, 1961, 1971, 1988 and 2005.
Whether you root for the Fighting Irish or for another team, it's a beautiful thing to see Our Blessed Mother so honored. May her love and light shine ever brighter, not only on the Golden Dome but also in hearts all over the world.