When Paul Carris led a co-worker out of the North Tower of the World Trade Center on 9/11, he could not have foreseen where Jesus was leading him.
On September 11, 2001, Judith Toppin, an employee of the Port Authority of New York and New Jersey, was working on 71st floor of One World Trade Center when her life was forever changed. At 8:46, moments after she had finished checking her mail, Judith heard "a loud booming noise," as she recounted in an account written shortly after the events.
Since my office was located along the windows, I immediately moved to the center of the floor and was facing east. To my horror I saw smoke, flames, and debris shooting down from above us. I felt the building shudder.
Judith, who suffered from serious health issues, could feel her heart pounding. Soon her defibrillator went off and she "doubled over." Some co-workers came to check on her, but within moments a manager hurried past ordering everyone to leave the building.
I was sitting in a chair desperately trying to maintain control and stay calm in order to prevent my defibrillator from going off. Here I was with a bad heart, bad lungs, swollen heavy legs, and the speed of a snail at best. I knew that I was going to have to be exceptionally strong in order to be able to walk all the way down to the street. All I could think of was 'God, if this is the way you wish me to die, then Thy will be done, but please no pain.'
Her co-workers where not sure what to do. That's when Judith heard a man tell the others "that they should leave because 'he had me.'" The man was Paul Carris, a 46-year-old engineer who also worked for the Port Authority. They had never met before.
Courtesy of Paul Carris
"He assured me that he would never let me fall"
Paul Carris would lead Judith Toppin down the stairwell of the North Tower to safety. As they slowly made their way through the smoke and rubble, Paul learned about Judith's defibrillator when it suddenly went off and "literally lifted her off the stairs." And Judith spotted Paul's wedding ring, and suddenly realized the sacrifice he was making by staying with her.
"I asked him to leave me behind," Judith wrote, "and save himself since he had a family, and I was moving much too slowly. My words fell on deaf ears, as he instructed me to swing my left leg forward and drop my right foot to the next step. He assured me that he would never let me fall."
For his part, Paul Carris still vividly remembers "the firefighters who were going up as we were going down," and the "whole gray ash over everything" as they left the building. "All of a sudden, I started to see bodies, and they were the jumpers, and they were literally two dimensional flat."
Paul and Judith were among the last people to leave the North Tower of the World Trade Center before it collapsed, just as the South Tower had half an hour before. (See the SLIDESHOW below to learn more about their miraculous escape.)
A deep divide
Paul Carris was lauded as a hero in the days after the tragedy, but as he explained to Aleteia, hearing himself described that way "triggered a discrepancy."
He could not reconcile Judith Toppin's account of "this guy who did all these right things perfectly with the right timing every step of the way" and "a lot of missteps I'd taken in my own life prior to that." Though he was a practicing Catholic and was "very active" at his parish community of Corpus Christi in Hasbrouck Heights, New Jersey, Paul Carris could only see a deep divide in his life. "Church was church, and everything else was everything else."
The events of 9/11 took a physical and mental toll on him. For a time the sounds of low-flying aircraft or passing fire engines would "send shivers" through his body. "I didn't realize what was going on," Paul says. "I just knew a few months after 9/11, I started having these bouts of anger, which actually bordered on rage." His wife and daughters took the brunt of his emotional turmoil. "Then I found myself right here in Corpus Christi one night in tears, like, 'God, what's happening to me?'"
"A whole new window"
A parish priest recommended that Paul see a Franciscan priest who practiced psychology. "I went for therapy with him for nine months. It was not an easy therapy. He was really poking around in my life, trying to pull things out of me that I guess I was resistant to."
It was at a Cursillo Weekend that Paul made a breakthrough. He began to see that even with his "engineering brain of logic," not everything in life could be rationally analyzed and made sense of. "And that just sort of created a whole new window for me to jump through and find out about a relationship with God that I never truly had before, even though I was a practicing Catholic all my life," Paul says.
In 2011, Paul was ordained a permanent deacon for the Archdiocese of Newark. He has served ever since in his home parish of Corpus Christi. "I run into people all the time who have probably what you might call their own mini-9/11s," Deacon Paul says, "their own tragedies that they have to deal with, whether it's death or struggling in marriages or something." He says that he tries to offer them spiritual help and encourages them to seek therapy based on his own past experience.
Judith Toppin died in 2020. She and Deacon Paul had stayed in touch, seeing each other once or twice a year. The woman who called Paul Carris "her angel" came to his ordination, of course.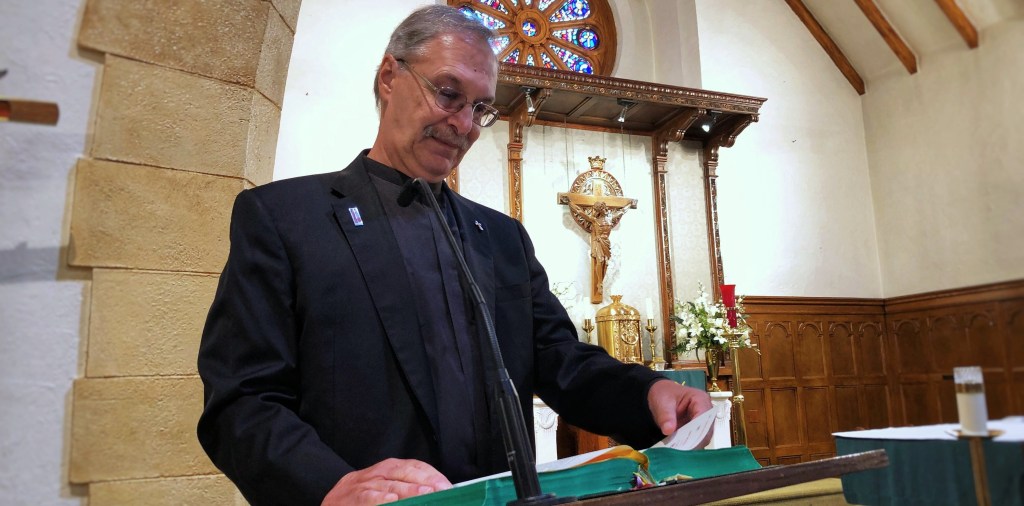 John Touhey | Aleteia
An act of service
After reading Judith Toppin's account of their harrowing escape, and hearing Deacon Paul's personal story, it seems undeniable that Paul Carris was a hero on 9/11, and that Jesus placed him in that spot in the North Tower in order to rescue Judith Toppin. It seems equally plain that Jesus needed Judith Toppin to be where she was in order to help Paul Carris and lead him to his ministry.
"Absolutely," Deacon Paul says. "That turned out to be my mega act of service. Which is what being a deacon is, to serve."
Launch the slideshow