Wood from Notre Dame of Paris, Russia, and Ukraine, a relic of Blessed Carlo Acutis, and symbolic design elements make it one of a kind.
On May 5, 2022, due to knee pain, Pope Francis made his first public appearance in a wheelchair. This change didn't escape the notice of 31-year-old Paul de Livron. He himself uses a wheelchair following a fall in the creeks in Marseille 10 years ago that left him a paraplegic.
But Paul was shocked by the sight of the Pope in a wheelchair. "His wheelchair is neither beautiful nor comfortable! He looks like a little old man in a retirement home, even though he's the head of the Catholic Church, one of the most influential people on the planet, and far from retired," he tells Aleteia.
But no matter! Paul, who had to give up his dream of becoming a forestry engineer, hasn't lost his passion for wood or his manual dexterity. And he has real expertise: in March 2022, he started making wooden wheelchairs and created his company "Apollo Wooden Wheelchairs." 
Wheelchairs with a super power
He has developed an innovative manufacturing technique that makes it possible to make wheelchairs from wood, a material that hasn't been used for medical equipment for almost a century. The secret? Wooden slats are hollowed out (for lightness), cut, and glued together.
"The novelty lies above all in the fact that my wheelchairs are manufactured by assembling layers in the manner of 3D printing, rather than by assembling elements end-to-end, as was the case for wooden wheelchairs in the past, and as is still the case for metal wheelchairs today," he explains.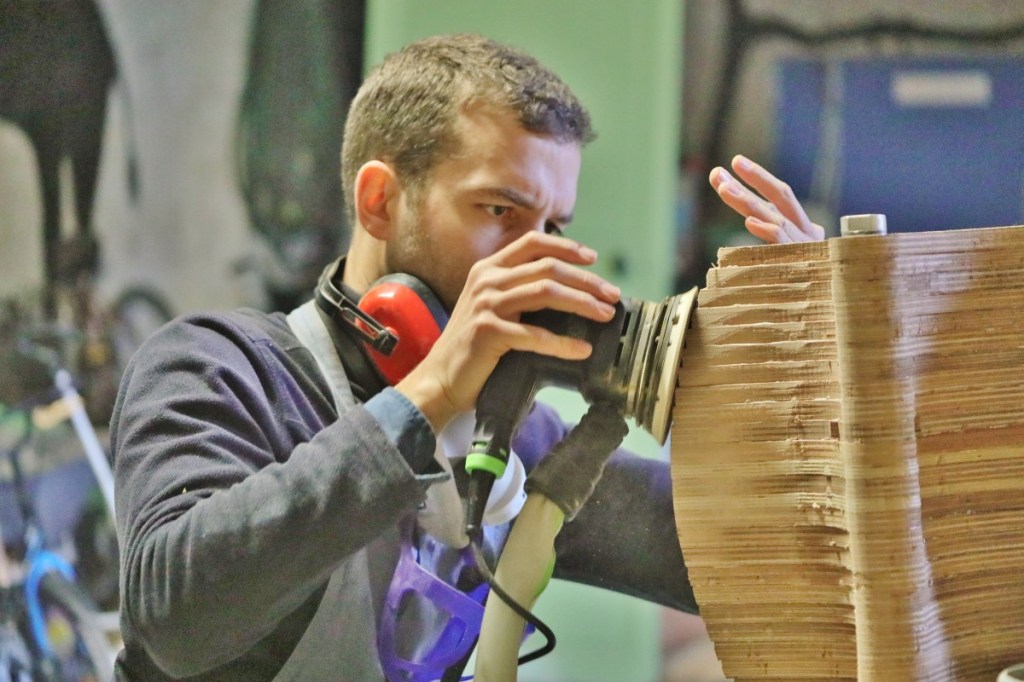 Etienne de Livron
In addition to its technical excellence, this armchair with its clean, warm design style has a "super power."
"Its aesthetic appearance changes the way others look at you. It makes you feel better about yourself," testifies Paul, who has experienced this on the streets of Paris. "My wooden armchair was a big hit with passers-by," he recalls.
Harold Passini I SOXH Factory
A success in Paris, but also online. Paul shared a video in October 2022 that, within a few days, generated thousands of views and numerous contacts. He built a second, even better chair for himself, then needed a new challenge. It wasn't long before the sight of the Pope in a wheelchair made him realize what he was looking for. His third wheelchair will be … for the Pope!
A wheelchair for the Pope
Not just anyone can be a supplier to the Pope. Paul has received a lot of help from priests who are enthusiastic about his project. The first introduced him to the Apostolic Nuncio to France, Archbishop Celestino Migliore. The question was whether the Pope appreciated surprise gifts or whether it was better to warn him. Paul learned that it was better to warn him. He then went to Rome and, on May 3, 2023, after a general audience, coached by Cardinal Parolin, who had been informed of his project, he told Pope Francis about his desire to create wheelchairs for the less fortunate and to offer him a wheelchair worthy of his office.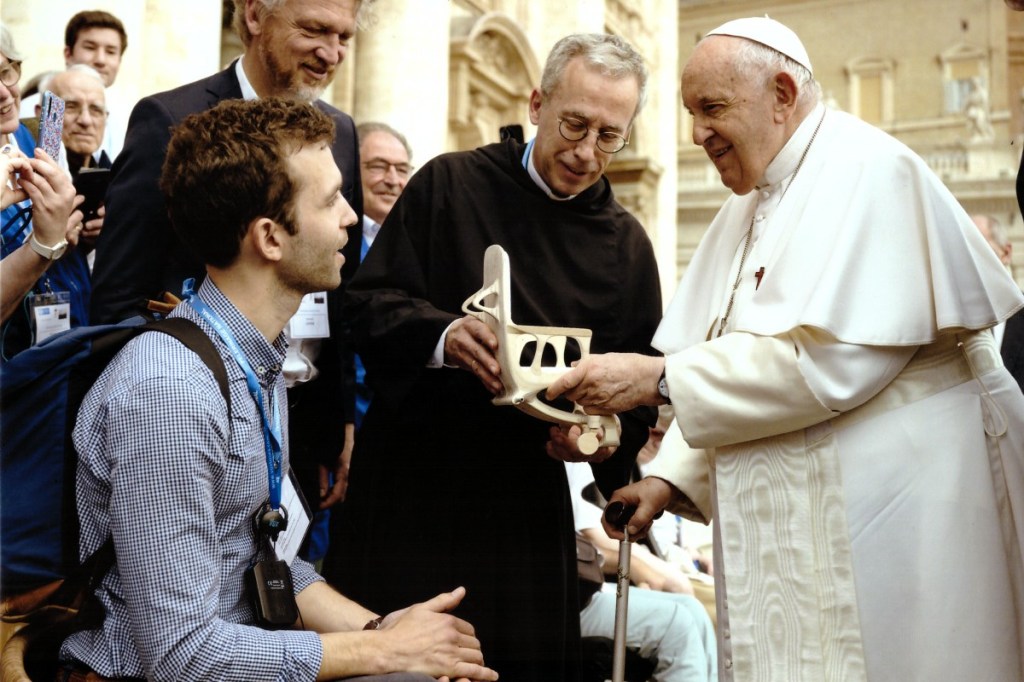 Agence Vatican
He gave him a model to illustrate the project and asked if he was interested. "The Pope took the model in his hands, played with the wheels for a few moments like a child, then smiled and said: 'I accept. Who do we need to get in touch with?'"
Armrests using wood from Notre Dame of Paris
Paul was going to have to face several challenges to deliver what he planned. As soon as he had the idea of offering a chair to the Pope, he sought to give it meaning. How could he do this? By incorporating wood salvaged from the ceiling structure of Notre Dame cathedral!
It was no easy task to obtain two pieces of charred wood extracted from the fire that ravaged Notre Dame cathedral on April 15, 2019. But here again, Paul found support. A Parisian priest encouraged him to approach Archbishop Laurent Ulrich of Paris. "After an hour's conversation, the archbishop said he would try to help me, and later General Georgelin (who was in charge of the reconstruction of the cathedral until his accidental death on August 18, 2023, Editor's note) contacted me. He had managed to obtain the quantity of wood needed to make the two armrests."
Paul de Livron
For Paul, these two pieces of wood are "contemporary with the time of St. Francis of Assisi, under whose protection the Pope has placed his pontificate," as well as a symbol of resilience. "From old material that has become unusable, we are extracting an essential element for a new kind of medical equipment," he explains.
Symbols of peace and the Holy Spirit
The question that nagged at Paul for a long time was how to decorate the footrest. He decided on a dove, to support the Pope in his mission to promote peace between peoples. Not to mention that the birch plywood used for the chair was partly manufactured in Russia, and partly in Ukraine … The dove, a symbol of the Holy Spirit, is depicted by Paul haloed by seven rays symbolizing the seven gifts of the Holy Spirit and the horizon.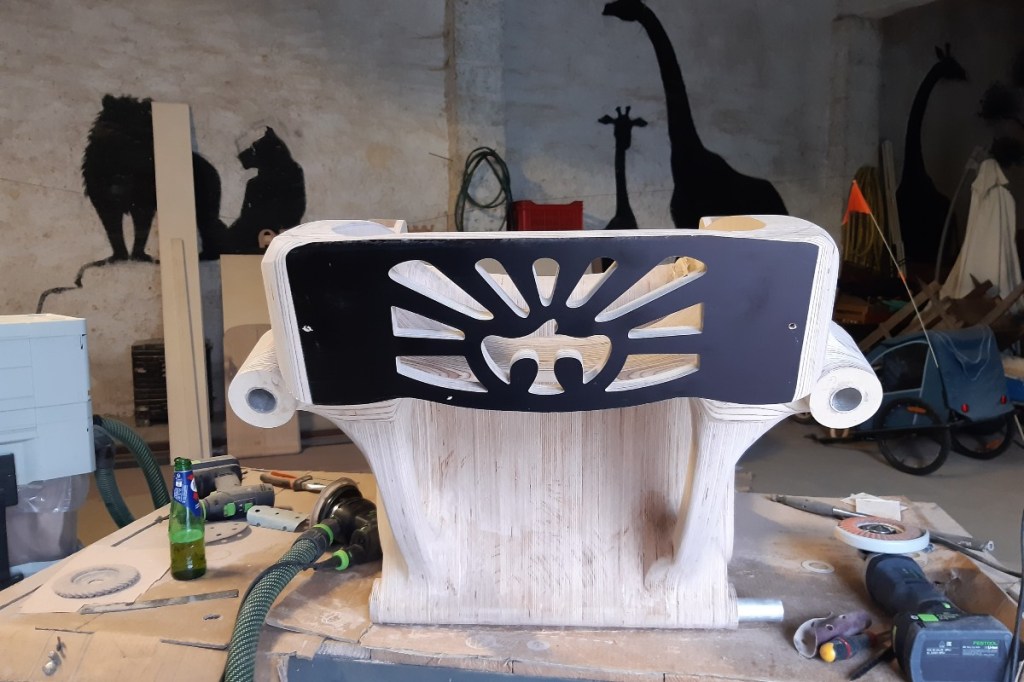 Paul de Livron
Paul de Livron
A large stylized cross is carved into the rear wood of the backrest.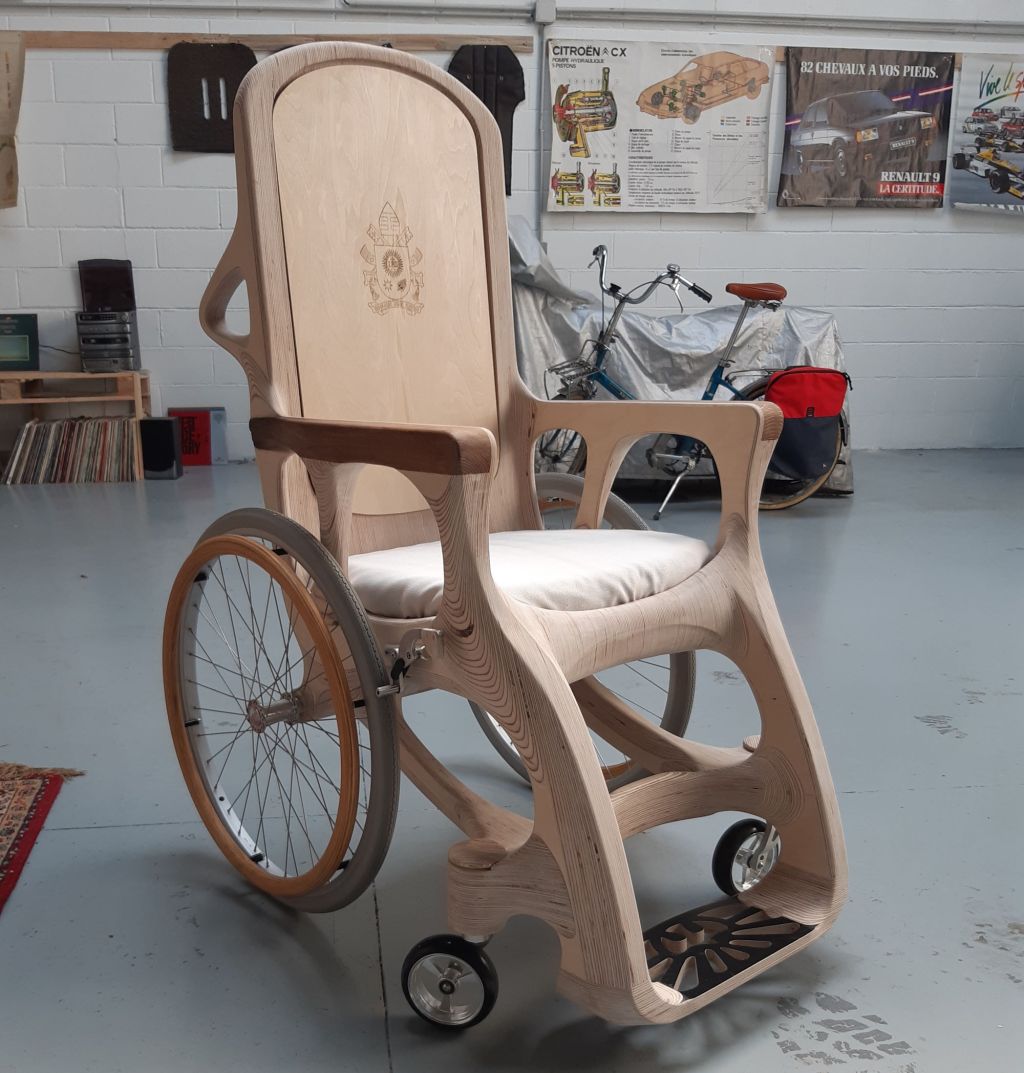 Paul de Livron
A relic for good measure
In a further gesture, Paul plans to insert in the chair, alongside the list of symbolic aspects of the project, a relic of Blessed Carlo Acutis, entrusted to him last May in Assisi after his meeting with the Pope. For Paul, Blessed Carlo is a young saintly figure, "a geek like himself," who left his mark in the way he offered all his sufferings for the Pope and the Church.
The wheelchair will be delivered discreetly to the Pope in Marseille. It will be entrusted to the Pope's team and not to Francis directly. This is actually a relief for Paul, who would have been "anxious at the thought of the Pope trying out his chair in front of me." Nevertheless, he will have the honor of a personal greeting at the end of the mass at the Velodrome. Although there are no plans for the Pope to use the wheelchair in Marseille, the fact remains that all those who have followed or contributed to the project will be religiously watching the Pope's next outings!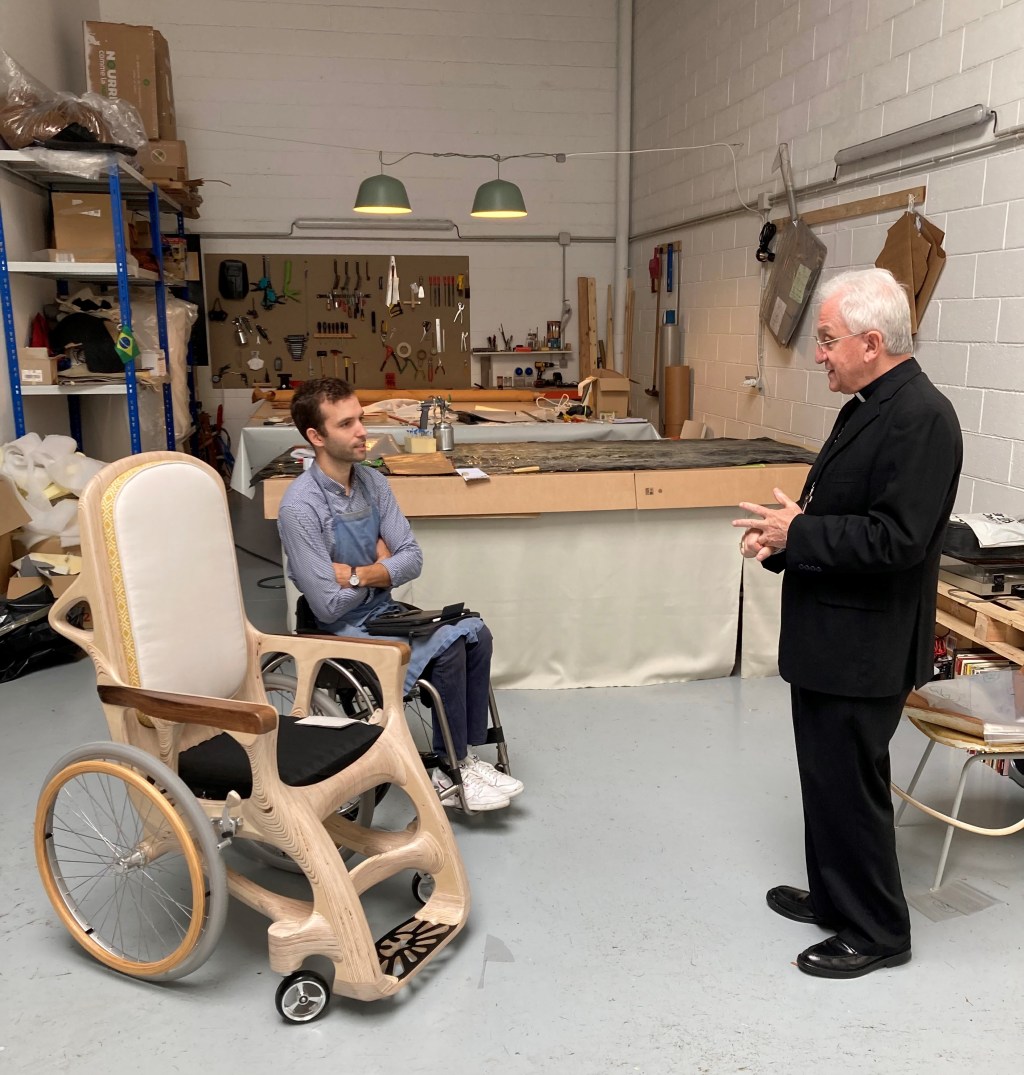 Avec l'autorisation de Paul de Livron
"The Lord is preparing great things"
Even today, Paul is buoyed by a word he received during a healing prayer at Saint-Nicolas-des-Champs church, Paris, in November 2019. "I was hiding at the back of the church, and I received a word of knowledge. It said, 'The Lord is preparing great things for a paraplegic person.'" That message went straight to his heart. "It did me so much good! It's still a driving force for hope today, and it reinforced my choice to make myself available to God's plans for me," he says.
And there's no shortage of projects. A few months later, he flew to Calcutta to visit the Missionaries of Charity. It was a trip that shook him to the core: "I was in my super-chair, which enabled me to travel to the other side of the world, and I was confronted with people like me in the dispensary who didn't have their own chair! It was from this experience that the project to design beautiful, comfortable, and inexpensive wooden armchairs was born."