If you're looking to grow in your prayer life (aren't we all?), you have to check out a stunning new program from Ascension Press.
We know we ought to pray, but it's not easy to get started. Prayer can be intimidating, especially when it's not a regular habit. 
Yet we know it's so important to pray: Conversation with God builds our friendship and love for him. 
St. John Chrysostom said, "Prayer is the place of refuge for every worry, a foundation for cheerfulness, a source of constant happiness, a protection against sadness."
And prayer doesn't just strengthen your spirit. It packs a powerful punch for your physical health, too.
If you're looking to grow in your prayer life (aren't we all?), you have to check out a stunning new video series from Dr. Edward Sri and Ascension Press, When You Pray: A Clear Path to a Deeper Relationship with God.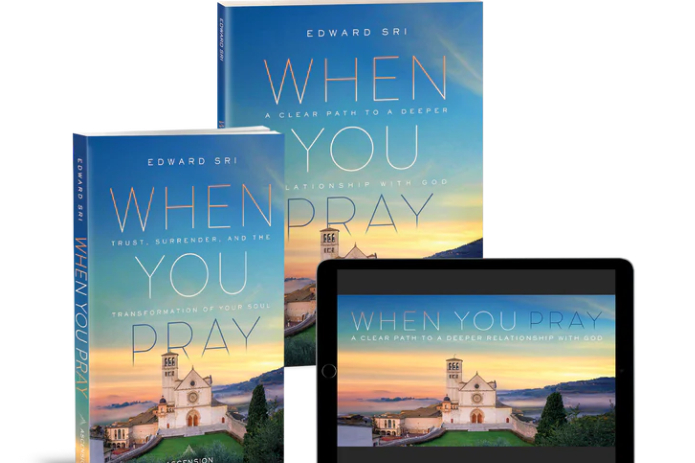 Ascension Press
The series would be perfect to do with a group of friends or a parish study group. You can get a free preview that includes the first video, first session workbook info, a bonus video, and the first few chapters of the book.
Dr. Edward Sri is a theologian, author and well-known Catholic speaker who appears regularly on EWTN. He has written several best-selling books, including Into His Likeness: Be Transformed as a Disciple, Walking with Mary, and Who Am I to Judge? Responding to Relativism with Logic and Love.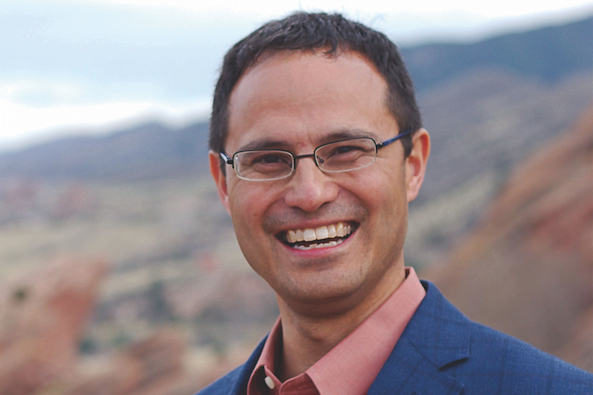 Edward Sri
His newest book,When You Pray: Trust, Surrender, and the Transformation of Your Soul, accompanies the series of seven 30-minute videos. 
The book and series fill a need to help ordinary people connect with the saints and the Church's deep prayer tradition.
"There are many faith formation programs on the Bible, the Catechism, and the sacraments," Dr. Sri said in an interview with Aleteia. "But there's not as much opening up the rich Catholic spiritual tradition of the saints for ordinary lay people. So we developed this series walking with the saints through the major themes of the spiritual life, such as struggles in prayer, trust, surrender, weakness, darkness, and the healing of the soul."
Although the series is about prayer, it's not just about how to pray. "It's more about how to cooperate with God in prayer and go deeper in our relationship with him," he said.
But what about getting started for prayer beginners? Dr. Sri offered some great advice for those of us who want to build a habit of prayer and need a little help to get started.
1
Try a 30-day challenge
The first step is simply making prayer a habit. A good way to kickstart that habit is with a month-long effort.
"I often invite people to a '30-day Prayer Challenge,'" Dr. Sri said. "People can commit to 30 days of quiet, personal prayer each day for 15 or 20 minutes, reflecting on a sacred text like Scripture or a devotional book with spiritual reflections."
2
Pause to listen to God
Spiritual reading does so much good, but we have to be careful that reading doesn't replace our actual conversation with God. 
"We don't just read the spiritual book, turning prayer into study hall," Dr. Sri said. "We read a few lines, pause, reflect, and talk to God about it. We ponder how this Bible verse speaks to us today. We ask the Lord how a particular reflection might apply to our lives. We listen." 
His book When You Pray includes 30 short reflections on the wisdom of the saints that can be used in prayer to help foster conversation with God. But it shouldn't be read without frequent pauses from reading to really listen.
"I always tell people: Don't just read this book," Dr. Sri said. "Pray with it. Read a few lines and then prayerfully reflect on the wisdom of the saints contained in each reflection."
After all, we know that God comes to speak to us in the still small voice for which we must make room. 
When You Pray, both the book and the series, can be a valuable tool to make space for listening to God's voice in the midst of our daily chaos. 
Hopefully Dr. Sri's newest work can help us take prayer from the category of "things we ought to do" to "things we love to do," a shift that can only enrich and strengthen our bodies and souls.