"Above all I came because I wanted to pray for all the Cardinals and be united with them and the whole Church," said one Catholic.
As Pope Francis created 21 new cardinals for the Church on September 30, 2023, Catholics from all over the world came to St. Peter's Square to pray and support them. After the consistory celebration on the Square, the faithful, family members, and other Church figures were able to greet the new cardinals in the ornate halls of the Vatican's Apostolic Palace. Bringing with them their hopes and stories from their countries, the faithful shared their hopes about what these new cardinals will represent to the populations back home, but also recognized the role they play in the universal Church.
"I am here because I love my bishop and I am excited to be with him today," said Ania, a 20-year-old from Łódź, Poland, with a big smile. Her archbishop, Grzegorz Ryś, was created cardinal and about 500 people came from his diocese came to support him.
"I am full of pride that my country is represented on the world level and that our city, in the center of Poland, has the same importance as other places," she explained. "For us young people it is important to be with our bishop."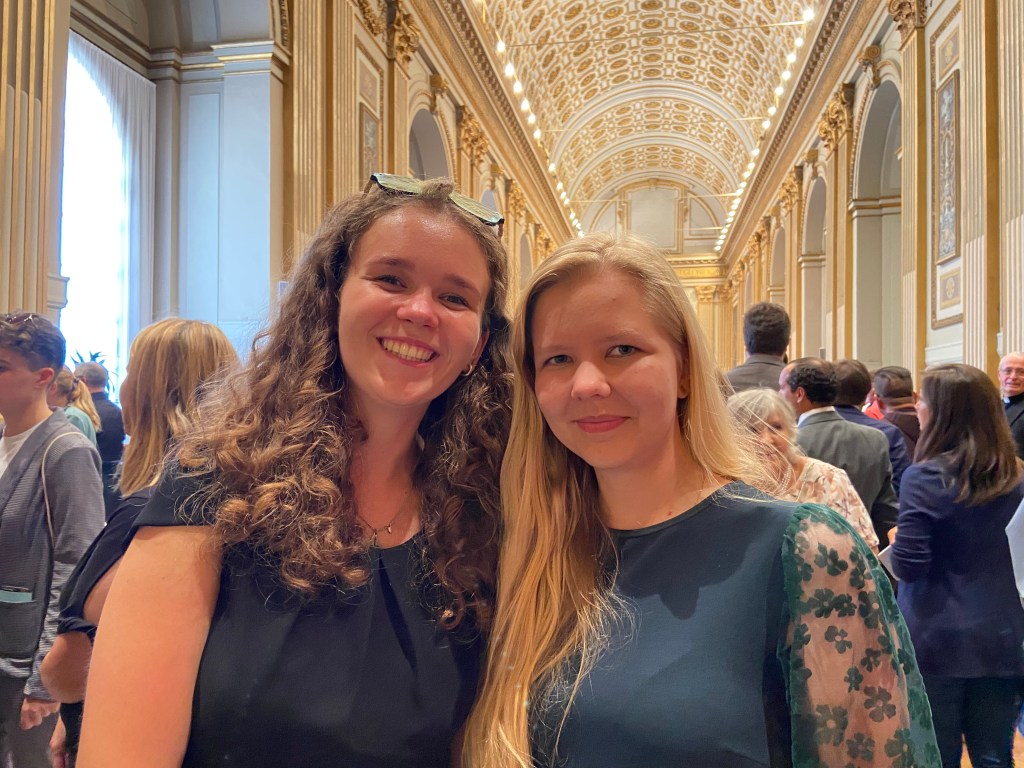 Isabella H. de Carvalho / Aleteia
Privileging the peripheries 
Pope Francis has given great attention to the "peripheries" of the world, naming cardinals throughout his pontificate from places where there have not traditionally been.
In this consistory, the Pontiff named as a cardinal Stephen Ameyu Martin Mulla, Archbishop of Juba, South Sudan, a country which gained independence in 2011 after several bloody conflicts that left over two million dead and four million displaced. When his name was called on the square, loud shouts and cheers erupted from the crowd. 
"That is the joy of the South Sudanese," said Maurice, the team leader of a delegation of more than 80 people that came with the South Sudan branch of the Council of Churches, a global ecumenical body. "It is actually a great moment for the South Sudanese as a whole. It is a grace for the country which has struggled with a lot of issues in searching for peace." 
"This is a new role in our country. It is not an easy task being a cardinal so he knows he has a lot of responsibility and there are a lot of expectation from the South Sudanese," Maurice added. Cardinal Mulla smiled widely as he posed for photos and shook hands with his co-nationals who came to greet him, as the sun shone through the window behind him.
An inspiration for back home
The Pontiff also created another African cardinal during this consistory: the Archbishop of Cape Town, Stephen Brislin. "It is glorious because we have the whole continent being represented," said Father Emmanuel, a Nigerian priest from the Society of Divine Vocations who lives in South Africa. Cardinal Brislin embraced him warmly with open arms as they greeted one another.
Father Emmanuel believes that this elevation could bring renewal to the whole Church in South Africa. "As it stands the vocations in South Africa have been going down, so this could be a boost. It will be a good encouragement for young people, for priests, to continue to grow as they will see that God always recognizes you," Father Emmanuel said, a South African scarf draped around his neck.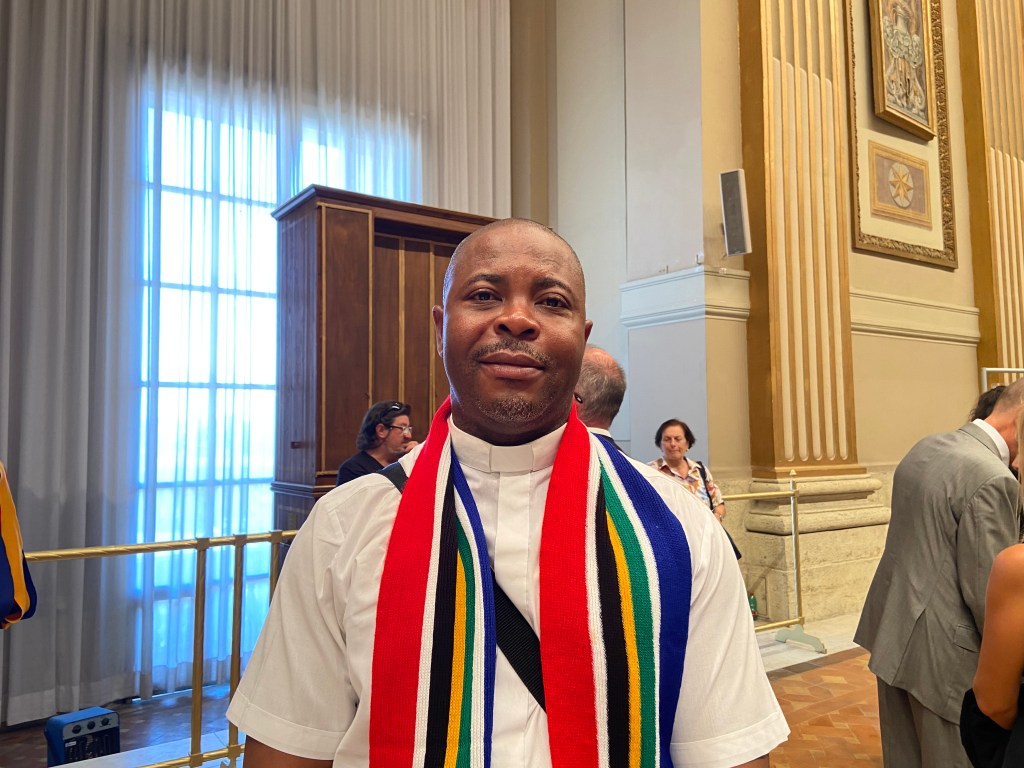 Isabella H. de Carvalho / Aleteia
The strength of the universal Church
"Above all I came because I wanted to pray for all the cardinals and be united with them and the whole Church in prayer. They have an important ministry to serve the Church throughout the world and here in Rome," said Father Zane Langenbrunner, who was ordained last June for the Catholic Diocese of Fort Wayne-South Bend, Indiana, and has been studying in Rome.
His feelings were shared by other faithful who attended the celebration. "The moment when the Pope gave [Bishop Stephen Chow of Hong Kong] his ring and the hat, was really touching and beautiful. I really felt, I come here no longer only for the Diocese of Hong Kong or for the community that I belong to, but we are all part of a universal Church," said Siu Wai Vanessa Cheng from Hong Kong, China, who has been chosen by the Asian Bishops' Conferences to attend the Synod on Synodality, which begins on October 4. 
"I also saw all the other new Cardinals, from all over the world, from places that are sometimes so special. I do feel that this a moment of God and there will be a lot of graces," she added.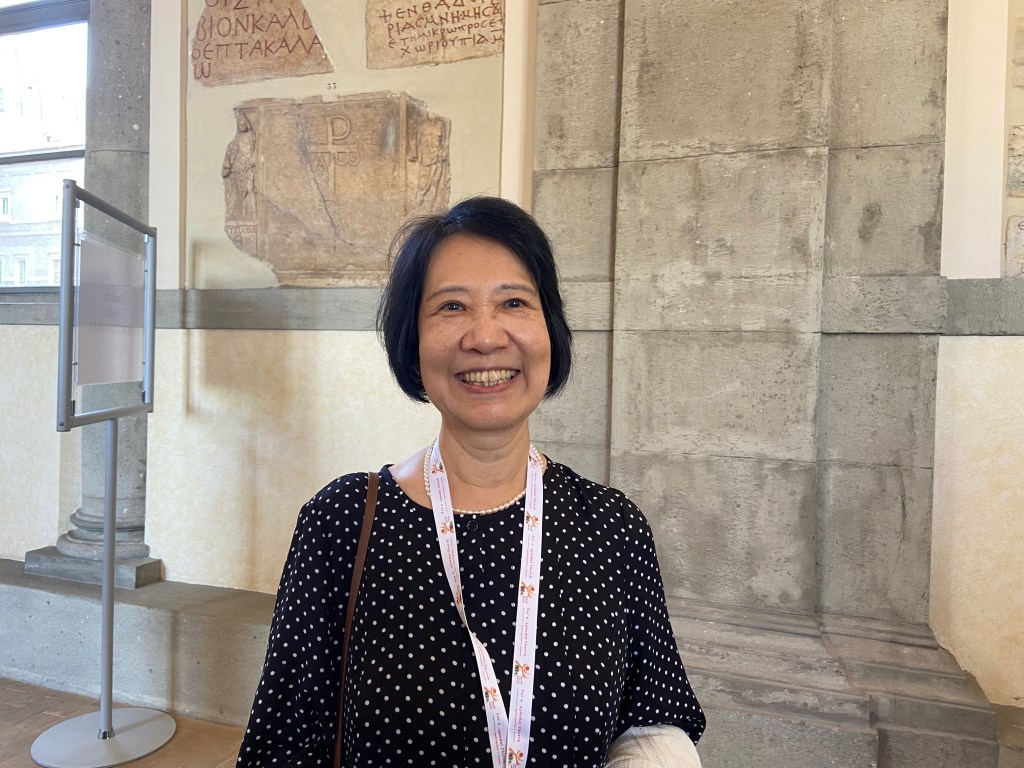 Isabella H. de Carvalho / Aleteia