Here are some creative ways to spice up your faith life all year long.
How does your daily life visibly reflect your Catholic faith? If you're like most Catholics, you pray before meals and maybe use an Advent wreath or calendar in December. But what would it look like to express your faith all year round?
Liturgical living is a growing movement in Catholic circles that refers to practices that help the faithful to participate in the faith in everyday, practical ways such as special foods or thoughtful activities. For example, you could make an outdoor rosary with just some string and then pieces of foraged nature, such as pinecones and acorns, as the beads. Then you can arrange your collection and pray that day's mysteries with family, friends, or even on your own, creating a little woodland retreat.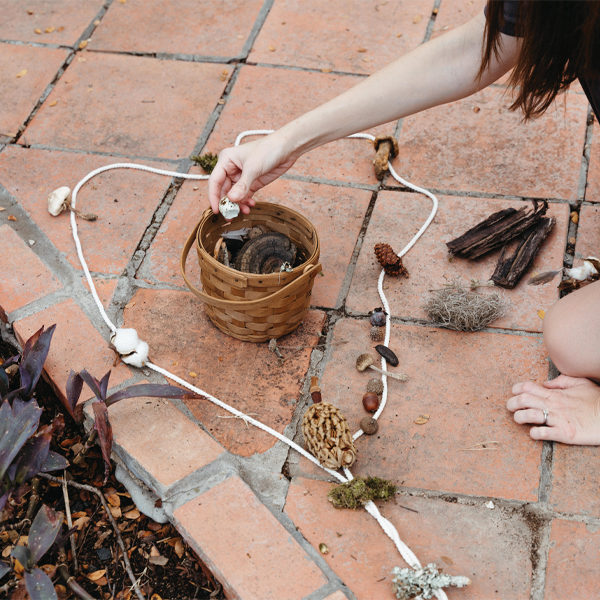 Ave Maria Press
Bringing the Church seasons into your daily experience is "an invitation to a deeper relationship with God and his promises for us by entering into the stories and history of our faith," says Erica Tighe Campbell, the owner and designer behind Be A Heart. Her new book, Living the Seasons, collects clever, doable, and beautiful ideas for liturgical living. "It doesn't have to be perfect or picture-worthy," she emphasizes. "It just has to be for Him."
Campbell shows how liturgical living can teach everyone, regardless of age or background, how to have a joy-filled life based on tradition, hospitality, and togetherness. For example, if you have little ones and you love to craft, you can mix up the tradition of putting oranges in their shoes for St. Nicholas's feast day with hollow balls that you add their favorite candies or trinkets. Then you can wrap them in orange streamers and cut out a leaf to make unique gifts for them to open.
Or maybe you are more of a baker and want to share a treat with your co-workers to celebrate a saint's feast day. You can find a yummy recipe, such as the almond cookie recipe St. Francis asked his follower, Bl. Jacoba, to bake to comfort him in his final days. You can then share their story and reflect on the saint's life as you enjoy your treat. 
Ave Maria Press
Perhaps you are more of a planner and want to host a fun get together that also highlights an important aspect of your faith. Instead of the usual New Year's Eve party, Living the Season has pages of suggestions on how you could celebrate the Solemnity of Mary, Mother of God. Campbell suggests going to Mass together and then heading back to your place for Elderflower Rose Gimlets to symbolize Mary's beauty, Pear and Gorgonzola Pizza to symbolize her sweetness, and Strawberry Rhubarb Galette to symbolize her fruitfulness. You can also create fun decorations of star streamers and a Marian Halo made from metallic colored pipe cleaners, headbands, stars, and a hot glue gun.
With all of these examples and the other suggestions in Living the Season, you can go as all out or as store bought as you want. You can use these activities and practices for personal reflection or as a shared experience with family, friends, and your community. Campbell's book offers many adaptable ideas for all skill levels and time commitment. 
To begin making liturgical living a regular habit, Campbell suggest starting small — perhaps pick one feast day each month to celebrate — and let it fit into the pace of your everyday life. As you gradually expand your horizons, you may discover new feast days dedicated to saints from various countries and cultures, enriching your own spiritual heritage. 
Ave Maria Press
However you incorporate liturgical living into your day to day, this practice is all about embracing the unique perspective each feast day offers to our faith. "Living these seasons with intentionality helps ground us in faith and hope in a society that is fast-paced and ever-changing," Campbell writes. "We experience throughout the year the story of God's love for his people, and we remember the truth of who we are and why we're here."
Find out more ideas for liturgical living inLiving the Seasons: Simple Ways to Celebrate the Beauty of Your Faith throughout the Yearat avemariapress.com, or at beaheart.com.