Fewer people attend annual celebration as Israel advances on Gaza Strip.
As Israel was beginning a ground invasion of the Gaza Strip in response to Hamas' terrorist attack of October 7, Catholics in the Holy Land conducted a toned-down celebration of the annual feast of Our Lady Queen of Palestine. 
The Latin Patriarch of Jerusalem, Cardinal Pierbattista Pizzaballa, presided at an October 29 Mass for Our Lady Queen of Palestine and the Holy Land, main patroness of the Patriarchate of Jerusalem.  
The celebration took place at the Shrine of Our Lady in Deir Rafat, a religious site midway between Tel Aviv and Jerusalem, built in 1927. Several bishops and priests concelebrated. A few faithful managed to attend, joining the Monastic Sisters of Bethlehem who live there. 
Although this year's celebration did not see the normal crowds, many Catholics celebrated in their parishes and prayed for Our Lady's intercession for peace in the Holy Land.  
"Thanks to Our Lady, who loves to gather her children around her, we meet here today," Cardinal Pizzaballa said in his Mass homily. "As we consecrate again our beloved diocese and land to her care, we also entrust ourselves to God – meaning to not worry and have full confidence and trust in His divine care and wisdom, especially in the current times we are living in, where hope seems hard to find."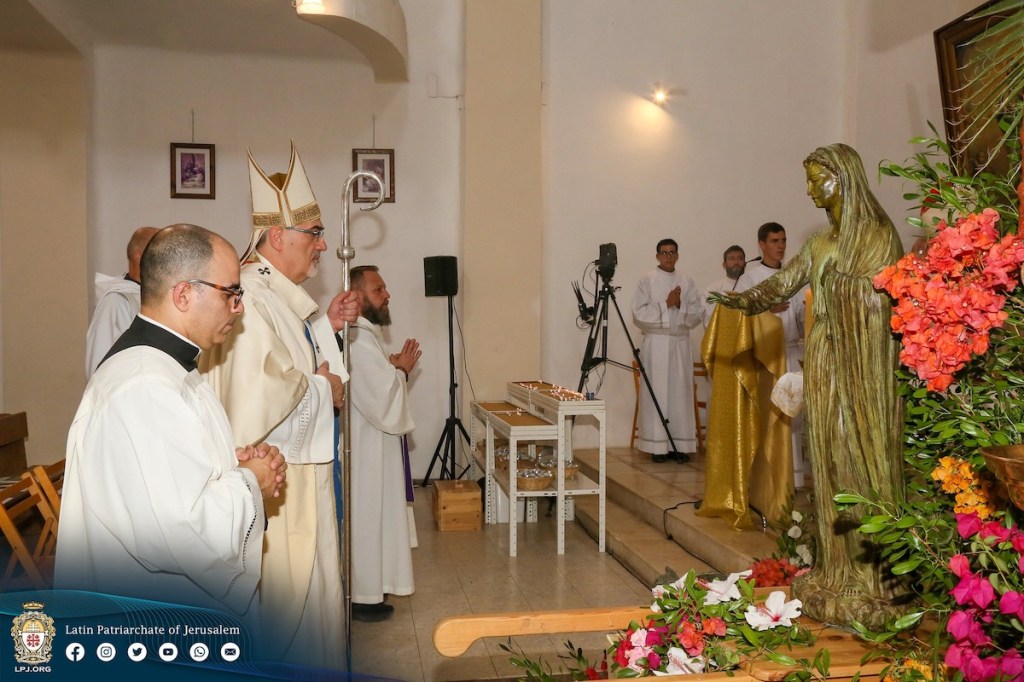 Courtesy of the Latin Patriarchate of Jerusalem
The Word became flesh
He also emphasized the importance of reading the Word of God in these difficult times, especially the Gospels: "Through one word, the incarnate Word, who is Life, came to be in the womb of Our Mother, the Virgin Mary, who proclaimed saying: 'My soul proclaims the greatness of the Lord.'"  
The patriarch added: "This Word gave her life, so she could also give life to us. The common word we hear today in our world is of 'control and pride' while the Holy Passage indicates that The Word is a word for the 'Humble and Meek,' which is mentioned in this passage – 'Blessed are the meek, for they will inherit the land' (Mt. 5:5)." 
Cardinal Pizzaballa ended by asking for the intercession of Our Lady:
"May Our Mother, the Virgin Mary, comfort us and accompany us and help us submit to the Word of God, so that the seed of humility and trust grows in us."  
After Communion, Auxiliary Bishop William Shomali, Vicar General, recited an Act of Consecration reconsecrating the Holy Land to the Immaculate Heart of Mary, asking Our Lady for the peace and protection of her beloved homeland.  
A traditional procession was held in the monastery yard, chanting Marian hymns and prayers for the peace of the Holy Land.