The KofC's Coats for Kids program has grown from 100,000 coats donated in 2017 to be on track for 200,000 coats donated in 2023.
The Knights of Columbus, the world's premier lay Catholic fraternity, is celebrating the donation of one million coats through their charity program Coats for Kids. Launched in 2009, the Coats for Kids program is active in 49 US states and all 10 Canadian provinces. The milestone was commemorated in a ceremony at Annunciation Catholic School, where the Knights supported five local Catholic schools with more donations.
Supreme Knight Patrick Kelly was on hand at the Annunciation ceremony, where he presented the five Denver schools with 1,000 winter coats and donations of $10,000 per school. Each of the schools – Annunciation Catholic School, St. James Catholic School, St. Rose of Lima  Catholic Academy, St. Therese Catholic Classical School and Guardian Angels Catholic School – was further gifted $10,000 and a portion of some 1,000 coats donated by the Knights of Columbus.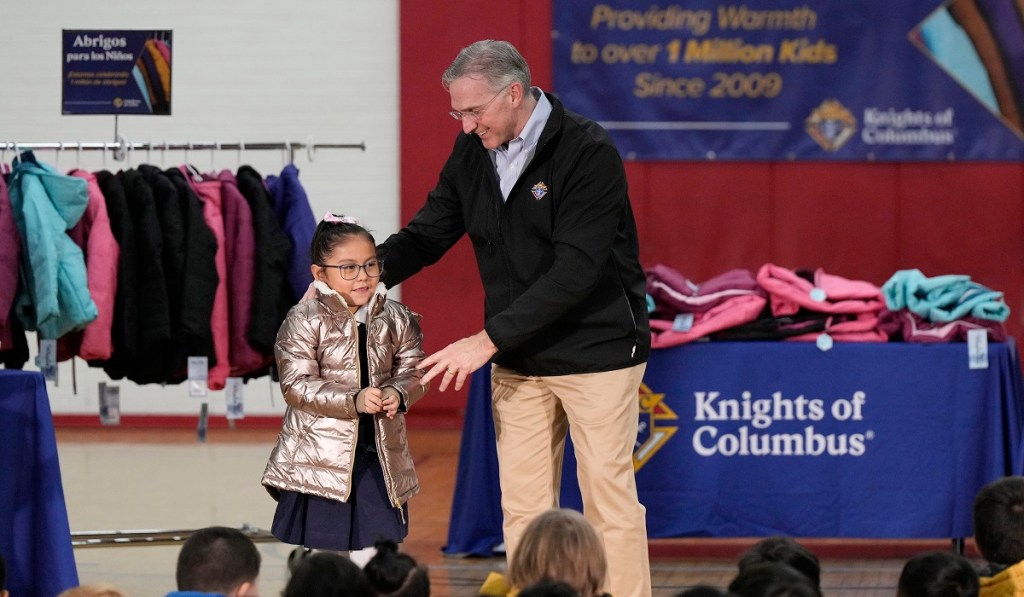 Photo by Paul Haring | Provided
Kelly was joined by the pastor and principal of Annunciation, as well as Major League Baseball player and fellow Knight Ty Blach. A native of Colorado, Blach has played in the MLB since 2012, pitching for the Giants, Orioles, and Rockies. The event was further filled out by members of the Colorado state Knights of Columbus Council, who all assisted Kelly in distributing the donated coats. 
At the event, Supreme Knight Kelly commented: 
"The Coats for Kids program has become synonymous with the Knights of Columbus mission of  charity, as first established by our Founder, Blessed Michael McGivney, more than 140 years ago," said Supreme Knight Kelly. "The generosity of our donors and the work of our local councils to distribute one million coats to underprivileged children is proof that where there's a need, there's a Knight."
The Knights of Columbus Coats for Kids program is an annual endeavor to ensure underprivileged children across the US and Canada are provided with warm coats for the winter. The program has consistently grown each year, achieving more than 100,000 coats donated each year since 2017. The Knights noted that they are on track to surpass 200,000 coat donations in 2023. 
The Knights welcome donations from anyone and guarantee that 100% of all donations go towards purchasing child-sized coats. Those interested in supporting the Knights' Coats for Kids program can find more information here.