When Fr. Vincent Chamel went to celebrate his first mass at the village chapel, he received a chalice left him by the last parish priest decades before he was born.
There are some coincidences in which it's hard not to see a wink from God's providence. Such is the story of Fr. Vincent and his chalice, mysteriously left to him by the last pastor of his home church, in 1968.
From a family of winegrowers in a small town
Vincent Charmet, 30, was ordained on June 25, 2023 at the Cathedral of St. John in Lyon, France. He's currently the parish priest at St. Augustin's Parish en Beaujolais. Born in 1993 into a family of winegrowers from the Pierres Dorées region, he first studied management and philosophy. Then, following an experience of God in an abbey and the World Youth Day in Krakow in 2016, he entered the seminary in Lyon. 
All four of his grandparents were winegrowers, as was his father. They all hail from the Azergues valley, more specifically from the pretty yellow-stone village of Le Breuil. The town is home to a small 15th-century church, Saint-Pancrace d'Oingt, in which Vincent was baptized as a baby, like so many other locals. The last priest to live there, Fr. Claude Clavel, died in 1968. Since then, as in many French villages, the little church has only been open occasionally, for specific events. 
The most recent occasion was on July 7, 2023. Fr. Vincent, ordained just two weeks earlier, went to say his first mass for family and neighbors, in thanksgiving and in memory of his baptism on August 1, 1993. It was then that the deputy mayor informed the parishioners of an astonishing discovery, a few months earlier, in a cupboard in the sacristy.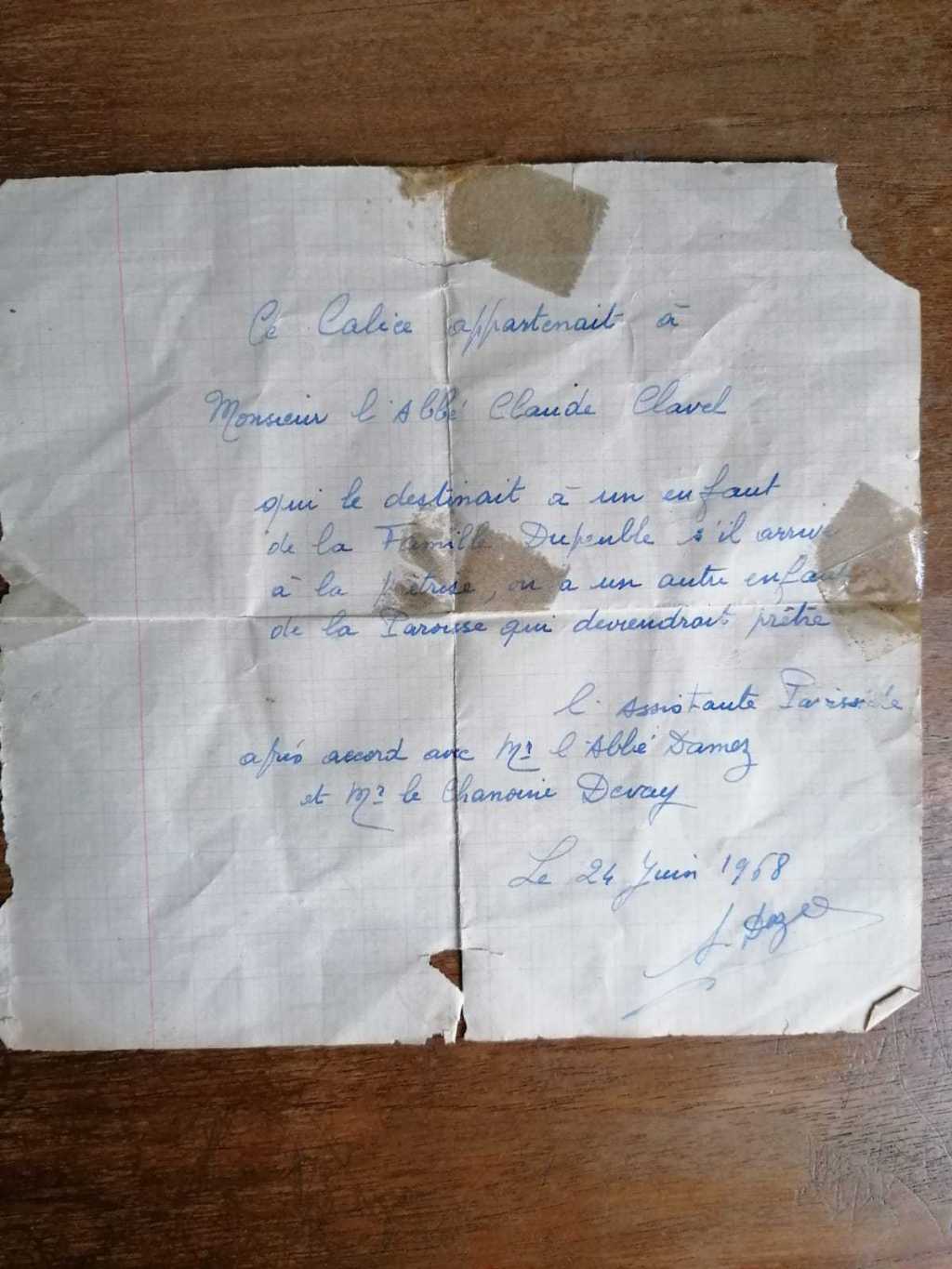 Vincent Charmet
A chalice for Vincent
In January 2023, while tidying up the sacristy, a few parishioners — including Vincent's father and one of his uncles — discovered in a cupboard a beautiful box containing a chalice and a piece of paper. Unfolding it, they read an astonishing message, written in the hand of the parish secretary and dated June 24, 1968:
This Chalice belonged to Fr. Claude Clavel, who wanted to leave it to a child of the Dupeuble Family if one should become a priest, or for any other child of the parish who should become a priest.
It's signed by "the parish secretary, in accord with Fr. Domez and Canon Devay." 
The Dupeuble family mentioned in the message, a practicing family close to the parish priest at the time, is none other than the family of Vincent's paternal grandmother! This message, dated June 24, 1968, was therefore written exactly 55 years (plus one day) before Vincent's ordination on June 25, 2023.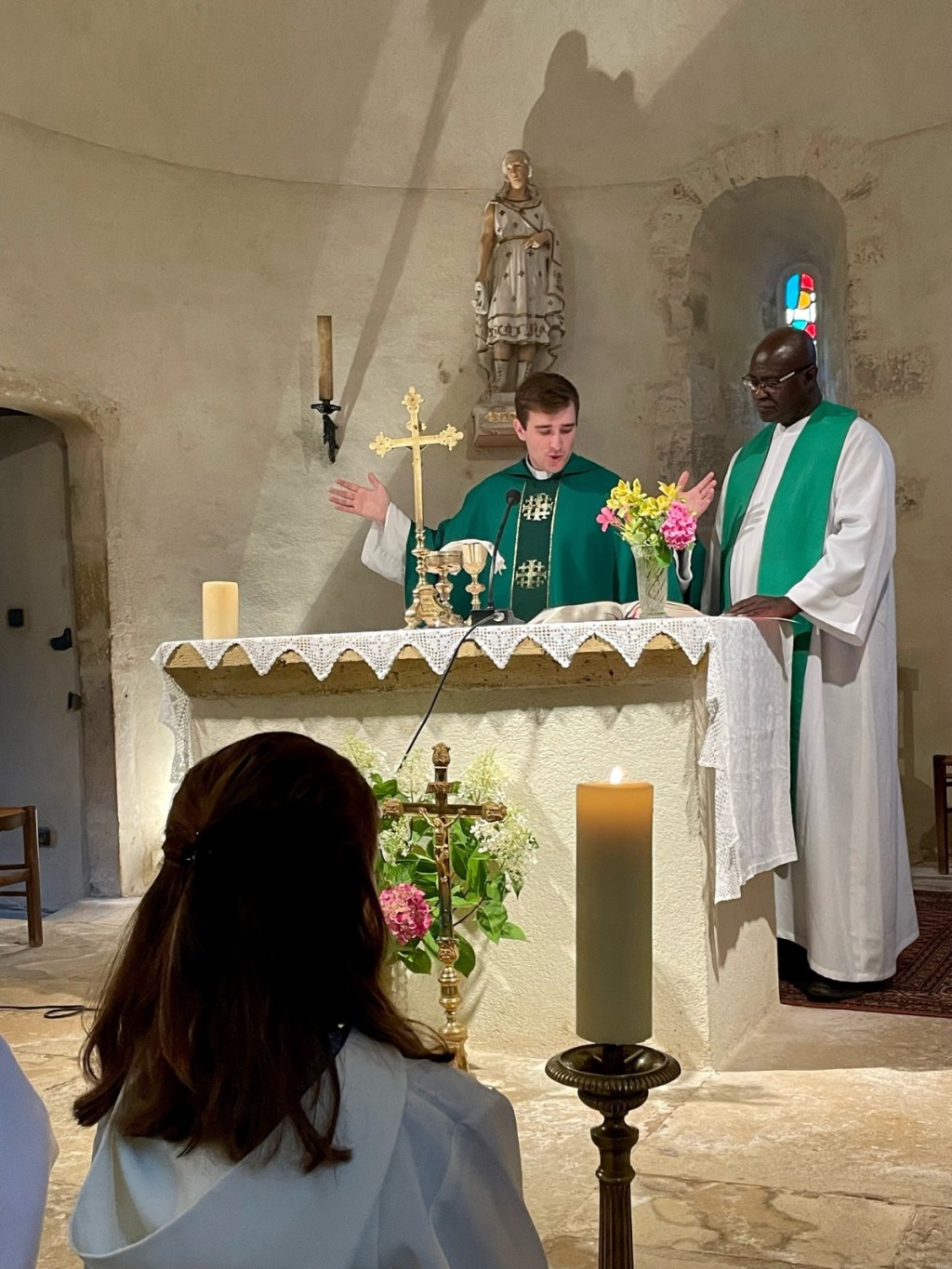 Vincent Charmet
Because there was no doubt that this chalice was intended for Fr. Vincent, a deputy mayor handed it to him a few minutes before mass, so that he could celebrate with it. A providential sign!
After this first mass, all participants were invited to an aperitif — with Beaujolais of course — for an official presentation, with speeches and applause. Many confessed to being moved by this message of faith and prophetic hope.
Fr. Clavel "was much loved, and had left a lasting impression on the villagers with his strong personality and deep faith," says Fr. Vincent. "The story goes that every year, during Holy Week, he would go to the vineyards to see the workers and tell them that he was looking forward to seeing them at Easter mass, and everyone obeyed him!"
Tradition revived
Deeply moved by this beautiful and mysterious inheritance, Fr. Vincent admits that he's still astonished. "I'd never heard of this chalice story," he says, "and it's amazing that no one in my family had mentioned it before. It didn't confirm my choice of priesthood, as I was already well on the way. But it certainly sheds new light on it, anchoring me in a history, in a passing of the baton that's a little beyond me."
Fr. Vincent says that the chalice now accompanies him everywhere, and that he uses it on a daily basis. "Although it's neither rare nor precious, and has no particular monetary value, it clearly has exceptional value in my eyes. At every mass, I think of my predecessor in heaven".
Is that the end of the story? Not quite. As soon as Vincent received the chalice from the parishioners, he stated loud and clear: he is going to pass it on. "Whether in my lifetime or not, in five years or in fifty, if a child from the parish is ordained a priest one day, I'll give it to him right away!"
And so, a tradition has begun.