The feeling of exclusion can create wounds and tensions deep within the family.
What can God do in your life with one Bible verse a day?
Subscribe to Aleteia's new service and bring Scripture into your morning:
Just one verse each day.
Click to bring God's word to your inbox
The first question that arises when a critical illness strikes a child is should I tell the truth? First, to your little one, and then to their brothers and sisters. The medical profession encourages parents to tell the truth, choosing their words according to the age of each of their children.
In Elizabeth and Christian's family, the six brothers and sisters of their ill daughter, Cecily, were between 2 and 19 when Cecily fell ill. "They could hear all the phone calls, so it seemed best to talk to them about it," explains Christian. "We'd always told the truth to the older ones, who were 16, 18, and 19 at the time. When there was no more hope of saving Cecily, we gave them the news. We spoke to the little ones about the seriousness of her illness, but not in the same terms, to say nothing of the expected outcome. They shared more with the older ones. "It's better knowing," said Elizabeth. "If they shut us out, we'd right away think they didn't trust us. And despite everything, you still suspect something and and imagine all kinds of things."
Lillian, the mother of Audrey, adds, "To tell the truth, I agree, but always with some hope. When our eldest, Aline (9 years old), asked us if we were hopeful of Audrey's recovery, we said yes, because as Christians, we believe in miracles and live in hope."
A third person can be helpful to inform the children: someone the children really trust. Jerome and Lillian entrusted the task to a priest friend. "He's very close to our family and it was he who spoke to our two eldest about the seriousness of the illness."
The suffering of the siblings
A period of illness is a very painful and difficult time to for the brothers and sisters: their parents are sad, worried, and not available for them, spending all their time caring for the needs of the child who is ill, while the other children are themselves in pain. A heavy atmosphere can fill the house. How can we held children not feel neglected?
When one parent — often the mother — is at the sick child's beside, the other parent can help to compensate for the absence. He or she can broach the subject with the children and be there for them, ready to listen. One evening at prayertime, during Mary's illness, Gwen and Eric's children exploded: "You don't care about the rest of us anymore!" So their father took the Bible and read them the parable of the lost sheep: when one is in danger, the shepherd leaves the others for that one (Lk 15:4-6). The children took great comfort from that reading.
Life goes on, and it's sometimes hard for the children not to want to laugh and have fun. At 17, Thomas admitted feeling guilty for carrying on with life when his little sister Cecily was suffering in hospital. Some very young children resent their ill sibling for taking over all their parents' affection. But we mustn't blame them. They're expressing the normal need of every child for their parents' presence. Everything must be done to avoid their feelings of gullt. Some time after the death of his sister, her brother was able to admit to Gwen: "When I think that at times I almost wished my sister would die and it would all be over …" Gwen confessed, "Me too, it was too hard, for her and for all the rest of us."
It's important to involve each of the brothers and sisters and let them participate in one way or another in the care of the one who is ill. "I was ill and you visited me" (Mt 25:36). In this way, this cruel ordeal can be shared by all members of the family, without anyone feeling excluded.
Florence Brière-Loth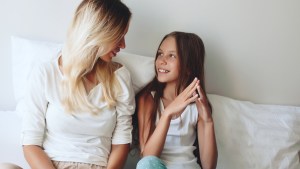 Read more:
How to make sure your tween isn't being eclipsed by other siblings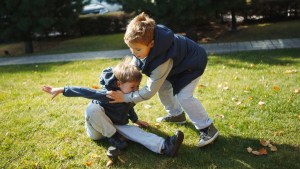 Read more:
How to put an end to sibling rivalry