Even the worst of days is never totally bleak.
What can God do in your life with one Bible verse a day?
Subscribe to Aleteia's new service and bring Scripture into your morning:
Just one verse each day.
Click to bring God's word to your inbox
Whatever happens in your life, never let a day go by without at least one thank you to the Lord and your loved ones. But not some vague "thank you" — a real thank you for something specific. A thank you from the bottom of your heart.
There are always reasons to say thank you
Teaching a child to give thanks to the Lord is to invite them to look at all that was good and beautiful in their day: both what they received and that they gave. Of course, we must also teach them to recognize, name, and ask forgiveness for their sins, but we must not forget other side of an "examination of conscience," which consists in recognizing the positive.
Saying thank you is an act of humility. To say thank you is to recognize all the love we've received during the day. Thanking the Lord is to recognize that without him we can do nothing. The Virgin Mary never hesitated to praise the Lord for the wonders he had accomplished in and through her: "The Lord has done great things for me, and holy is his name!"
The more we say thank you, the more reasons we find to say it. Just try it: one evening when you're really feeling discouraged, weighed down by problems, when you really don't feel like praising the Lord, try to find one tiny thing for which to say "thank you." After that first one, another will pop up, then another … It's a bit like when you start looking at the stars on a night when the sky seems hopelessly obscured by clouds. If you look carefully, you end up spotting one little star, then another, then three, 10 … and suddenly the sky doesn't seem quite so dark.
Praying for loved ones is like saying a little thank you to them
Thanking the Lord for our loved ones, for all the good they do us, frees us from bitterness and jealousy. It's good for family prayers to include a time of praise in which everyone gives thanks to the Lord for each other. If it is important for a child to learn to see all that was good and beautiful in their day, it's just as important that they be aware of all that is good and beautiful in their brother, their sister, their parents.
Why not take advantage of that moment to say thank you? Thanks, Mom, for helping me with my homework; thanks, Dad, for doing the dishes; thanks to my child who set the table for supper; thanks to my spouse who took care of the kids' bathtime.
Saying thank you is to turn ones eyes to the Resurrection
When children or adults are confronted by suffering — their own or that of a loved one — the thought of praising the Lord can feel shocking. They can't say thank you in good faith unless they understand that the "thank you" is not to deny or skirt suffering. It is, like Christ on the cross, an act of thanksgiving. God, through Jesus on the cross, wished to experience all of humanity's anguish when in the clutch of the scandal of evil. We cannot truly give praise until we learn to go through that valley of darkness and discover that the Lord has gone through it before us.
Christian praise is profoundly realistic. It doesn't content itself with appearances but is sensitive to the invisible reality of the Kingdom already present among us. Imagine being in the midst of summer confined to a space hermetically shut. Appearances might lead you to think it's nighttime. But if you really look out for that little ray of light beneath the door, you can already sense there's brilliant sunshine outside. It's the same with your "thank yous" that direct your gaze to those little glimmers that herald the eternal Light.
Christine Ponsard
Read more:
The gratitude tree: A way to help your family learn to say thank you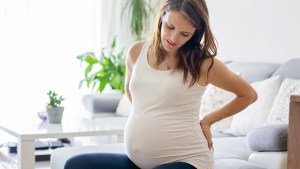 Read more:
How to cultivate authentic gratitude during a difficult pregnancy