A few ideas to help you see it more clearly.
What can God do in your life with one Bible verse a day?
Subscribe to Aleteia's new service and bring Scripture into your morning:
Just one verse each day.
Click to bring God's word to your inbox
It's not unusual for one fiancé to be filled with panic as the wedding day approaches. Cold feet can often be explained by the gravity of the looming event, but it can also feel like an anxiety that will only be alleviated by calling the whole thing off. That kind of panic is all the stronger when you realized there is no going back. The invitations have all been sent out, the guests are making plans, the vows are going to be for life. Worse may even that the your partner may not understand your jitters, nor will family members. 
Fear of the unknown
So how to deal with being torn like this? Perhaps by telling yourself that such sudden apprehensions have always existed. How many people admit to having wept on their wedding day before the fear of the unknown? Such apprehension is even more common today when couples have fewer illusions about the romantic promise of married life: most have seen marriages falling apart. Some hesitation before marriage can be a sign of clear-sightedness about the inevitable challenges that will come.
On the other hand, it's a good idea to consider if there's aren't other, more profound, reasons: insufficient love, for example? A shortcoming in the other you can't deal with? Fear of sexuality? Attachment to the family you'll be leaving behind? The gnawing memory of a past love affair that didn't work out? And then, choosing one thing means giving up another: giving up on dreams you may have had but let go.
Carefully consider your relationship as a couple
So what to do? Delay the marriage until your feelings become more clear? That's often just putting the problem off instead of resolving it. If there's no serious reason, no deep-seated problem with your partner, no basic flaw that would clearly caution against the marriage, you need to work on yourself to accept the inevitable imperfections of the human condition. 
It's then important that the couple (and not the family) look each other straight in the eye to consider the depth of their relationship, that they weigh and calm any doubts or fears either of them may have, allowing each other to express themselves freely. Accepting and understanding negative feelings, without judgment, is a powerful way of dispelling them–and of making both more objective and free on the brink of such an important decision.
Denis Sonet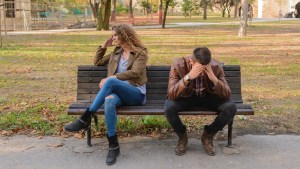 Read more:
Arguing during engagement: Is it a warning sign?
Read more:
Engaged couples: Meet your Patron Saint