What do we do when they do not believe in God or are critical of the Church?
What can God do in your life with one Bible verse a day?
Subscribe to Aleteia's new service and bring Scripture into your morning:
Just one verse each day.
Click to bring God's word to your inbox
Patricia comes from a traditionally Christian family, but her parents have gradually lost their faith. "My father now says he is totally atheist and my mother no longer attends services," she says. "I was introduced into the Christian faith by my grandparents and by the Scouts. My parents considered all that a total waste of time." The only convert in the family, she married a Catholic man and definitively joined the Church. "Between us and the rest of the family this caused a huge rift. It is very painful."
It's difficult to transmit faith when the grandparents have lost it or when you were born into an atheist family. In this context, how can you maintain an appropriate distance but at the same time promote affection between the generations?
Religious holidays without faith
Louise converted when she was 18 years old and became the only practicing Catholic in her family, occasionally accompanied to church by her mother. "The family relationship became really complicated after we started having children, because we totally differ on how we think they should be educated," she explains.
Bernard's parents are non-practicing Christians and are very critical of the Church. "They have always accepted and loved our children, but on several occasions they have argued with the older ones about their Christian duties and have criticized our position," explains Bernard. "The way they butt into how we educate our kids bothers me a lot. I told them very clearly how I felt, and we had quite an argument."
Spending the big religious holidays with non-believing grandparents can be quite trying. During summer vacation, the Assumption may fall on a weekday and may raise eyebrows: "What!? You're going to church again? Twice in one week! And I wanted to bring the kids to the zoo."
During Christmas the differences become even clearer, especially if the grandparents refuse to attend Mass and are more interested in gifts. "The children are presented with a huge pile of gifts," says Louise. "So it is difficult to make Christmas meaningful. We try to celebrate the other liturgical feasts without them, since they are less known, so that we can experience them fully." The children are aware of these differences. "We try to explain the reason for this very gradually," comments Patricia. "They all ask us why their grandfather didn't go to Mass. Seeing my father so distant from faith makes them sad, because they are very fond of him."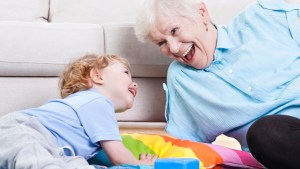 Read more:
Babysitting can decrease grandparents' risk of dementia
Establish strict rules
How can you maintain a certain distance without creating hostility or letting your own parents undermine your values? You have to be able to navigate between educational coherence and your concern about the grandchild/grandparent relationship. Children need their grandparents because they represent their family roots. They are the storage-house of family anecdotes, memories, and genealogy. Often, in spite of their lack of faith, they transmit human values like a sense of hard work, a job well done, and open up the child's mind to a thousand other things that parents don't have time for.
it helps to establish a series of rules to be respected in order to leave the grandkids with their grandparents. Some situations call for very strict limits. For example, demanding mutual respect. The grandparents must not criticize the parents' values and vice versa. Another important rule to firmly establish: Sunday Mass. Avoid dealing with especially incendiary issues in front of the children.
Prayer, as always, is an essential help
In the midst of diverse families, you'll need to be strong. Prayer is, as always, a fundamental help. "We deeply want our parents to convert," says Patricia. As for Sarah's children, they pray every day "for their grandparents to find the Lord," reveals Sarah. With these weapons, a situation that seemed at a standstill between the grandparents and their children's family can sometimes gradually evolve. "I recently saw that my parents were surprised after a talk with my older children," recalls Louise. "They realized that the children have not been forced into their convictions, but that their faith is entirely a personal decision. This made them think."
In Sarah's family, first her sister and then her sister-in-law converted, and this was surprising for her parents. The way that they practice forgiveness as a couple and among their children also surprised them. "In our house, we never learned to forgive. Now I see that something is moving inside them and they are starting to think about it. They are more respectful even though they don't understand our choice," confesses Sarah. And Louise adds: "Most often, faith is passed on through the grandparents. In our case, it's the other way around: the grandchildren give witness to the older generation!"
And so, shouldn't we start to consider our own attitude as well? This is what Bernard recently did, following his path in faith. "For a long time, I proudly stood firm in my position, I was almost asking for a fight. Now, I've understood that there is no need to play that sterile game of having to convince them at any price. With that kind of counter-testimony I ran the risk of alienating my aging parents from the Lord even more. Our relationship has calmed down. Now, the only thing left to do is give witness and offer them all the love we can."
Florence Brière-Loth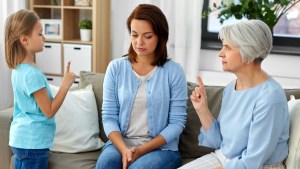 Read more:
Should grandparents have a say in how their grandchildren are raised?