The patron saint of apprentices, catechists, and teachers is also the perfect helper of parents.
What can God do in your life with one Bible verse a day?
Subscribe to Aleteia's new service and bring Scripture into your morning:
Just one verse each day.
Click to bring God's word to your inbox
Don (Father) John Bosco was born on August 16, 1815, in a small village in northern Italy. He was ordained a priest on June 5, 1841. As a dream had led him to foresee during his youth, the essence of his ministry was dedicated to young people, hundreds of whom he welcomed at the Oratory of St. Francis de Sales, saving them from the material and especially spiritual misery to which they were subjected. An outstanding educator, he still serves today as an example for parents and all those who work with children.
Always be joyful and trustworthy
Joy is truly the tone of John Bosco's life: a joy drawn from the source of prayer and the sacraments, a joy that is incarnate. At the age of 12, he was clowning around on a rope like a circus tightrope walker to attract spectators, whom he then invited to pray with him. Later on, with the other boys at the Oratory, he would spend hours playing and telling stories. And when his little student Dominic Savio thought he had to be serious to love the Lord, Don Bosco quickly made him understand that "a sad saint makes a poor saint."
"Let us trust in God, whatever happens" — these are the last words of Bosco's father, who died when John was not quite 2 years-old. This trust became Bosco's golden rule. He liked to repeat to his young followers: "Keep the trust." With his mother, who came to work with him in Turin, he lived this trust on a daily basis, whether it was finding a home for his boys, feeding them, or raising funds to build a church. Don Bosco and "Mother Margherita" did not rely on the contents of their coin purse (which, more often than not, was completely empty!), but on God alone. And God never disappointed them.
So when the bills pile up, or unemployment threatens the family finances, we can ask John Bosco to teach us to trust. As many times he had the experience of having more mouths to feed than money to buy bread, we can certainly choose him as a protector of the difficult end-of-the-month hardships.
God needs well-trained men and women of body, heart, and mind
Develop your talents and take advantage of every opportunity to learn. This is the lesson that Bosco's life gives us. Certainly he was gifted and probably more than most: he enjoyed a prodigious memory, sang marvelously, was supple and agile, skilled with his hands, etc. But he knew how to develop all these gifts, to put them at the service of God. As a young man, he never lost a minute to study "to become a priest," which did not prevent him from working in the fields or practicing various acrobatics and juggling!
When he was a college student, he couldn't afford to pay his living expenses. But since he lived with a tailor, he offered to work for him after school, thus acquiring a skill that would be invaluable to him when it came to mending his boys' worn-out clothes. He went on to learn carpentry, bookbinding, locksmithing, and shoemaking. John Bosco reminds us that we must not lose any opportunity to develop our skills, especially when we are young. His life reminds us that God needs good workers for His harvest, solid men and women, well-trained in all areas of the body, heart, and mind.
Guide children to God with a firmness that never lacks in mercy
Make yourself loved; attract the affection of children to lead them to God. This is how Don Bosco educated the young people entrusted to him. He led them with gentleness, with a firmness that never lacked in mercy. He made them love the Good God because he himself was good. When he saw the faults of his boys — and he had received the gift of reading their souls with clairvoyance — he did not blame them, but sought with great delicacy and kindness to lead them to God's forgiveness.
"Tell my children that I await them all in Heaven, and always recommend to them a great devotion to the Eucharist and to the Blessed Virgin. In this way they will never have anything to fear."Don't these last words of advice from John Bosco, who died on January 31, 1888, lay out a beautiful program for all Christian families?
Christine Ponsard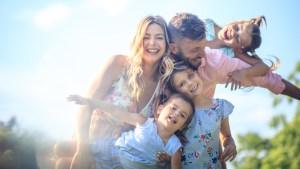 Read more:
5 Keys to a good education according to St. John Bosco