It's refreshing when a leader of a country openly finds comfort in her faith and in her husband.
Theresa May became UK prime minister back in July 2016 as a result of David Cameron, her predecessor's, sudden resignation after the controversial Brexit referendum. One of her first duties was to launch Article 50 that would start the process for Britain to leave the European Union, a role that not many would want to have to undertake. But despite much opposition May carried out the task, as she felt obliged to follow the will of the people.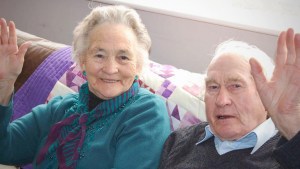 Read more:
Husband and wife die within minutes of each other after 71 years of marriage
Seen as a "caretaker" prime minister until the country would hold its next general election, May told her advisers and the British people that she would not call for this election until around 2020. Yet on Tuesday, to the surprise of many, May announced to the press that she was calling for a general election on June 8 of this year. Why the change of heart? many asked. After all, wasn't she reneging on her promise to wait until 2020?
May, however, said this turnabout came after an Easter walking holiday. While in the past, prime ministers sought counsel from their political advisers, or their peers, May took her five-day trip to be open to inspiration from two non-political sources, her husband and God.
During the trip away, her husband Philip, to whom she often turns to for advice, "gently urged her to call the election to give her more legitimacy in her negotiations with the European Union and the Scottish National Party." Yet, the "Prime Minister was anxious she would be portrayed as breaking her word for opportunistic political gain by reacting to good opinion polls," according to a senior government source. After further discussion with her husband over the Easter weekend May informed the senior members of her party that she was going to call an earlier election. And this decision was then vindicated with a trip to church.


Read more:
Pope Francis weighs in on Brexit


While May, a vicar's daughter, was listening to an Easter Sunday service at her local church, St. Andrew's, accompanied by her husband, she was encouraged by the sermon on the Resurrection that she was indeed doing the right thing. As faith is a huge part in Mrs May's life, this validation will have been very welcome.
It is difficult not to love the refreshing way in which a leader of a country openly finds comfort in her faith and in her husband, whom she apparently went home to cook Easter lunch for after church. The couple has always been very united, with May describing her husband as her "rock." Sadly, they were unable to have children and this left the couple very "affected."Mrs. May said she and Philip drew comfort from their happy marriage and all the other things they were "blessed with."
The prime minister believes her father was responsible for instilling in her a public sense of duty, as well as giving her a religious grounding. She never talks specifically of her own religious beliefs, but in her first Easter message to the nation, she said: "We must continue to ensure that people feel able to speak about their faith, and that absolutely includes their faith in Christ."
With the election less than two months away, some may criticize the prime minister for making this snap decision, while others will welcome the fact that the run-up to the election will be brief —we're all a bit frazzled by elections, votes, and mud-slinging. With May ahead in the polls, we can only hope that her Christian faith continues to be a guiding force in running her country, and that her husband continues to be her rock.