Behind the luxury fashion label Carolina Herrera is a mother-and-daughters team full of creativity and competence.
María Carolina Josefina Pacanins Niño turned fashion into a great family business. To begin with, she decided to use her married name as the name of her company —a fashion house which has made her the most important Venezuelan (and possibly Latin American) fashion designer of our time.
Her marriage to Reinaldo Herrera, aristocrat and journalist who is also one of the editors of Vanity Fair magazine in the United States, is her second marriage. She had always felt an inclination and passion for design, but Reinaldo was the one who encouraged her to act on it. They have been married for nearly 50 years, and a short time ago she celebrated the 35th anniversary of her brand with a book edited by Rizzoli.
Carolina has four daughters. Two are from her first marriage with Guillermo Behrens Tello: Mercedes and Ana Luisa, who are not involved in the business. The other two, Patricia and Carolina Adriana, from her marriage to Reinaldo Herrera, did choose to be part of her company.
Read more:
A Roman Fashion Designer, Inspired by God's Creative Work
Patricia is on the design team, and also participates in special projects, such as costume design for movies or red carpet events.
Adriana, the youngest and the one of the four who appears most in the media, has been the creative director of all the fragrances for more than 20 years. Furthermore, she is the only one who has kept the last name Herrera after getting married. "My daughter Adriana perfectly represents the woman of my fashion lines: young and elegant, with her own style and an incredible personality," Carolina Herrera once said in Hola magazine.
In many interviews, the New York City-based designer has explained that she always tries to separate office work from home life. Of course, her young daughters had attended her runway shows and asked her questions, but if they ended up becoming interested in fashion (as, in the end, two of them did), she wanted it to be more out of passion than as an obligation.
Patricia told Harper's Bazaar that she remembers how she found her mother's closet very entertaining as a child (I can't blame her; imagine the game of dressing up with your mother's clothes, with such a fabulous wardrobe on hand), and she loved to watch her mother get ready for an event.
Adriana, for her part, says that the smell of her youth is spikenard and jasmine, because that was the combination of oils that her mother used for her personal fragrance. This is also why she almost always uses jasmine as the base for the fragrances she creates: it is her mother's favorite perfume.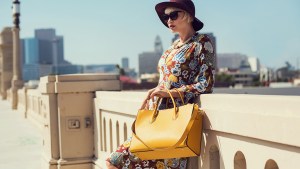 Read more:
5 Easy, inexpensive style trends for spring 2017
Herrera said that she always looks to her daughters to tell her the truth, above all in an industry where there are many flatterers, especially when you reach a status like hers. "There comes a moment in your life and in your career when everyone tells you what you want to hear. We're here to avoid that," said Patricia in an interview with Vanity Fair.
But although Herrera tries not to bring her work home, she has various family portraits in her office in New York. She also loves to spend vacation with her whole family (grandchildren included).
Beyond a doubt, Carolina Herrera is a woman who has managed both her career and her role as a mother with as much distinguished elegance as her iconic white shirts.
Without much controversy and with exquisite taste, she has managed to empower women worldwide, especially her daughters, who are not just businesswomen and heirs to her fashion empire, but also mothers and family-oriented women in their own right.
This article was originally published in the Spanish Edition of Aleteia.