This is the traditional protocol of the "privilège du blanc."
President Donald Trump's first visit to Pope Francis captured the world's attention for various reasons, both because of their differences of perspective on sensitive issues and also because both Melania and Ivanka wore a black dress and veil to meet the Holy Father.
The Holy See does not impose a compulsory dress code, but does suggest a protocol for state visits and hearings with the Pope, both for men and women.
In the case of the latter, the protocol requires a long black dress with a high neckline, long sleeves, and a black veil. For historical reasons, however, some Catholic queens or consorts of kings have traditionally been exempted from using black. This is the so-called "privilège du blanc" (privilege of white), a special prerogative granted under the Pope's criteria.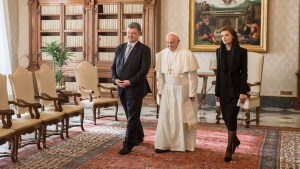 Read more:
How to dress if you're going to meet the pope
At present, there are only seven queens, princesses, or consorts of kings (or kings emeritus) who are granted the "privilege of white": Queen Consort Leticia of Spain, Queen Emeritus Sofia of Spain, Queen Matilde of Belgium, Queen Paola of Belgium, Grand Duchess Maria Teresa of Luxembourg, Princess Charlene of Monaco, and Princess Marina of Naples, as a member of the House of Savoy.
It is a tradition meant to emphasize the importance of the Supreme Pontiff, but the popes themselves do not demand respect for the protocol.
In recent years, several heads of government or state were received by a pope without being dressed in black. This was the case, for example, of former Irish Presidents Mary Robinson and Mary McAleese, as well as Raissa Gorbachev of the former Soviet Union. In all these cases, the visitors met with Pope John Paul II.
On several occasions, even queens and princesses who have the "privilege of white" have preferred not to use this prerogative, choosing to dress in black out of reverence for the Holy Father.
This article was originally published in the Italian Edition of Aleteia.