From sanding to finishing, this is everything you need to know to bring an old piece of furniture back to life.
Marie Ducreux, DIY expert and author of the blog A Swallow in the Drawers [Une hirondelle dans les tiroirs], makes a living off of restoring old furniture. Everything that she restores in her workshop in Nantes, France gets sold in her online shop.
Farmhouse tables, vintage dressers, old-fashioned buffets … Everything can be updated, according to Marie. She encourages us not to throw anything away. We took the opportunity to ask her about how to restore old wooden furniture, from family heirlooms to flea market finds.
1.  Cleaning: How do you prepare the furniture for restoration?
First of all, if your furniture is dirty, Marie advises you to clean it with a vacuum cleaner, a brush, or a damp cloth. If your furniture is not too dirty, you can skip the cleaning step and go straight to sanding.
Antique furniture is often covered with adhesive paper to protect it. To easily remove this paper, use a heat gun. (If you don't have one, a hair dryer can also work.) The heat makes the self-adhesive paper peel off more easily. Marie also suggests using a metal spatula. You can also get rid of residual stickiness by rubbing the wood with steel wool soaked in acetone. Be careful: you'll need to wear a mask and gloves to protect yourself.
Once your furniture is clean, dismantle everything that can be reassembled easily, such as parts with screws or hinges. Marie suggests removing the handles and doors. Working with flat pieces will be much easier, both for sanding and for painting.
2.  Sanding: What grain, what motions?
Do not cover your sander with just any sanding paper. The choice of grain has its importance. "The rule," Marie explains, "is to go from a small grain (for example 80) to a high grain (180)." The rougher small grain paper gets rid of the irregularities before the wood is given its final smoothing with the large grain paper.
If you plan to repaint your furniture, you can "settle" for a 120 grain before applying the undercoat. Once the undercoat is dry, you'll need to sand it with a finer grain (180 or 240) before applying the second coat. The extra smoothing will ensure that your paint sits well.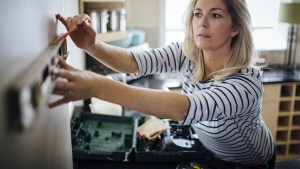 Read more:
I love DIY projects, but can never finish what I start. Help!
If you plan to keep the wood raw, you will need to finish sanding with 240 grain sandpaper. Whether you are hand-sanding the corners or using a machine for larger surfaces, do not forget to "sand in the direction of the grain." Once the piece of furniture is sanded, it must be vacuumed so that the paint or wallpaper is applied to a clean surface.
3.  Resistant varnish: What solution?
What if the varnish on your furniture scarcely flakes when you try to remove it? Marie, who is not a big fan of toxic strippers, recommends using an air blaster. This technique is similar to sandblasting, which is a great tool for cleaning many surfaces, including wood. You can rent the equipment or even have it done for you by a professional. Note: a new air blaster costs about $30-$50 at Home Depot, and it can be rented for even less.
4. Roller or brush: How to repaint?
You can use many types of paints as long as they work for the material that is being repainted. As in sanding, the paint has to be applied in a specific direction. In this case, it has to be applied perpendicular to the grain.
"Personally, I noticed that I get the best results when I apply it first perpendicularly to the direction of the grain and then to go over it again along the grain," says Marie. She also advises newbies not to load their brush with too much paint but rather to apply the material in thin layers and stretch the paint as much as possible. "I prefer 3 thin layers rather than 2 thick ones. It really makes a difference in terms of finishes," says Marie. She uses a paintbrush to paint the edges and corners and prefers a roller for the bigger flat surfaces so as not to leave paintbrush marks on the wood.
If you use an acrylic paint, opt for synthetic bristles because they do not absorb water and will not get deformed. For rollers, if you are painting a smooth surface, Marie recommends a lacquer roller or possibly a short pile roller (10mm max).
Expert Tip: "You don't have to wash the roller and the paint brush. Just soak them in paint and wrap them in plastic food wrap overnight. That way, the paint will not dry."
5.  Patterns and stencils: Be creative
As for painting, Marie encourages you to be creative by not completely repainting the piece of furniture. You can mark a line and repaint only the top of a desk, for example, or just the feet of a table. For a chair, why not create "socks" by repainting only the bottom of the feet? Marie does not hesitate to play with all the faces of the furniture to create perspectives. One great way to modernize an old piece of furniture is to paint it with a geometric pattern, using masking tape to mark off the area to be painted. You can also use stencils to get a certain pattern.
6.   Finishing: does it need to be varnished?
Once you have repainted your furniture, then you have to consider whether or not to varnish it. Be careful not to damage the piece of furniture you have just restored with such care and patience. If it is a table, the top will necessarily get a lot of use. Marie advises you to protect it by using a matte varnish that will not change the appearance of your paint. If it is a cabinet, it is obviously less exposed to blows and dents than a table, so you can do without a varnish. But if the cabinet is very stressed and exposed to splashes of water, such as an old buffet that will be turning into bathroom furniture, you will need to apply an extremely water resistant varnish. Marie recommends the marine varnish used for boats.
7.  Wallpaper, cloth, adhesive paper: What are the alternatives to painting?
Painting is not the only way to bring an old piece of furniture back to life. Wallpaper could also be a good way to cover the bottom of a damaged desk or brighten the bottom of a cabinet. Before pasting it, the blogger recommends painting the background in white to prevent the wood from showing through. The adhesive paper also makes it possible to restore an old piece of furniture very quickly (avoiding the sanding step). Adhesive paper with a marble effect is particularly popular at the moment.
Read more:
Let There Be Peace on Earth, but Also in My Home
"Fabric is also a very good option, especially for small surfaces," says Marie. There are plenty of options at good prices, and laying the fabric is very easy. She recommends applying decoupage glue (Mod Podge) to the surface and then spreading on the fabric.
Marie's last piece of advice is on the choice of furniture: if you can, avoid antique furniture painted with glycero and also waxed wood. Glycero paint is very difficult to sand off, while waxed furniture is complicated to work with because it requires chemicals to strip it off.
If you are just starting out in refurbishing antique furniture, be sure to choose a piece of furniture that is easy to sand, with few nooks and crannies, so that you won't end up discouraged from the start. To judge whether the piece will be easy to sand, Marie advises you to take a look at the condition of the varnish. "If the varnish is already damaged and coming off in some places, it is very likely that will come off with sanding."
This article was originally published in the Spanish Edition of Aleteia.