A small daily act of openness to God's will quickly forms a deeper spiritual instinct.
Need an idea for Lenten almsgiving?
Help us spread faith on the internet. Would you consider donating just $10, so we can continue creating free, uplifting content?
Make a Lenten donation here
Can adding the Angelus prayer to your life change it? That's the case Jared Dees makes in a new book, Praying the Angelus: Find Joy, Peace, and Purpose in Everyday Life. He talks a bit about his experience with it and Mary's pull to her Son.
Kathryn Jean Lopez: "[P]raying the Angelus every day will change your life," you write. How can you possibly back this up?
Jared Dees: I suppose the only way anyone can back up a claim like that is to start with oneself. My life was changed by praying the Angelus. I didn't think it would be so profound. It is such a short, simple prayer practice. By praying the Angelus, I have become more open to God's will in my life—like Mary was at the Annunciation. I find God's presence in unexpected times and places. I am more disciplined with my prayer life than I ever was before I started praying the Angelus.
As I worked on the book about the prayer and met other people who pray the Angelus too, I started to hear more and more stories like mine. The more they dedicated themselves to the discipline of praying the Angelus, the more the started to see areas of their lives that needed to be more open to God. But don't take my word for it; try it yourself and see what happens.
Who are you to issue the invitation?
The thing about Catholic devotional practices and popular piety that I love the most is that they only spread through personal invitation. Besides the liturgies and the Liturgy of the Hours, there really are no official prayer practices prescribed directly by the Church. The Rosary, lectio divina, novenas, etc., all developed and spread through the personal invitation of one person to the next. They were included in collections of Catholic devotions by saints and spiritual leaders, but they didn't take shape out of the official liturgical documents of the Church. In this way, the practices truly are the work of the Spirit.
I have Fr. Terry to thank for inviting me and my third-grade religious education class to pray the Angelus with him. That invitation set me on a path to integrate the devotion into my daily life and then into the daily life of my family. I took up the task of learning everything I could about the devotion, found incredible yet unexpected fruits in my life, and felt called to share it with others. I set up a website with resources and reminders about the prayer at TheAngelusPrayer.com and wrote a book that I hope will act as a simple invitation in itself to bring this devotion back to the mainstream Catholicism once again.
How is the Angelus "an act of opening to God's will"?
To say that practicing the Angelus on a daily basis is hard won't make a lot of sense until you actually try it yourself. Inevitably, you will be focused on some task, whether it is writing an email or doing some chore, and you will get a reminder that it is one of the specific Angelus prayer times. Then you have to stop whatever you are doing at that very moment—no excuses—and pray. It is a small act of openness to God's will, but it is through that daily, disciplined practice that over time trains you to be more open to bigger ways in which we have to be open to God's will. You start to realize that your time and your tasks are not more important than what God has in mind for you and your life. Through daily practice, this becomes a mentality by which you live. You become more open to God's will in each moment by specifically dedicating those times of day to prayer.
Why would a busy person add the Angelus to his life?
It is the busy people that I think benefit most from praying the Angelus. We're all busy. We all feel the stress of limited time in our lives. This can lead us to want to own that time and keep it all to ourselves. It closes ourselves off to the needs of others and of God. If, instead, you echo the words of Mary, "Behold the handmaid of the Lord," each day and make those prayer times a gift set aside for God, then you begin to transform your heart into a disposition of service. The interruptions that come in phone calls, emails, requests from your boss, the needs of your children become less burdensome and more welcomed as opportunities to serve.
At Easter time there's the Regina Caeli. Is that like a teacher trying to trick the student? Why make it harder?
Ha, well it's actually "easier" if you base it on the amount of time it takes to pray the Regina Caeli vs. the Angelus. The Regina Caeli takes all of 30 seconds to pray, while the Angelus might take a total of two minutes. Seriously, though, the Regina Caeli is a thoroughly Easter-season prayer. Littered with six "Alleluias" the prayer is the perfect way to meditate on the meaning and importance of the Resurrection in our lives. Easter is a really long season. It can be hard to keep the spirit of Easter alive in our hearts all through the season. Praying the Regina Caeli each day helps us sustain that Easter joy from Easter Sunday through the 50 days of Easter.
Do you have a favorite part of the Angelus?
As our lives change so does our experience with the prayer. On different days because of different life experiences, each phrase or word might take on new and more personal meaning. So, my favorite part today could easily change tomorrow depending on how my life progresses. But, if I had to pick a phrase that has resonated with me most it would be, "Behold the handmaid of the Lord … Be it done unto me according to thy word." That image of being a handmaid and servant continually challenges me. It is a daily reminder to look for opportunities to serve rather than to be served. It is a reminder that the path towards holiness is openness and submission to God's will.
"We can remind ourselves each day, as we worry about our time, that indeed our time here is limited and that we are meant for eternity." How can the Angelus do this when it takes more time!
I feel that we are more stressed and worried about time than we ever have been as a human race. Technology and the increasing pace of society pushes us to always be doing, going, and working. The Angelus reminds us more of who we should be rather than what we should do. The final part of the prayer summarizes the entire paschal mystery and reminds us that we are destined for the glory of Christ's Resurrection thanks to his Passion and Cross. Without a daily reminder like the Angelus, it is easy to get caught up in the minute to minute worries of everyday life and lose sight of our ultimate goal and ultimate purpose.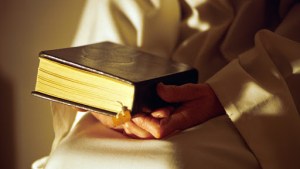 Read more:
A beginner's guide to the Liturgy of the Hours