The challenge of all parents is to find that sweet spot between suffocating them and abandoning them.
Over-parenting has become a mainstay of modern parenting: Children have become the center of family life, and parents have lost balance of time and energy they devote to them. The rise of competitive educational and athletic activities has led parents to focus excessively on their children's activities and achievements.
We might think that a child-centered society would be beneficial in the long run, but we note with concern that we are raising children who are overly dependent on their parents and ill-prepared for independent life.
Achieving balance in parenting is a difficult subject, but it could be summarized as: Be close enough without suffocating me, and be far enough without abandoning me.
One of the important aspects to take into account to achieve this balance is problem-solving: every time we do something for a child that he can do for himself, we are doing him harm. Whenever we save him a hard time by doing the task he forgot, or every time we remove an obstacle from his path, we are robbing him of the ability to grow in character, personality, and independence.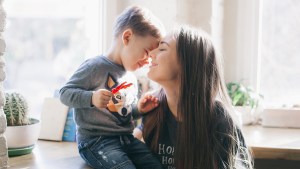 Read more:
Why I quit my stay-at-home "parenting" job and started being a parent
A parent's job is to make our children capable of facing their own life, giving them tools to be able to work on it and be at their side to raise them in every fall. But if we try to keep them from falling, they will never be able to face the experience and enjoy the satisfaction of bouncing back stronger.
The other side of the coin is abandonment: parents who are so preoccupied with their own lives that they convince themselves that their children don't need them, that it's good for them to walk alone. They are simply absent parents.
The most worrying thing about this kind of parenting is not even that the parents are not there to show the way or to provide the necessary tools. The most difficult part is the lack of warmth and affection, the feeling of abandonment, and the scant sense of belonging that these children can have. Many times this type of upbringing produces aggressive children.
In all aspects of family life, balance is important. However, one of the aspects that we should guard most closely is the parenting model we use and the time and energy we dedicate to our children.
We must ask ourselves, when we are educating, are we thinking about what is objectively good for the child? Do we know that we are educating him or her for the future? Are we helping our children to become self-sufficient, free, and independent? It is not a matter of suffocating or abandoning them, but of accompanying them so that they grow up feeling loved and protected in a healthy environment in which they know their place.
This article was originally published in the Spanish Edition of Aleteia.