Blessed Peter Kibe was a martyr in 17th-century Japan, but even among these heroes of the faith, he stands out.
I wonder if there has ever been a Christian more determined than Blessed Peter Kibe, one of more than 200 Japanese martyrs who have been raised to the altar. Often there's little that's known about these heroes of the East, but every once in a while you hit on a real gem, a follower of Jesus Christ whose faith sets a fire in your soul. Blessed Peter Kibe is such a one, a man for the ages and a dear friend of mine.
Born of Japanese Christian parents in 1587, Peter was raised in a country already hostile to the faith. Even his family's noble (samurai) status didn't protect them. Despite persecutions, Peter entered a Jesuit seminary with hopes of being ordained one day. After graduating, he asked to enter the Society of Jesus but was denied; the superior was concerned that he wasn't determined enough to persevere in his vocation.
Read more:
My friends Joe and Vicki protected Jews from the Nazis
Rather than accept this response, Peter made a private vow that he would continue to pursue a Jesuit vocation. He spent eight years working alongside the Jesuit missionaries; when all foreign missionaries were exiled by the anti-Christian Japanese government in 1614, Peter went with them to Portuguese Macao (China) where he was refused ordination because authorities believed the time wasn't right for native priests.
Nothing daunted, Peter looked elsewhere. He sailed to Goa. When he found the doors closed there as well, it seemed time to set off for Rome. On foot. Peter walked all the way from India to the Holy Land along the Silk Road.
That's about 3,700 miles.
When he arrived, Kibe became the first Japanese person ever to visit Jerusalem. He then made his way to Rome, convinced the ecclesial authorities of his qualifications, and was ordained a priest six months after arriving in Rome. Asked to make a two-year novitiate with the Jesuits before returning to Japan, Peter managed to convince his superior that there was no time to waste, that the Japanese people needed him immediately.
This being the 17th century, though, nothing was ever immediate. It took him 14 months just to get to India. When he finally made it to Macao, he was told that the government would allow no Christians to sail on their ships to Japan. Peter was then chased by pirates all the way to Siam, where he found the same difficulty. For two years, he tried to sail from Siam, then headed to Manila. Still unable to find a ship that would take him to Japan, he built one.
The boat was attacked by termites. Peter plugged the holes and set off. Eight years after leaving Portugal, Peter finally had Japan in his sights—and was overcome by a typhoon that smashed his boat to bits.
When the victims of the shipwreck pulled themselves together, they found that they were in the same spot from which St. Francis Xavier had launched his mission to Japan some 80 years earlier. With the zeal of Xavier (whose canonization he had attended in Rome), Father Kibe arrived in Japan at last. He spent 24 years trying to become a priest in Japan before he finally set foot on Japanese soil again, all the time knowing that he was headed towards torture and certain death.
Kibe managed to minister for nine years under constant threat of death. When he was betrayed by one of his flock, he was brought before Fr. Ferreira (the famous apostate priest of Silence fame). Rather than succumb to Ferreira's entreaties that he apostatize, Fr. Kibe implored Ferreira to return to the faith. "Let us go to die together," he begged an astonished Ferreira.
Though Ferreira fled, sending in a master torturer, Kibe wouldn't budge. His iron will unbent by Ferreira's arguments, Fr. Kibe was tortured beyond all reason. As he hung in the pit and other priests apostatized, Fr. Kibe encouraged those suffering with him until he himself was removed for fear he'd prevent the others from breaking. Inoue, the most infamous torturer in all of Japan, called him, "the man who would not say I give in" and ultimately killed him by disemboweling him. He was beatified with 187 companions, still only a small fraction of some 35,000 Christians killed in Japan between 1597 and 1639.
Many of us are unwilling to drive half an hour for Mass when we're on vacation; Kibe walked 3,700 miles. We give up on God's will when an obstacle or two present themselves; Kibe traveled halfway around the world. We run from suffering; Kibe ran toward it.
On July 1, the feast of Blessed Peter Kibe and 187 companions, let's ask his intercession that we would live radically for Christ, refusing to give in to sin but fighting to become all God has called us to be. Blessed Peter Kibe, pray for us!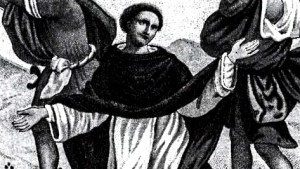 Read more:
Are you serving Christ but making sure you're not 'extreme' about it? This is your saint